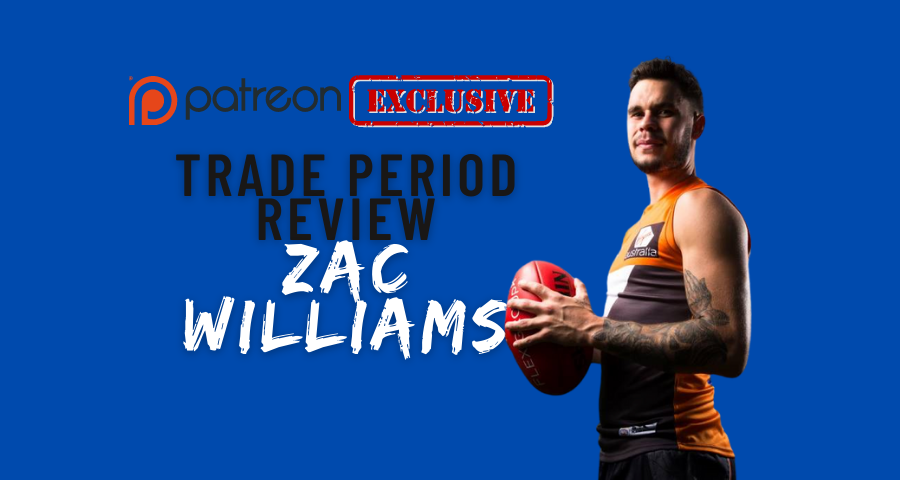 Career High SuperCoach Score:  145 Vs Essendon (2017)
Career High AFLFantasy Score:  142 Vs Sydney (2019)
Career High SuperCoach Average:  101.6 (2019)
Career High AFLFantasy Average:  92.7 (2019)
Impact On New Club
Many have (in my opinion) correctly wrongfully diagnosed the issue at Carlton. The common perception is that they need further clearance support for Patrick Cripps. I believe that to be false. They do not need another ball winner. This issue was resolved with the inclusion of Will Setterfield.
Last year he increased his clearance averages to 3.2, and while that doesn't feel like much, he ranks elite in the league tackles and above average for pressure acts and contested possession rates. Throw in the evergreen duo Marc Murphy and Ed Curnow plus young star Sam Walsh, and you've got more than a strong share of first touch players.
Rather the greatest need within the Carlton midfield is for XFactor and a player with a burst of speed from the contest. This is why the Blues identified and ultimately secured the services of Zac Williams.
While Zac's spent the majority of his career across the half-back at GWS, he's shown in that role and through small midfield glimpses that he posses these qualities.
Should he get the maximum out of his body and hold up to rigorous 20+ games over every season of his contract then the Blues have pulled off an incredible move that should help propel them back into the top eight.
Impact on Old Club
With all the attention going to the class of Lachie Whitfield, Josh Kelly and Co a player of Zac Williams calibre were always given extra freedom. He was able to get to be the damaging outside player who off half-back (mainly) gets to use his burst of speed and ball used to be a damaging rebound.
Who can replicate that within the Giants squad? Currently, the role would land to one of either Isaac Cumming or Lachie Ash. Additionally, the club might choose to target a classy ball user like Tanner Bruhn in the draft. The other option is to anchor Lachie Whitfield to maintain his half-back strong form of 2020.
Fantasy Summary
There are two exciting and two off-putting things when it comes to considering Williams as a fantasy footy prospect. The first exciting thing is that he'll play through the midfield but be listed by Champion Data as a defender.
Should he reach his scoring potential, we'll likely have a top tier scoring defender on our hands in all formats of the game.The second exciting thing is that he presents potential value at his starting price.
This coming season he'll be priced nearly 16 points below last years SuperCoach average and 9 points the previous playing season (2017). While in AFLFantasy, the gap is even wider. He's set to be priced 27 points below the 2019 season average and 18 points off his 2017 season. That's some serious value. Added to this these facts, Zac's every chance to be eligible for a small pricing discount given he missed a third of the season through injury.
Should Williams get the midfield role that he's been promised, all the hope from fantasy football coaches will be that Zac can recreate the scoring form that he showed when playing midfield at GWS in 2019.
In the final 11 games of the year, he posted an average of 103 in AFLFantasy/DreamTeam and scored seven tons including three over 120. While for SuperCoach he averaged 107 and posted 8 tons including a season-high 143 against the Kangaroos.In terms of scoring differential for pre and post-injury that's +19 in AFLFantasy/DreamTeam and +13 in SuperCoach.
Two concerns coaches want to select Zac need, to be honest about. First, injury history. He's missed 30 games over the past three seasons and has never played more than 20 home and away games in a season since debuting back in 2013? What's to suggest he can do it next season?
The other is linked, but separate and that is can his body hold up to the rigours of playing through the midfield over a long stretch of time? Honestly, only time will tell. It's for these reasons; I believe he's a starting squad option only and should you choose to pass on him in the starting squad you need to ignore him for the remaining season.
This is because the injury 'concern' doesn't go away. We know Zac can score when fit, but with every passing game, you don't own him. History says the likely variable of injury only increases. Therefore, start or pass on Zac Williams.