This is it, the final week of fantasy football for 2023! We hope you've entered the Grand Final, whether it's a draft or salary focussed. For our final article of the season, it's time to look at 11 players that can win you the Grand Final.
Embed from Getty Images
Taylor Walker
Every fantasy coach has seen this matchup since Taylor Walker dominated the Eagles in round thirteen when he kicked ten goals and posted a monster 166 in AFLFantasy/DreamTeam and 208 in SuperCoach. With the Crows out of the finals race, the club have ultimately one thing to play for, an attempt to feed Tex the Coleman.
The former Crows skipper is eight goals behind Charlie Curnow, but with a tough matchup with Sam Taylor, the Crows will be hoping for another bag of ten goals that might be enough to hand the Texan his first-ever Coleman.
Selecting any key forward has an element of risk in the play, given their scoring is heavily linked to kicking goals. But the matchup of key position forwards against the Eagles has been a money matchup all season. All indicators available should give coaches confidence that he's every chance of repeating his midseason scoring heroics.
Embed from Getty Images
Noah Anderson
Averages mean nothing this week; with just one round to go, it's all about what will happen in this one game and matchup. On paper, the Suns have the best matchup for all midfielders in a game against North Melbourne.
There are only so many teams outside of the top eight that have anything to play for. The Bulldogs are the only team capable of playing for finals, but the Suns have plenty to play for. They're auditioning for new coach Damien Hardwick. I expect a ruthless edge over the Suns this week, and a midfielder like Noah Anderson could post a monster game. His combination of inside/outside skills, his elite workrate and his ability to impact the scoreboard make him a player with a deadly ceiling.
Noah's already shown this year alone that he's got the potential to put up some monster ceiling games. In AFLFantasy against the Saints, he scored 159, and multiple others scored over 130. While in SuperCoach, he pumped an 189 against the Demons and three additional scores north of 130. His basement is solid, and his ceiling is immense. He's someone to consider seriously.
Embed from Getty Images
Marcus Bontempelli
Marcus Bontempelli has been a SuperCoach stud for multiple years, but in 2023, he's taken his AFLFantasy game to comparable levels of dominance. By average and points, he's the clear tod midfielder this season. This weekend, his Bulldogs battle against the Cats for a spot in the finals; if anyone can put his team on their back and deliver a win and a monster fantasy football output, it's the Bont. He's given you no reason to doubt him all year; I wouldn't be backing against him this week.

Embed from Getty Images
Shannon Hurn
Fellow panellist Lewy has advocated for Shannon Hurn in a big way as a possible play this week, and it's with good reasoning too. First and foremost, Shannon has a strong scoring historical pedigree. Even as recently as round 16, Hurn posted a 133 in AFLFantasy & 144 in SuperCoach. Second, it's his retirement game. We've seen trends in such games that teammates are happy to feed the ball through departing comrades. Even last year, in a similar matchup, the Eagles fed Josh Kennedy the ball nonstop in his retirement match, and he delivered a big farewell ton.
The other factor is that for most of the year, the ball has lived in the Eagles backline, and they're coming up against a team that's one of the highest volume teams for inside 50 entries and scoreboard impacts. Everything points to the high probability of Shannon's farewell game being an absolute monster. He's been cleared by the club to play after recovering from an injury. I'm joining the chorus with Lewy; I think Shannon's set for a big Saturday night of scoring.
Embed from Getty Images
Tim English
Without question, one of the best-starting squad selections this year has been Tim English. Entering the final round, he's the #1 overall points scorer in all game formats and has shown that regardless of his opposition, he can post a 120+ score any week. This week he comes up against a Geelong side who last week used Sam DeKoning.
He is an excellent key defender but not that level as a ruckman. Rowan Marshall dominated with a 140+ score, and with question marks over Rhys Stanley's ability to be right for Saturday night, the Cats might once again be forced to play SDK in the ruck or blood Toby Conway for his debut.
Either way, an underdone or highly inexperienced ruck opponent against Tim is a fantastic outcome and, with some luck, could see him post his biggest score of the season.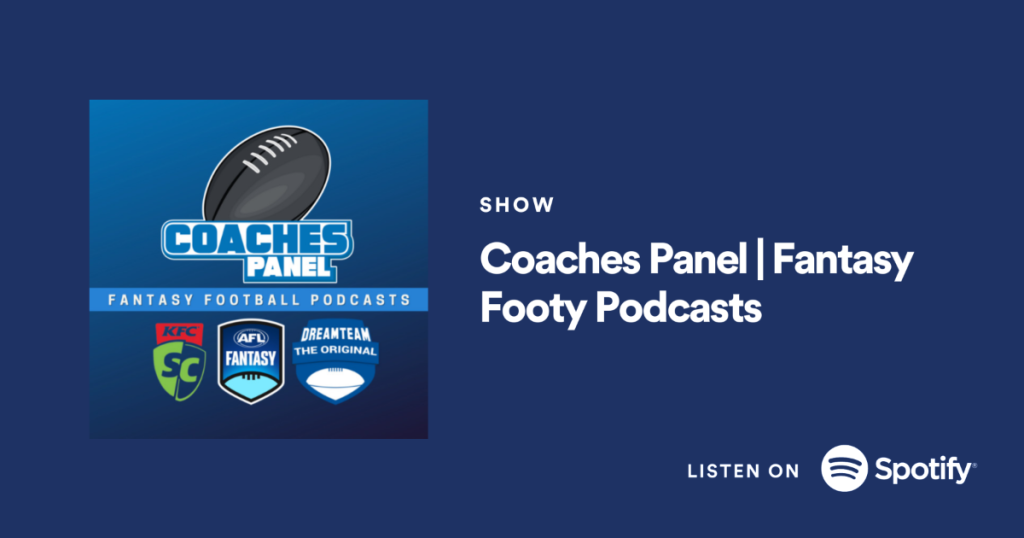 Embed from Getty Images
Tom Stewart
Over the last two weeks in our strategy roundtable, you've heard MiniMonk, and I go on about how good the Cats fixture was for defenders in rounds 23 & 24. In the case of Tom Stewart, he maximised that last week against the Saints with a 133 in AFLFantasy/DreamTeam and 128 in SuperCoach. This week Geelong plays the best matchup for defenders by taking on the Bulldogs. Last week Liam Duggan, Jayden Hunt and Jeremy McGovern scored well over their average on the Doggies. And with Stewart's recent form, scoring history, venue scores at GMHBA, and the Bulldogs bleeding to defenders point to a monster scoring night for Tom.
Embed from Getty Images
Luke Ryan
All season, there have been three great opposition matchups for defenders. A team that takes on Western Bulldogs, St. Kilda & Hawthorn all have seen statistically have scored considerably above their seasonal averages.
With just one match to go, ideally, you're looking for players with a high-scoring ceiling and a favourable matchup. Enter Fremantle's Luke Ryan. When the teams played against each other earlier in the season, Ryan posted a ton across the formats, but in 2023, he's got multiple scores north of 140. Since Hayden Young has transitioned into a midfield role, the ball flows through Luke at kick-ins and in the general field of play.
If I were to speculate who could be a defender capable of scoring 150+, I'd happily place Luke inside the top five candidates this week.
Embed from Getty Images
Josh Daicos
You could argue that trading into Josh Daicos is the most 'risky' of all eleven players I'm suggesting as trade options. And there's validity to that. But one of the big appeals of Josh Daicos is he plays on Friday night, giving you the ease to look at his scoring as a loophole and then react accordingly with how you structure out your on-field 22 and possible other squad movements.
According to DFS Australia, one of the best matchups has been for wingmen and rebounding defenders against Essendon. Their statistical data capture shows it's the third-best matchup over the last five weeks of footy. Earlier this year, when two teams played, Josh delivered a ton, let alone that inside the last six weeks, he's posted multiple scores over 120 in AFLFantasy and 130 in SuperCoach. He might not be the play everyone likes, but as a combination of trade in a pairing, I believe the option of Daicos is worth consideration.
Embed from Getty Images
Harris Andrews
It's more likely to be SuperCoach favourable, but Harris Andrews could still be a monster play in AFLFantasy. On paper, the Lions opposition, St. Kilda, is the third most favourable matchup for defenders. In round fifteen, when they last played, Harris scored 157 in SuperCoach and 110 in AFLFantasy. It'd be. a brave person coach to trade into him for Classic, but as a draft pickup, it could reap huge dividends.
Embed from Getty Images
Zak Butters
After a slightly quiet scoring period between rounds 15-19 for Zak Butters, it's safe to say the past three weeks, he's back to scoring best. Over the last three weeks in AFLFantasy, he's averaging 121.3 and hasn't scored below 110. While, for SuperCoach, he's averaging 135 and a lowest score of 129.
The appeal of Zak isn't around his ownership % and trading into him; already, his ownership is high across all formats. But the move is more about his favourable matchup against Richmond, his proven high-scoring history ceiling of 140+ scores this year, and his playing in the round's final game.
Don't undersell the timing of the fixture, either. While Richmond has nothing to play for, the Pear might have a top-two on the line. If Port Adelaide requires a victory, don't be surprised if Butters & Co. go at full throttle. That could be perfect if you need a big 140+ score as a unique skipper in one of the final games of 2023.
Embed from Getty Images
Josh Kelly
This might be my bias towards Josh Kelly slipping in, but this could be a steal at his price point. At $764,000 in AFLFantasy, it's criminal how low his price is. His previous three-game average of 76.3 could be better, but his history against the Blues is amazing. Over his ten matches against Carlton, he's got a career average of 112, and when he played them back in round three, he scored his season high of 126.
Alongside this, the Blues are building a trend of opposition midfielders scoring nicely on them. Over the past month, Sam Flanders, Jack Viney, Touk Miller, Clayton Oliver, Angus Brayshaw, Brad Crouch & Mason Wood have put in some decent-sized tons against the Blues. With the Giants season on the line and with the game the final match of the fantasy season