He's always been a consistent performer and highly relevant in drafts for many seasons. But late last year things changed, and for the better. So much so that he's a relevant player in 2019 salary cap games.
PLAYER PROFILE
Name: Seb Ross
Age: 22
Club: St Kilda Saints
Position: Midfield

2018 Highest Score:
160 Vs Western Bulldogs (AFLFantasy)
160 Vs GWS Giants (SuperCoach)

2018 Average:
107.3 (AFLFantasy)
102.8 (SuperCoach)

SuperCoach Price: $558,400
AFLFantasy Price: $779,000
AFLDreamTeam Price: $767,700
WHY IS HE RELEVANT?
Prior to entering into the 2018 AFL season, Seb Ross was always a well-loved selection for drafters over the past few years given his scoring consistency and durability but was never was hugely relevant in the salary cap formats. In 2016-2017 he played every game and averaged 98.4 and 102 in AFLFantasy and of those 44 games 25 of them he scored 100 or more. In SuperCoach he averaged 93.9 and 100.9 and scored 19 tons. While those are some consistent scores if you take the time to look at his 2017 numbers in detail you start to see the makings of a fantasy scoring beast.

Between rounds 2-16 he scored 11 times over the hundred, 9 of these were over 110 in AFLFantasy and 6 for SuperCoach. During this stretch of games, he only failed to score a ton in 3 matches and never dropped below 80. His average during this window was 110 in all formats.

This 2017 form was echoed in the back portion of last season where after early on in 2018 it seemed to be a 'standard' Ross season with some handy 120+ scores but littered between them scores that range from '60s-'90s he got back into ton scoring mode. During the last 6 games of the year for AFLFantasy, he scored 121,105, 160, 143, 107 & 122 at an average of 126. While in SuperCoach his scores to end the year were 120,79, 158, 152, 103, 129 at an average of 123.

Apparently, I'm not on my own noticing the scoring and fantasy footy potential of Seb Roos. Longtime fantasy footy community favourite and dear friend of The Coaches Panel Rob Rainbird recently tweeted this.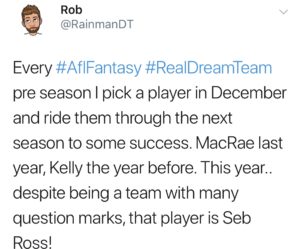 The recruitment of Dan Hannebery to go along with running machine Jack Steven should only further help him slide down the oppositions pecking of midfielder to stop. There's plenty to like about Seb Ross in 2019 and the fact that I project less than 5% of coaches in any formats, but especially in AFLFantasy/DreamTeam where his relevance is at it's peak is highly inviting.
MY TAKE
While he is a handy SuperCoach scorer and I do think he posses some relevance, I think it'll largely stay in drafts. However, in AFLFantasy/DreamTeam like Rainman, I think 2019 could be the year he becomes a 110+ average across the year and possibly even a captaincy option. So sorry SuperCoachers the rest of my take will squarely be focussed with the 'other' format in mind.

When it comes to selecting our premiums yes we want high scoring ceiling and consistent good scoring, but we also don't want to get burned by a players basement. A fantasy basement is a player's low scores, and while everyone is entitled to bad weeks and they do generally get balanced out by the peaks a player who shows a poor fantasy scoring floor can kill you either in head-to-head matchups or in crucial moving rounds when it comes to your rankings.
Last year Ross only had 4 scores under 80 and didn't drop below 67. Contrast that with Dayne Zorko who last season had 8 scores below 80 and 3 under 60. Rory Sloane had almost 1/4 of last seasons games under 70 even Dayne Beams despite what many considered a phenomenal season went sub 70 in 3 matches including a 50. Yes, they all possess a fantastic ceiling, but so does Seb Ross.

Added to his high ceiling and the strong scoring basement is his AFLFantasy scoring history at Marvel Stadium. This year the Saints play 11 games there including 4 of the Saints first 6 games. In Seb's last 12 games at the ground, he's scored 9 tons, a low of 86 and an average of 117.75… Not Bad Seb, not bad!

In SuperCoach I'd be only looking to upgrade to him if he shows he's lifting his basement, while in AFLFantasy/DreamTeam on current trends he looks like he's developing along into a midfielder who is believably pushing towards the golden 110 average in 2019 and worthy of starting a squad consideration. If you don't trust him enough to start, plonk him on the watchlist and look to upgrade him mid-season.
DRAFT DECISIONS
Based on 2018 averages he's ranked inside the AFLFantasy/DreamTeam top 10 midfielders yet despite that I don't see him being anybody's M1. Players like Merrett, Crouch, Fyfe and Beams are sexier and well-known names and likely to be selected ahead of him despite that his average last year is higher. I think if you can land Seb Ross as your M2 you'll be well on your way to building a nice midfield. He'll be gone inside the first 3-4 rounds.

For SuperCoach drafts he's just ranked outside the top 20 and like it AFLFantasy some bigger names are beneath him so despite his durability and relative scoring consistency I can see him being selected in a majority of drafts as an M3.

In a keeper league, good luck getting him out of the existing coaches hands, especially in AFLFantasy as his big end of year run is fresh in the memory.
JOIN THE CONVERSATION
Do you believe he is fantasy relevant?
Will you be starting with him?
Have your say at our Facebook, Twitter or Instagram.
WANT EARLY ACCESS?
Want access 24 hours early to the 50 Most Relevant podcasts? Join our Patreon and get ahead of the Crowd!
Become a Patron!
NEXT UP…
Tune into our Facebook page at 9pmEDST for a clue