In 2018 he went from consistent premium to be one of the elite scorers across every format. The big question is, can Jack Macrae do it again?
PLAYER PROFILE
Name: Jack Macrae
Age: 24
Club: Western Bulldogs
Position: Midfield

2018 Highest Score:
190 Vs Richmond (AFLFantasy)
189 Vs Gold Coast (SuperCoach)

2018 Average:
122.6 (AFLFantasy)
127 (SuperCoach)

SuperCoach Price: $689,700
AFLFantasy Price: $793,000
AFLDreamTeam Price: $781,900
WHY IS HE RELEVANT?
For years Jack Macrae has been a faithful and consistent fantasy football premium, but in 2018 he took it to the elite levels of scoring and was incredibly unlucky to win his first All Australian selection. Last year Macrae averaged 32.8 disposals per game and led the Dogs' contested possessions and clearances. Even though he missed three matches due to a hamstring injury, Jack was ranked ninth in the AFL in total handballs and total disposals.
In AFLFantasy he was the second-best averaging midfielder of the season with only Tom Mitchell eclipsing him and with third place Andrew Gaff 12 points per game behind him. His season average of 122.6 was an increase of 18 points per game on last seasons and was made up of sixteen tons, ten of those were over 120, five of those were over 140 and one which included personal best 190 in the final round of the year. Chances were if you captained Macrae that week, you won your league Grand Final.
On top of his consistent hundred scores, he had only two matches last year that he failed to reach 90, one of which he injured his hamstring before halftime. If you were to refocus his average on games, he completed his average for completed games increased to an outstanding 127.
For SuperCoach he delivered a stunning season with only Brodie Grundy, Max Gawn and Tom Mitchell providing stronger seasonal averages. His average of 127 was an astounding 20 point jump on his 2017 season and included 16 over 100, 12 over 120 and like in AF he had just the two scores under 90 one, of course, being an injury impacted the game. If we were to remove this match his already strong SuperCoach average would lift to 131.
Last year he went to a new level, but for years Macrae has been a premium midfielder even since his second season in the AFL back in 2014. Since that time his season averages for AFLFantasy/DreamTeam have been 104, 104, 98, 104 and last years 122. For SuperCoach it's averages of 100, 99, 93, 107 and 127. In the space of the past five seasons, he's missed just ten matches but some of those included games where he was dropped back to the VFL and weren't injury affected as he struggled for form at times in 2016.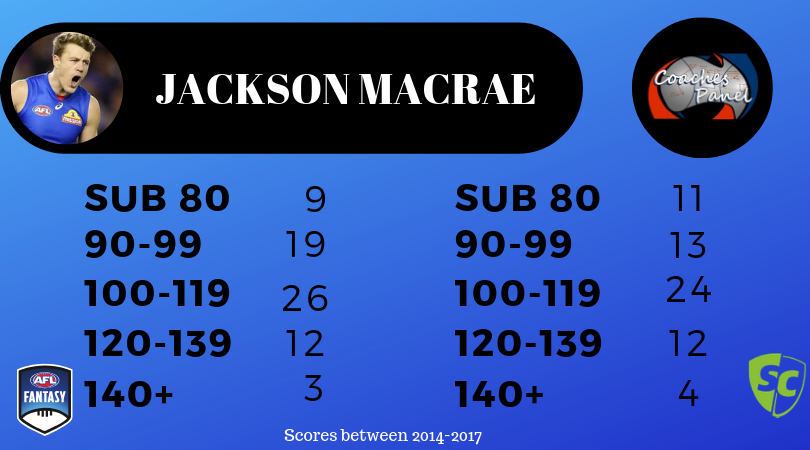 MY TAKE
We have to applaud his season, but at the same time, we need to ask the question 'where did this scoring boost occur'? From a statistical perspective he increased his disposals by 5 per game, he kicked six more goals than the year prior and delivered the ball inside 50 on average an extra time per game. Interestingly his Uncontested rate of possession increased, and on average he tackled less than he did in 2017.
Anecdotally he became the midfield leader after years of Marcus Bontempelli being viewed by the footy public as the only real elite midfielder in the Dogs side. Macrae elevated his game to a new level, and the unsung hero to his success is that fact that he is a running machine. Countless times last year he showed he is more than capable at winning the ball at a contest then, through his elite endurance make his way to the next stoppage, collect another possession on either the inside or outside of the contest, all the while leaving his opponent in his wake.
The big many fantasy coaches face can he maintain anywhere near last years seasonal numbers? The inclusion of Tom Liberatore does undoubtedly take some midfield rotations away from somebody, but in all honesty, I do not see how the damages the scoring potential of Macrae. Instead, it'll be the bit players that run through the midfield group that may get more limited opportunities.
He isn't dependant on ball winning at the contest to build up his scoring columns. If you look at his season statistically you'll see he wins both the contested and uncontested ball, can tackle, pick up marks, impacts the scoreboard and just never stops running. This also bodes well for when the tagger comes and lines up on him given that even if certain areas of his game get limited, he can find another way to impact the game and generate fantasy points.
I find it funny, so many in the fantasy community seem to have doubts on Macrae's ability to 'do it again' after jumping 18 AFLFantasy and 20 SuperCoach points per game on his previous averages. However, they have none on Brodie Grundy who also had a breakout season jumping 14 AFLFantasy points and 33 SuperCoach points on his 2017 average. Both are very different players, but I find minimal signs (like Grundy) to suggest his scoring will drop away so significantly that he shouldn't be a worthy starting squad selection.
Whether you choose to start or not you'll want Jack Macrae in your completed side. If your passing on him in the hope he'll be cheaper, later on, make sure you have a plan for how you can quickly get him in. By the times off the bye in round 13 it'll be too late as he's the type of player who can take a season away from you quickly if you don't have him.

His opening five games of the season and scores against them from last year are are against Sydney (128 AF,103 SC), Hawthorn (DNP), Gold Coast (151 AF, 189 SC), Collingwood (113 AF, 102 SC) and Carlton (124 & 145 AF, 141 & 110 SC). If he scores in 2019 against them as he did in 2018, then he's not going to be dropping that price anytime soon.

Right now I'm choosing to start with him in every format of the game, while I know I could potentially pick him up cheaper as the year goes on I'd rather bank the points now and not worry about his price. After all, his price only matters as an owner if you ever have to trade them.
DRAFT DECISION
If you have a pick in the opening round outside of the top five don't even worry about it, you've got no chance of owning Jack Macrae.

In a Keeper league that's just commencing he departs the draft board at a similar time while in an existing league you don't trade players like Macrae at all.
JOIN THE CONVERSATION
Do you believe he is fantasy relevant?
Will you be starting with him?
Have your say at our Facebook, Twitter or Instagram.
WANT EARLY ACCESS?
Want access 24 hours early to the 50 Most Relevant podcasts? Join our Patreon and get ahead of the Crowd!
Become a Patron!
NEXT UP…
Tune into our Facebook page at 9pmEDST for a clue