Nobody predicted it, but in 2021 Aaron Hall became a season-defining player. If you had him, you had success. Without him, you struggled. Now he enters a new season with a hefty price tag, and the question is can he go big again in 2022?
PLAYER PROFILE
Name: Aaron Hall
Age: 31
Club: North Melbourne
Position: Defender
2021 Highest Score:
143 Vs Melbourne (AFLFantasy)
141 Vs GWS Giants (SuperCoach)
Career Highest Score:
156 Vs Geelong| AFLFantasy (2017)
150 Vs Brisbane | SuperCoach (2015)
2021 Average:
108.9 (AFLFantasy)
105.2 (SuperCoach)
SuperCoach Price: $585,800
AFLFantasy Price: $914,000
AFLDreamTeam Price: $929,00
Embed from Getty Images
WHY IS HE RELEVANT?
It was the premium season that nobody saw coming! Aaron Hall completely reinvited himself as a rebounding defender and proved to be the player that almost single handily defined the success of fantasy coaches seasons in 2021. Based on averages per game, he ranked first in the AFL for metres gained, second in kicks, third for rebounds '50s, 8th for uncontested possessions and tenth for marks. Hall dominated the ball coming in and out of the Kangaroos defensive 50.
From an AFLFantasy perspective, he delivered a stunning season scoring 14 tons, with 12 of them (85%) going at 120 or higher. To go with his ceiling is his scoring basement with just three games under 90 all year. Of those three matches, one was subbed out with a concussion, and the other was subbed into the game. So, in reality, when playing full games, it's just one game beneath 90. Hall's ranked as the top defender with the highest average and is ranked second in total points by just 60 to Jack Crisp. Not bad for a guy who missed a few games and had two limited times on ground games.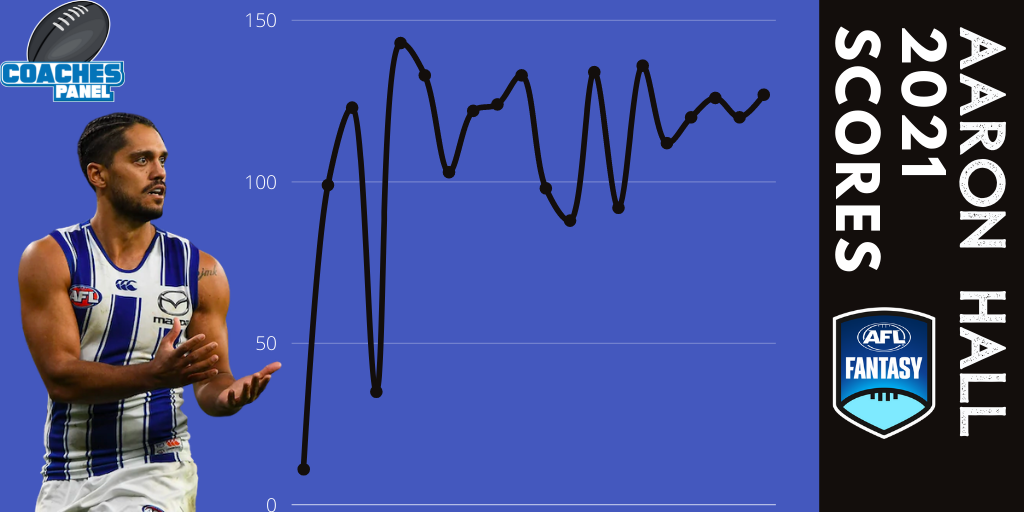 The scoring is just as impressive in SuperCoach. He posted 16 tons, 7 of them were over 120, and he had just four scores under 100 all years. Remember two of these; he was involved as a sub. He ended the year where he's now ranked as the 8th best defender for total points and fifth for averages.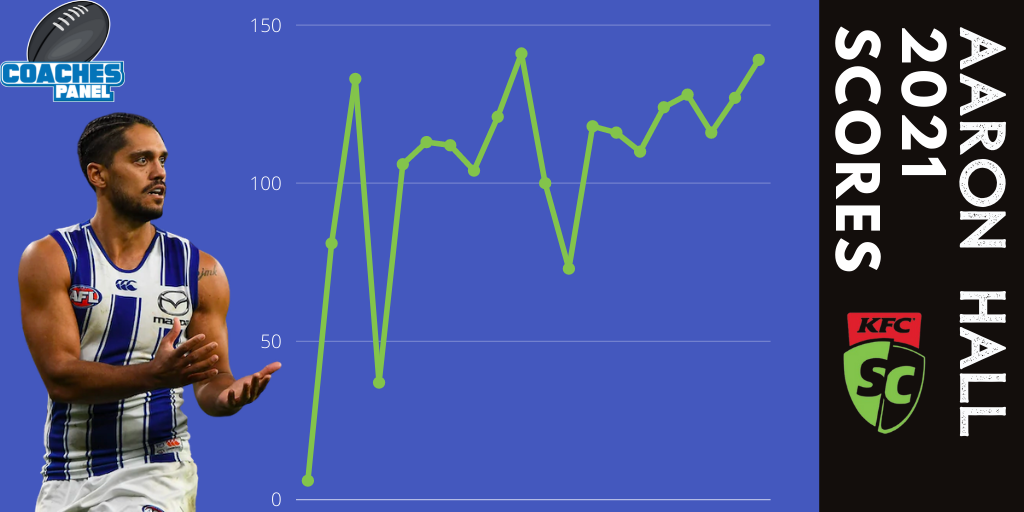 As much as 2021 was a shock, it wasn't a total surprise. Hall's got fantasy pedigree in his past. When he played for Gold Coast in the final seven games of 2015, he averaged 106 in AFLFantasy/DreamTeam & 112 in SuperCoach. The following year in 2016, he played 17 games, averaged 105 in AFLFantasy/DreamTeam and scored 11 tons, three over 120, including a 151. All year he had just two scores under 90. And in SuperCoach Hall averaged 95, which consisted of seven tons with three over 120.
Hall is a fantasy performer, and while durability has been a legacy concern, barring a concussion last year, it was a pretty worry-free season. If he can hold, let alone grow his scoring power, not only will he likely be the top defender in 2022 choosing to pass on him in your starting side could be catastrophic to your plans for success.
Embed from Getty Images
MY TAKE
A narrative in the fantasy footy community suggests that Aaron Hall is priced at his max potential. But that's a false view. He's not. The scoring of his 2021 is better than his average suggests. From the 18 matches he played in full, Aaron averaged 118 in AFLFantasy/DreamTeam and 114 in SuperCoach. That's approx ten points per game of value inbuilt to his price point. So to suggest he's at 'max' price is inaccurate. Arguably, he's underpriced on his ability.
A more helpful conversation that creates questions around Hall isn't around his scoring capability. A better one is to ask the possible game style of North. Last season he and Ziebell often had a monopoly on possessions as the Roos attempted to maintain the ball to stem the bleeding. Does the game style evolve? As the team improves, I'd propose that the need to play defensive possession heavy footy isn't required.
North's defensive structure should look different also. The free agency departure of Robbie Tarrant is significant. Who replaces him? Some extra help should come with Aiden Corr. After joining the club as a free agent, he played just two matches last year. Does that impact the structures? And by osmosis Hall's monopoly on the rebounds?
Additionally, Luke McDonald missed three-quarters of the 2021 season. Just twelve months ago, it was him that had the quarterback role. Does he gain it back? We wrote about Luke last season in the 50 most relevant about this exact function. The reality is there are several unknowns about North that could impact his fantasy performances.
The magic number (how prices and formulated based on averages) is at the highest point at the start of the season. To put it simply, if you believe Hall can outperform his current price points, then he'll hold or grow that price. If not, even a scoring hold on current average holds, let alone some regresses, will mean he'll drop in price. You cannot start if you don't think he starts with a bang.
On the flip side, a players price doesn't matter once you own them. If your starting Hall, it's because you're confident, regardless of game style or durability concerns, That he'll carry on as his 2021 season did. If you start, you believe he's in the top handful of defenders, and your banking on his ceiling games appearing in some of the early games. All it would take is him delivering a 5 round average of 115-120 to start the season and have his acquiring him starts to get challenging. With your first few premiums upgrades, you're looking to take advantage of premiums that have dropped in value, not pay up to get someone.
The selection or non-selection of Hall is a big one. I genuinely believe it can define your season and quickly. The decision for coaches could be one they contemplate long into the preseason. For some, he'll be a cause of celebration. Others a moment of lament. To spend this much salary cap, I'd need to. Be confident he can go 110+ over the first six weeks and then maintain a 100-105 minimum for the whole season. Some might be, but I'm not confident currently. I need to see the defensive structure, players used and game style at North before committing to him. Right now, he's an upgrade target, but the preseason is long, and things can change for better or worse.
DRAFT DECISION
Undoubtedly Aaron Hall is a D1. And without question, he'll be gone after the second round. But at what point? For me, I don't see him, nor could I advocate for someone spending a first-round pick on him. Early in a draft, you cannot take a risk on anyone. And even the most bullish Hall supporter can acknowledge some risk is around. Someone will bite in the second round. He was so good for so long last year someone will find him irresistible. For me, I have a few defenders ranked ahead of him. And where I'd be happy to take him based on ranks would mean that I'd be missing drafting him in most drafts.
JOIN THE CONVERSATION
Do you believe he is fantasy relevant?
Will you be starting with him?
Have your say at our Facebook, Twitter or Instagram.
WANT EARLY ACCESS?
Want access 24 hours early to the 50 Most Relevant podcasts? Join our Patreon and get ahead of the Crowd