Lewy & Checkers from Lane Kicking are back with their take on some Collingwood Magpies on their AFLFantasy watchlist.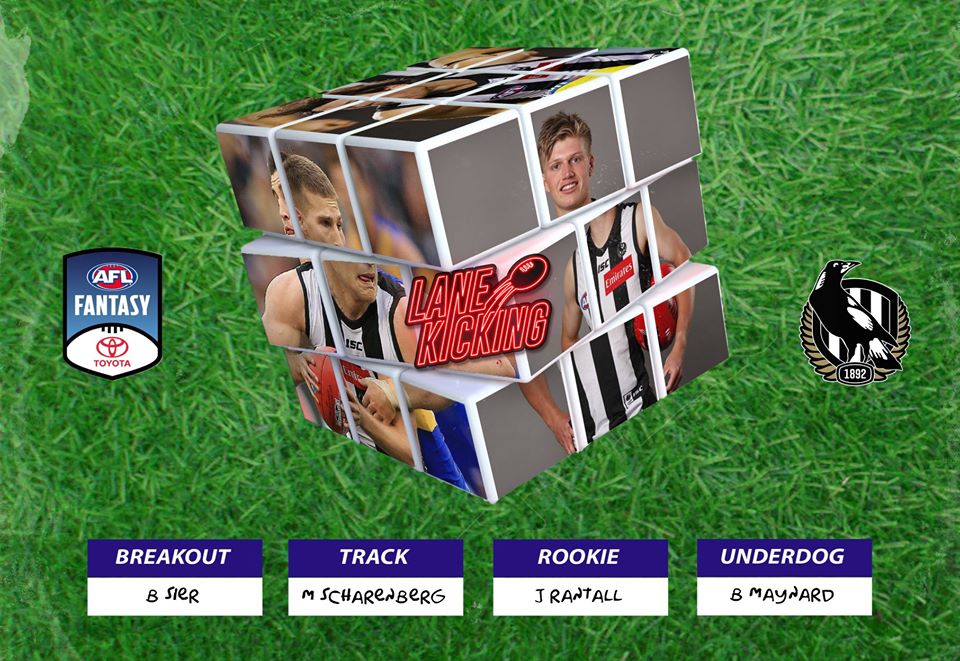 BREAKOUT: Brayden Sier – $493,000 (MID)
Showed plenty of talent averaging 75.5 and breaking into the side for finals in his first season but was a bit of a let down last year. There is something special about the young fella and he looks the prime replacement in the midfield once Pendlebury and Sidebottom are done, but he is probably just a little awkwardly priced to touch. An interesting fact about Sier, for all his fantasy potential, still yet to crack a ton in his 18 games of AFL
TRACK: Matthew Scharenberg – $495,000 (DEF)
There are probably a few obvious ones you could track at Collingwood, but seeing Scharenberg finally light up in 2020 would be a real feel-good story. Former first-round pick, he has been crippled by injuries only managing 38 games in the last 5 years. When he first came to the Pies he was a tall, strong marking rebound defender who had the versatility to play anywhere on the ground and averaged 22 touches at U/18 level.
Unfortunately, we have never seen the best of Scharenberg, but Collingwoods efforts to persist with him show there must be something special there. I know we are digging deep here but in his second season when he got a nice little run at CHB there was a little 5 game streak where he averaged 93.6. If he can stay fit, build some fitness and gain some confidence in his body he could be a handy little cash cow down back

ROOKIE: Jay Rantall – $192,000 (MID)
Slipped right down the draft order after being a smokey for a late first rounder and most would say Collingwood grabbed a steal at Pick 40. Described as the most athletically ready made player in the draft, just some questions about his skills and efficiency after crossing over from a Basketball background. This is good news for fantasy punters though, in hope that he might get some early games, Rantall averaged 25 touches and 99 fantasy points in the TAC Cup last year so there is some potential there
UNDERDOG: Brayden Maynard $570,000 (DEF)
\This is real left field but there is just something about Maynard that has caught Checkers eye. Averaged 76.8 in 2019, but dished up 87.2 in his last 5 games (including finals). While he seems to be a consistent 60-80 range defender, there have been a couple of big games from Maynard including 130 last year and 144 in 2018. If he can rack up a 144 he must have some form of fantasy potential locked inside of him, just a matter of getting it out more consistently.
Probably doesn't have the game to rotate through the middle like Jack Crisp, but he can be a handy tackler and rebounder. We don't expect a huge increase in output but we can't help but keep his name on the bottom of our watchlist, just one to keep an eye on (especially in draft)