This Friday, the AFL offseason goes into full gear, with the free agency period commencing. The following Monday, the trade period officially opens. Then, every team other than Melbourne, the eyes move quickly to the 2022 season. With one question in mind, how their sides can improve and claim premiership success.
For AFLFantasy & SuperCoach players, it's a time where players are coming and going that can create fantastic outcomes for our fantasy footy in 2022. So with the trade period about to open, I decided to look at some of my AFLFantasy & SuperCoach Dream trade scenarios.
Embed from Getty Images
Jordan Dawson | Adelaide
Ask any Adelaide Crows fan about the clubs greatest need of improvement area, and they'll almost universally say the same thing. Quality ball use! For years the Crows have lacked class both with their inside forward 50 entries and defensive rebounds. So the addition of Jordan Dawson to play predominantly across the wing will be a massive coup for the club. When he announced Adelaide as his club of choice, it was arguably the best offseason move for the club since the arrival of Eddie Betts.
Dawson is an elite ball user by foot and will use his booming left boot to get his teammates out of trouble while also providing players like Riley Thilthorpe silver service. Last year at Sydney, he averaged 88 in AFLFantasy and 101 in SuperCoach. As a Crow, I expect his disposal efficiency to maintain at a high level while also a small spike in his volume of disposals. Jordan should retain defensive status and, as such, be a genuine top ten option in 2022.
Embed from Getty Images
Patrick Lipinski | Collingwood
Patrick Lipinski has struggled to establish himself inside the Bulldogs best 22 for most of his time at Whitten Oval. Now, with Collingwood courting him, Lipinski could emerge as a solid fantasy prospect. In 2019, he played 17 games just two seasons ago and averaged over 80 across all formats. In AFLFantasy/DreamTeam, he averaged 85 and scored three tons. Positively he also dropped his scoring under 70 in just two games. While in SuperCoach, he averaged 81, which featured two tons and an additional four scores over 80.
He'll be priced in the low 50's in salary cap formats, and if he has a MID/FWD status, he might be a popular breakout option amongst the community. I think he'll be at his most significant value in drafts. He's one to watch in that format of the games.
Embed from Getty Images
Adam Cerra | Carlton
When I think of how best to describe Adam Cerra as a player, the first word that comes to mind is class. 'Chez' has this uncanny ability to make the complex look easy and find his teammates lace out from seemingly impossible positions. But, unfortunately, the scoring consistency hasn't yet popped for him. Just last year alone, he delivered just four scores over 100. But what I like about his scoring is the steady build. Over the past three seasons, averages have increased 10-15 per season.
If this current scoring trend continues and maintains at his new club, he should average 95+ next season. Additionally, it wouldn't surprise me if he cracked around the 100-105 average marker. At Carlton (his rumoured club of choice), he'll never get tagged. That will always be Sam Walsh or Patrick Cripps if he can ever get back to his former glory. Having Cerra as potentially the #3 midfielder will be an exciting proposition for Blues fans and fantasy coaches.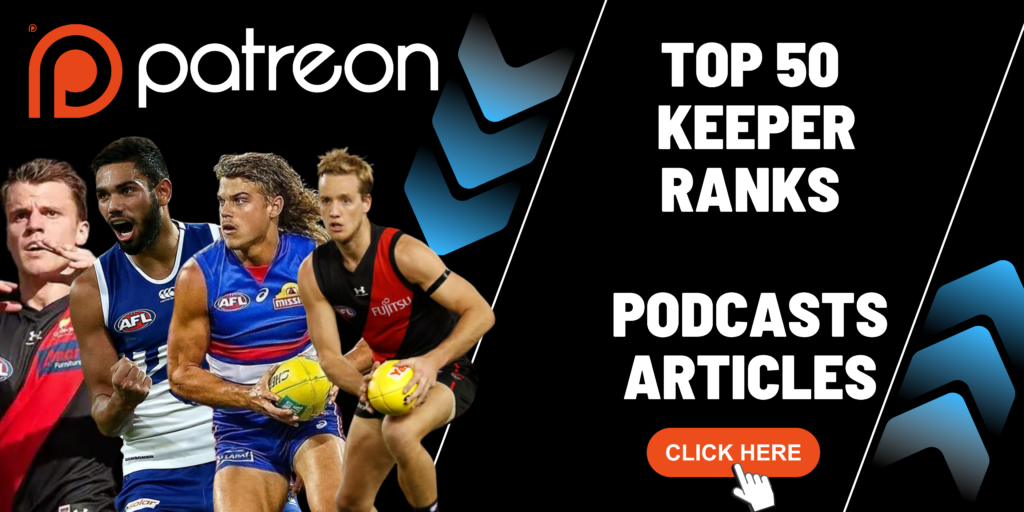 Embed from Getty Images
Peter Ladhams | Geelong
To be upfront Peter Ladhams has more been linked with GWS Giants as part of a possible deal with Jeremy Finlayson. But in reality, a move there would see him stay as a backup ruck option. The club in most need of a lead ruck is Geelong. For years the club has been on the ruck merry go round, and a player like Ladhams in that ecosystem could flourish and benefit both parties.
It's only a small sample size, but in four games of 2021 where he played as the #1 ruck with no Scott Lycett, he averaged 93.5 in AFLFantasy/DreamTeam and 96.3 in SuperCoach. That's an increase of over 27 points per game when he shared the role.
Does he end up a Cat? From a fantasy footy perspective, it'd be a match made in heaven!
Embed from Getty Images
Jordan Clark | Fremantle
Talented Junior – Check
Deprived of Opportunity – Check
The rival club needs his skill – Check
Vacancy in the same rival side – Check
Draft capital to secure a deal – Check
Fantasy Pedigree – Check
In reality, if Jordan Clark wants to play as many games of AFL as possible, a move from Geelong is almost a necessity. For one reason or another, the Cats have overlooked him on multiple occasions. Just 24 months ago, Clark was one of the hottest young prospects in the league after averaging 13 possessions, four marks and nearly three tackles per game.
A move to Freo (or frankly anywhere at this rate) provides him with the opportunity to use his elite speed and strong footy IQ and, importantly for us as fantasy coaches, a chance to deliver. He'll be priced in salary cap formats at just over 40 and should provide a solid return on investment. Remember, in his debut year; he averaged over 60.