With the AFL draft completed the fantasy, community starts to turn it's attention to the coming season. For AFLFantasy, SuperCoach & DreamTeam players, it's the final step before the 2022 positions get revealed from Champion Data. Before the official announcement drops in the next few days, I thought I'd share some possible 2022 Fantasy Footy position changes.
Already champion data via Fantasy Freako have confirmed 127 DPP's will be in the games next year.
Embed from Getty Images
DEFENDER
Jack Ziebell
In 2021 Jack Ziebell was one of the breakout midprice forwards who became one of the season's best buys. This addition of the Kangaroo skipper into our backlines should come as no surprise. He, along with his teammate listed below, dominated the defensive 50 possessions for North Melbourne. So the only question fantasy coaches will be pondering is will he be worth investing in at peak price in 2022?
Aaron Hall
Like his teammate above, Aaron Hall became one of those core ingredients to success in 2021. If you didn't have Hall in your forward stocks, chances are you didn't have a strong season. With his football revival coming as a running half-back, giving hall defensive status will be one of the easiest decisions Champion Data will ever make. But, more importantly, is can he follow the season up? Regardless, Hall looks like a fascinating player to discuss during the preseason.
Nick Hind
The trend of 2021 forward listed players getting defensive status continues with Nick Hind. Numerous superlatives were used last season to the Bombers list management team for identifying him as a bargain price replacement for Adam Saad. Equally, coaches who jumped on Hind early had strong starts to the season. The 'run and carry' defender
Jarman Impey
In all honesty, it could've been CNTRL-C, CNTRL V from above when it comes to the reason why Jarman Impey will pick up defensive status. Like the names above, he had a clearly defined role change last year. With the absence of James Sicily, he became the primary ball user of the Hawks D50 before his season ending injury. He's not salary cap format relevant next year, but for drafts, he'll be someone worth keeping an eye on in the middle of the draft.
Braeden Campbell
Heading into his second season, it's rare a player becomes fantasy relevant. Where talking about players like Nat Fyfe, Jackson Macrae and Clayton Oliver that became genuine premiums in year #2, for Braeden Campbell, he'll move from his MID/FWD status of 2021 to a likely pure defender. Last year, he played as a small-medium rebounding defender and should easily allocate status for Champion Data.
Bailey Dale
Luke Beveridge has done it again. Two seasons ago, he reinvented Caleb Daniel as the 'quarterback defender for the Dogs. Now, Bailey Dale has transitioned from a dynamic forward that struggled to make the best 22 to becoming a dominant rebounding defender. Daniel & Dale's skills complete each other perfectly and continue to cause headaches for opposition forward coaches. Bailey's a genuine top 10 defender candidate moving into next season.
Chayce Jones
Of all the players referenced so far, Chayce Jones probably has minor fantasy relevance. However, the positional allocation to defensive status is a warranted one. The former first-round pick has reinvented himself as a hard-nosed pressure defender. In addition to his high endurance capacity and team-first mindset, Jones is also a solid user of the ball by foot. If he can jag some kick in responsibilities off Wayne Milera or Brodie Smith, he might pop a little as a late-round draft pick up.
Others who should gain: James Stewart, Jy Farrar, Miles Bergman, Tom Atkins, Jayden Hunt & Jayden Laverde
Become a Patron!
Embed from Getty Images
MIDFIELD
Callum Mills
The breakout was complete for Callum Mills. He transitioned beautifully into a dyanmic cenntre bounce midfielder. No chance he retain his defensive status.
Rory Laird
Played pure midfield, lock it up. Nothing more to say! Sadly we lose this long term defensive staple to the midfield.
James Harmes
The Melbourne Demon midfield stopper. James Harmes enjoyed his season of fantasy relevance in the sun. But as a midfielder only, it's back to drafts and daily fantasy.
Jack Crisp
I'm still 50/50 on this, but I think there is sufficient data that Jack Crisp needs to be a midfielder only in 2022. He attended a high volume of centre bounces, and despite increasing his rebound 50 counts, it was coming from a defensive 50 function. Instead, it was him using his endurance weapon to push into the backline become the rebounder. This was seen often when Brayden Maynard was forced to play a highly lockdown focussed d50 role.
Kyle Langford
Last season Essendon's midfield stocks were smashed with injuries. As a result, Kyle Langford thrived (amongst others) with the additional midfield responsibility. As a result, he should be a MID only option. Sadly, it means beyond draft and daily fantasy formats, he's not a viable option.
Harry Schoenberg
Maybe a controversial one, and I know for my keeper leagues, I hope I'm wrong. But Harry Schoenberg was electric for the Crows as a midfielder last year. A quick scroll back through the centre bounce attendances over the season shows that 'Shonnie' became a core member of the Adelaide midfield. When he wasn't playing at centre bounce, he was playing as a wingman. So again, I hope I'm wrong, but I think he's a pure midfielder in 2022.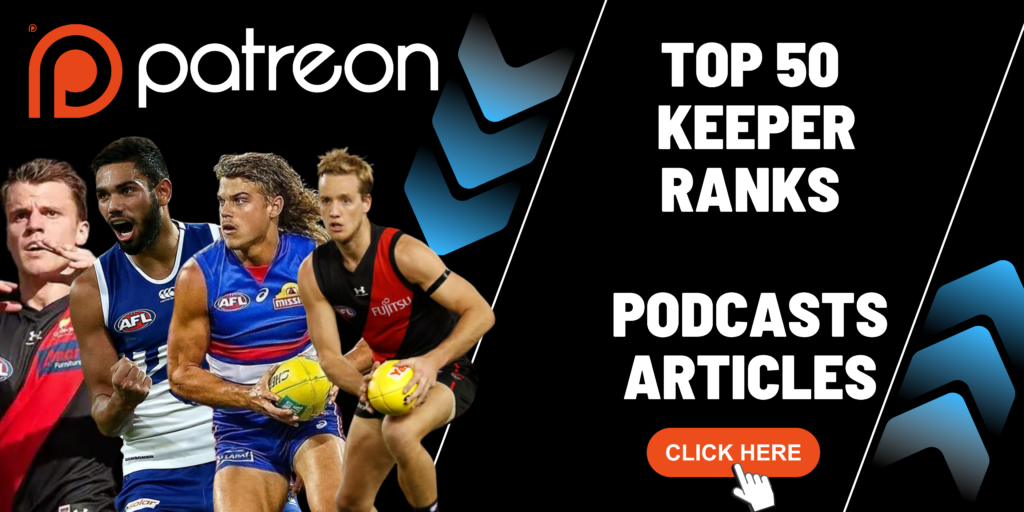 Embed from Getty Images
FORWARD
Nat Fyfe
By name alone, the probable MID/FWD status of Nat Fyfe next season would make many coaches super keen on selecting him in 2022. And depending on the format, you play he could well be one of the more relevant additions for the year. The Dockers skipper spent an ever increasing amount of time forward as his young teammates started to take over the responsibility of the midfield. While not the most damaging set shot at goal, Fyfe is an imposing forward presence and is as challenging to match up against inside forward 50 as at centre stoppage. The departure of Adam Cerra to Cartlon might even see him move back more into the midfield. However, the biggest obstacle to selecting him is getting him back to full fitness after another injury setback in the offseason. We'll discuss that more in the preseason.
Jack Billings
Over the past few seasons, Jack Billings has gone from draft relevant forward to top 10 forward across formats to an irrelevant midfield only wingman. Despite it not being Jack's best season, he did start to get back towards showing off his damaging highlights. Billings is an excellent field kick, and when playing across half-forward, the combination of solid footy IQ and skill makes him a very good player. As a potential MID/FWD next year, he might not regain top 10 status among forwards, but he'll undoubtedly skyrocket up draft format selection boards if he does.
Lachie Hunter
Selecting Bulldogs players always feels like a risk. Luke Beveridge is long known for his ability to chop and change a player's role weekly and potentially every quarter. In 2021 it was Lachie Hunter's turn to experience the positional roundabout. For the better part of the year, he played at centre bounces off the half-forward flank and then pushed up onto his preferred wing role. If the proposed MID/FWD status lands and the Bulldogs settle him back onto the wing, he looms as a locked 90+ forward across the formats.
Tim Taranto
Ask any Tim Taranto owner over the final six games. Where did he play to end the season? Freaking forward! And didn't his scoring show it. Undoubtedly, the percentage of field position time to him gaining or missing will be razor-thin. I think due to such a heavy forward role late, plus some in-season game management, he's done just enough. But it'll be tight.
Sam Berry
The rebuilding Crows got plenty of games into Sam Berry in 2021. A staple of his game was his defensive workrate and solid defensive pressure on the opposition ball carrier. As a junior, Berry was a strongly contested midfielder, but with the Crows, he's developing his game with minimal midfield time and substantial forward presence. It will result in him being a forward in this coming season.
Tim English
For the Western Bulldogs, they changed up the ruck and forward structures this year. Instead of Tim English leading the ruck division, he became the second fiddle to Stefan Marti, Jordan Sweet and former teammate Lewis Young. English should still retain ruck status but also get forward status to go with it.
Ben McEvoy
Don't forget, this article isn't about the 'most relevant positional changes.' We'll get to that once the positions get announced. Instead, this is about forecasting changes. For example, Ben McEvoy moved into the #2 ruck position behind Jon Ceglar, and his height and marking presence was maximised inside the Hawks forward 50. As a result, he should retain DPP but will move from DEF/RUC last year into an RUC/FWD.
Josh Daicos
Two seasons ago, Josh Daicos was looming as one of the breakout forward candidates in fantasy footy. However, due to multiple injuries and frequent positional changes, Josh has found himself off plenty of fantasy footy radars. In the games he did play last year, he put his mercurial surname into good use inside forward 50. Regaining forward status should bring him back into view for coaches.
Stephen Coniglio
We might not have enough data on this for champion data to do it. But Stephen Coniglio spent alot of time inside forward 50 option at centre bounces. Historically, champion data that the starting position at centre bounce 'is a consideration in the allocations. Should he gain forward status, a combination of this and a low starting price due to injury might make 'Cogs' one of the most highly owned players in the game.
Tom Powell
Last season he was a strong early season cash cow. For those who play AFLFantasy, you'll know that he was awarded MID/FWD DPP midseason after spending a large portion of the year playing off the half-forward line. As a result, I believe he's a prime candidate to commence the 2022 fantasy year with the same MID/FWD status. I do suspect Tom Powell will increase his midfield minutes next year. But with Jason Horne-Francis landing at the club in the draft, I expect him to increase the competition for midfield rotations at North Melbourne.
Become a Patron!
Embed from Getty Images
Hold Position
Josh Dunkley
During last preseason many in the fantasy community were unsure of whether to jump on due to his role volatility in the Dogs side. Pre-injury, Josh Dunkley was the form player, post-injury he was barely playable. Given his heavy Forward time after the return from surgery, I believe Josh Dunkley will retain MID/FWD DPP. As a result, this coming season will be once again filled with the Dunkley dilemma discussions.
Rowan Marshall
With Paddy Ryder missing multiple games last year that Rowan Marshall played, it wouldn't shock me if he lost DPP. But I think in the totality of the season, Marshall spent enough time starting and then playing inside forward 50 to retain his R/F DPP. So if Ryder misses large chunks of this coming season, too, it could be Marshall that pushes towards that #1 ranking forward by seasons end. His upside is enormous.
Patrick Dangerfield
Pretty simple this one. Patrick Dangerfield played as a centre bounce midfielder and played as a damaging isolated forward. You know what to do champion data. When it comes to allocating positions, you can leave his status unchanged.
Lachie Whitfield
When Lachie Whitfield is on the ground, he's a damaging top tier outside player in the game. For the Giants, they allowed him to stay deployed across the half-back and push up the wings. He averaged four rebound 50's a game and should maintain his defensive status. There might even be a chance he's allocated a MID/DEF and provide us coaches with some early squad versatility.
Dustin Martin
You'll be hearing alot about Dusty this preseason. The triple Norm Smith medalist plans to be back with a vengeance in 2022. This could make him a bargain buy among the fantasy footy formats, given I believe he's a lock to retain MID/FWD DPP.