After a failed attempt to leave the Bulldogs a few seasons ago, Josh Dunkley got his wish and found his way to a footballing life outside the kennel. As a Lion, I believe he's the most relevant player in SuperCoach, AFLFantasy & DreamTeam for 2023.
PLAYER PROFILE
Name: Josh Dunkley
Age: 26
Club: Brisbane Lions
Position: Midfield/Forward
2022 Highest Score:
139 Vs West Coast (AFLFantasy)
155 Vs Fremantle (SuperCoach)
Career Highest Score:
189 Vs Melbourne | AFLFantasy (2019)
202 Vs Melbourne | SuperCoach (2019)
2022 Average:
108.8 (AFLFantasy)
108.3 (SuperCoach)
SuperCoach Price: $596,400
AFLFantasy Price: $963,000
AFLDreamTeam Price: $987,400
Embed from Getty Images
WHY IS HE RELEVANT?
Josh Dunkley is one of the most enjoyable players to own in fantasy footy. The reason is he finds a way to score through every column imaginable. In reality, he is one of the most well-rounded midfielders in the game. Dunks can win the contested ball, applies high defensive pressure, is a strong tackler, gets into space to win the uncontested ball and is a super overhead mark for his size.
Even though Dunks is now on a new side and within a new structure, his scoring past can give us an insight into his potential scoring future. Last season he scored eighteen AFLFantasy/DreamTeam tons. That's four games all year that he didn't hit triple digits. Six of those tons were 120 or higher, including five over 130. He had just two scores below 80 all year on his way to averaging 108.7. He ranked eighth for averages and sixth for points. He scored more than Lachie Neale, Clayton Oliver, and Jackson Macrae and was under 30 points away from Touk Miller, who finished fourth.
Last year we had some great in-season DPP gains in the forward line, including Luke Paker, Bailey Smith and Marcus Bontempelli. Yet Dunkley was still higher than these guys in averages and total points. He was clear and supreme the best forward for 2022.
In SuperCoach, he posted fifteen tons. Seven were above 120, five were above 130, and his top three scores were 142, 143 & 155. He had two additional scores above 90, and in just four games, his scoring dipped under 80. By the year's closing he was ranked 15th in SuperCoach for total points and 23rd by averages.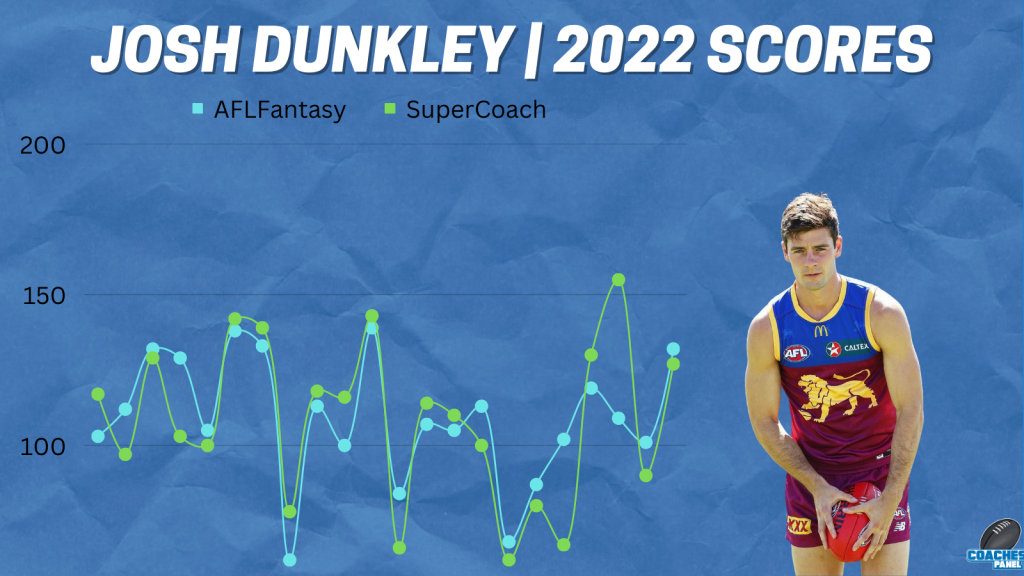 Before injuring his shoulder in 2021, he was the hottest scoring player across all game formats. Over the season's first six rounds, he averaged 115 in AFLFantasy/DreamTeam and 129 in SuperCoach. If you didn't own him, luck stopped him from running away with your season. He's got the scoring capability within him to go back. In 2019 his scoring pedigree of Dunkley was first seen. Over his final thirteen games of that season, he scored twelve tons and, in AFLFantasy/DreamTeam, averaged 125.3 and 129.9 for SuperCoach.
You don't have to pick and choose the data trends from 2021 or 2019 to showcase that Dunkley has the scoring pedigree to match it with the top options across the formats. For example, in the first seven weeks of 2022, he averaged 121 in AFLFantasy/DreamTeam and 118 in SuperCoach. While in the last month of the season, he averaged 115 in AFLFantasy/DreamTeam and 125 in SuperCoach.
At the end of the 2020 AFL season, Josh requested a trade to Essendon. One of the primary motivators around it was a desire to have a permanent position in the midfield. With a successful move to Brisbane two years on, he's now got the chance to prove to the AFL world why he wanted the opportunity to become a permanent midfielder.
Embed from Getty Images
MY TAKE
He was recruited for a purpose! That's what Brisbane has done by trading for the services of Josh Dunkley. He has been targeted to add a physical and a skills combination mix that the Lions midfield needs to improve. While the team have options through the centre bounces, they are one of the smaller midfield going around. Lachie Neale is only 178cm, Jarryd Lyons is 184cm, and Hugh McCluggage is 185cm. However, Josh is 191cm. His height, strength and physical presence will make a significant impact from the first bounce.
Alongside that, Dunkley offers something unique to the midfield options. His combination of elite contested footy alongside his tackling pressure will enable both him and his midfield teammates to thrive. Last year the Lions ranked 12th in the AFL for tackles and had just one player average over five per game. Last year Josh averaged 6.1 per game and was ranked 13th in the league in this stat column.
Dunkley will receive a minimum of 65% of centre bounce attendance, and this isn't just because of what he adds to the midfield mix. It's also because of the Lions forward structures. Even before the offseason addition of Jack Gunston, they already had a stacked forward line. On their day, Eric Hipwood and Joe Daniher are damaging talls. Then you've got some devastating smalls in the live wires of Zac Bailey and Charlie Cameron. Throw in Gunston plus the rotations from Linc McCarthy, Dayne Zorko, and Cam Rayner, and now opposition coaches will have headaches for days trying to stop this team. As handy as Dunkley is when forward, there is no room for him outside of rotation management.
What's great about Dunkley is he can skip bulk CBAs to score well anyway. For example, in round seven against Essendon last year, he attended only 23% of centre bounces but still posted a 130+ score across the formats. Two weeks later, he scored over 110 with just 24% CBAs, and a further two weeks beyond that, he scored over 135 and attended just 32% of centre bounces.
Is there a narrative for why you'd go against selecting him in your starting squad? There are a few. Firstly, you believe he'll have a slower start to the season. The midfield mix will take time to find a rhythm, and you think Dunkley will score below 100 over these first few weeks. Additionally, you look at the Brisbane early fixture and see some tough matchups early. In round one, they play Port Adelaide, who was historically one of the harder teams to score against. Additionally, it's a clash against his former team in round three. And based on previous comments he's made, I suspect the Dogs players will be ready to bite.
It's banking for many things to go your way while 53% of AFLFantasy, 65% of DreamTeam and 63% of SuperCoach are backing him. In reality, by not starting him, you are cheering for an injury or something bad to happen to him, like a suspension or a concussion. But the reality is that you will want him at some point in the season. So why not eliminate the risk and possible headache and start with him?
Whenever a player is clear and supreme, the best option in his line, I start them. He doesn't have to increase his scoring either to do that. Even a hold is a jump down to the next best on the known forwards. I'm all for taking a risk, but opting out of Dunkley is unnecessary.
So why is Dunkley at #1 on my 50 most relevant? In essence, it's pretty simple. I could build a narrative case that every player didn't have to be selected. In theory, you could find someone else to replicate a comparable scoring outcome in your starting squad or upgraded plans. With Josh Dunkley, given his position, his scoring pedigree, and his ownership, I couldn't justify or advocate a good reason not to select him.
DRAFT DECISION
Where Josh Dunkley goes on the draft day will be determined by the format you choose to draft within. What will stay the same is that he's the first forward selected off draft boards. For AFLFantasy scoring formats, he's right in the mix for the #1 pick overall. And personally, if I had that selection, I'd be picking him there. However, in SuperCoach, the conversation is more open for the top pick. Passing up the handful of 120+ midfielders is a challenge. But if he doesn't go in the first handful of selections, I don't see a world where he's still on in the second round.
JOIN THE CONVERSATION
Do you believe he is fantasy relevant?
Will you be starting with him?
Have your say on our Facebook, Twitter or Instagram.
WANT EARLY ACCESS?
Want access 24 hours early to the 50 Most Relevant podcasts? Join our Patreon and get ahead of the Crowd.