For nearly a decade, Jackson Macrae has been a staple in our SuperCoach, AFLFantasy & DreamTeam sides. For many, he's ripe for the picking again in 2023, while some look past him in favour of other options. But whatever the outcome, Macrae is set to be one of the most relevant players for fantasy AFL this season.
PLAYER PROFILE
Name: Jackson Macrae
Age: 28
Club: Western Bulldogs
Position: Midfield
2022 Highest Score:
148 Vs GWS Giants (AFLFantasy)
158 Vs Richmond (SuperCoach)
Career Highest Score:
190 Vs Richmond | AFLFantasy (2018)
189 Vs Gold Coast | SuperCoach (2018)
2022 Average:
103.4 (AFLFantasy)
115.2 (SuperCoach)
SuperCoach Price: $634,400
AFLFantasy Price: $916,000
AFLDreamTeam Price: $938,300
Embed from Getty Images
WHY IS HE RELEVANT?
What has made Jackson Macrae so reliable over the past few years? First, he has this incredible ability to win the inside ball. Couple this with his elite endurance and workrate sees him get into space where there is seemingly none. And when he does get the ball, he punishes the opposition and helps set up his teams to push deep inside forward 50. Last year alone, he ranked by average for effective disposals, uncontested possessions and disposals. Additionally, he was top ten for clerances, stoppage clerances and inside '50s. In short, he's the everywhere man of the midfield.
His seasonal average of 103.3 in AFLFantasy/DreamTeam was the twelfth best for the year in this format. It consisted of twelve tons, five of which were above 120. They included 120, 123, 124, 130 & 148. He had five extra scores between 90-99 and only failed to score over 80 in just two matches. By season end, he ranked ninth for total points.
His SuperCoach season was even stronger! Throughout the season, he scored sixteen tons, 50% above 120. Of these tons, he had five monsters over 140 and three times scored above 150. He had four additional scores between 90-99, and his lowest season score was 82. By the end of the season, his average of 115.2 was the seventh best last year, and he finished sixth for total points.
During his 2021 season in AFLFantasy/DreamTeam, he ranked fourth for total points scored, and his average of 115.9 also ranked him fourth in the competition. His season consisted of eighteen tons, six of which were above 120; last year, his scores fell under 90 in just one game. Before the Dogs bye round is where he did most of his damage, he scored twelve consecutive tons at an average of 122.5. After the break, his scoring did slide marginally, but a 108 is more than handy. When he did ton-up last year, he showcased that he is still a weekly VC/C option. His average score when he hit triple digits in 2021 was 121.
As great as the season was in this format, it's SuperCoach, where he continues to collect points without seemingly even trying. Last year, he scored twenty-one tons. Yes, that's not a typo. Just once all season, he failed to hit triple digits, and in that game, he went 97! Twelve times his scores were over 130, and he ended the season ranked first in SuperCoach for total points and averages.
Since 2014, when he was able to break out to premium territory as a second-year player, Macrae has a regular towards the top of the points and averages mountain. Take a look at these averages. Blue is for AFLFantasy/DreamTeam, and green signifies his SuperCoach averages.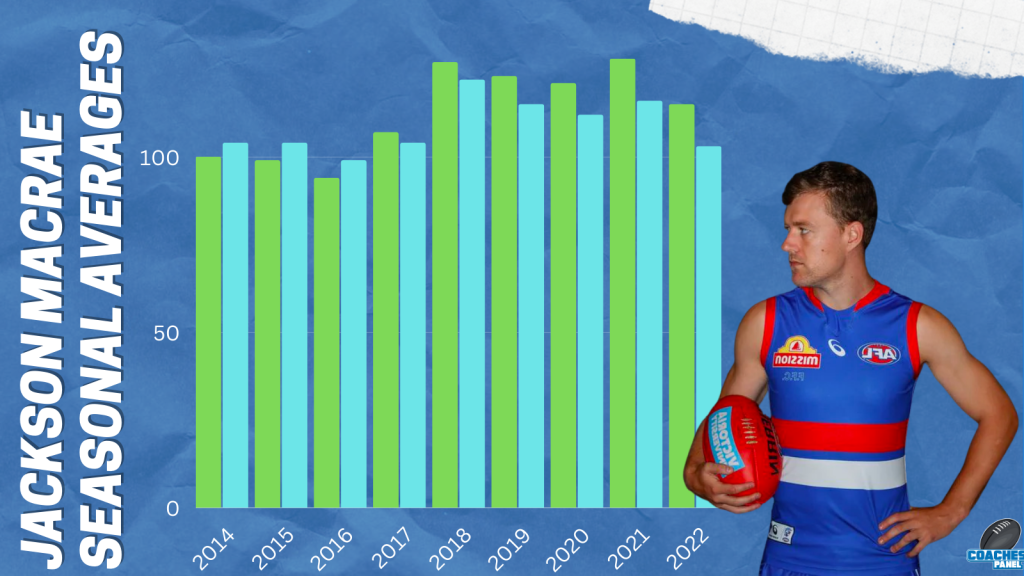 Every coach wants a premium like Jackson Macrae in their squad. He is the personification of the perfect fantasy premium. High ceiling, consistency of scoring, almost non-existent basement, role security, captaincy option in every game and durability. Whatever the checklist you have for premium options to start on your side, Macrae has ticked them all multiple times over.
Embed from Getty Images
MY TAKE
If we were picking the best premium of the past 6+ seasons, then Jackson Macrae would be a walk-up start. But despite his scoring resume, we can only use historical data to create forecasts of possible and probable outcomes.
The reason 29% of DreamTeam, 21% of AFLFantasy & 17% of SuperCoach players are on him isn't just because of his history but also because they believe that the departure of Josh Dunkley creates some further open doors for both his scoring and role. Why? Because as Macrae's CBAs started to see a downward trend and some fluctuation post-bye, Dunkley's trended upwards. One thing anyone who's played these games format a long time will know is that the worst place for Macrae is to be stuck on a wing. It's where his fantasy scoring stalls and politely dies.
For that reason, I was thrilled to hear how he was being used at the club's most recent match simulation. He was reported rotating between the centre bounces and the half-forward line. This is the perfect outcome for Macrae.
Sometimes we, the fantasy-loving community, don't interpret the 'match simulation data' well. However, we must remember that this is an opportunity for clubs to try things they've explored over the pre-season. It's why Caleb Daniel was nearly exclusively a midfielder. Try it out and see what it looks like. We know what Bont & Macrae do through there, so give him a go. Equally, Oskar Baker was very impressive on the wing, a role that, if he can hold down on his own, will be brilliant for two reasons. One, it's another cash cow for us to consider, but two, it keeps Jackson away from the wings.
What's the best midfield mix at the Bulldogs at centre bounces? It's Marcus Bontempelli, Tom Liberatore, Jackson Macrae and Bailey Smith. A tight four rotation supported by Adam Treloar, Caleb Daniel, Bailey Williams, Toby McLean and Oskar Baker on the outside is an excellent midfield combination. If the Bulldogs midfield rotations tighten up this year and do not widen out, it could be positive signs for a scoring increase for Macrae.
There is a slightly concerning trend over the past two seasons but only in AFLFantasy/DreamTeam. So this query is less relevant than a discussion in SuperCoach. Over the previous two seasons, he's scored 18 tons but converted just six into scores over 120. During last year from 12 tons, he posted just five over 120. Previously he was a safe 115-125 guy; now, he's a reliable 105-115 guy. And in the eyes of some, that starts to become a reason to fade interest.
Due to this lack of ceiling in AFLFantasy/DreamTeam, it's built a lack of confidence that he can be the safety net captain he'd been between 2018-2021. It's just one of the reasons why his ownership is considerably lower than his historical output. However, you don't have to have him be a captaincy option each week. Let me explain.
Over the first thirteen rounds of the season, the Western Bulldogs play every match before the Sunday fixture. That makes him a perfect VC candidate. His potential for a ceiling score (or possible lack thereof) is protected. Playing the captaincy loophole, he can still be in AFLFantasy/DreamTeam and still be very useful for you in the captain's conversation, especially when paired with others who might have a heavy Sunday fixture. For example, Jack Steele and Rory Laird have five Sunday games before the byes. They could be a handy
In yesterday's article & podcast, I posed this question, and it's worth recapping as we look at Macrae. What is the scoring benchmark of a topline premium midfielder in 2023? Is there a clear top two or three? Is the much gap between the midfielder ranked fifth or tenth? Where is Macrae concerning this? Your answers to these questions will determine his selection or non-selection on your side.
The downside of Macrae is that he has a season comparable to that of 2022. He, by the way, was a top ten points scorer across the game formats. To me, that's the base of what he is. The upside? He could be the #1 player in the game. So I'm selecting him everywhere.
DRAFT DECISION
A sliding Jackson Macrae is one of the possible bargains you could land on draft day. If you wanted to own him, you've had to outlay a first-round selection for the past five seasons. It won't be the case in 2023. He's still a perfectly strong M1, but he'll start flying off draft boards in the second and potentially even early third round. Of course, that depends on how high the top end of the forwards, defenders, and rucks go inside the top 15 picks.
JOIN THE CONVERSATION
Do you believe he is fantasy relevant?
Will you be starting with him?
Have your say on our Facebook, Twitter or Instagram.
WANT EARLY ACCESS?
Want access 24 hours early to the 50 Most Relevant podcasts? Join our Patreon and get ahead of the Crowd.
Become a Patron!