A single player can rarely define the success of a fantasy football season. But if you owned or didn't own Rory Laird in 2022, then it's safe to say he was a difference-maker in the outcome of your season. Will he be that again in 2023?
PLAYER PROFILE
Name: Rory Laird
Age: 29
Club: Adelaide Crows
Position: Midfield
2022 Highest Score:
163 Vs Collingwood (AFLFantasy)
156 Vs North Melbourne (SuperCoach)
Career Highest Score:
163 Vs Collingwood | AFLFantasy (2022)
185 Vs Collingwood | SuperCoach (2020)
2022 Average:
120.3 (AFLFantasy)
127.8 (SuperCoach)
SuperCoach Price: $703,900
AFLFantasy Price: $1,070,000
AFLDreamTeam Price: $1,092,500
Embed from Getty Images
WHY IS HE RELEVANT?
As strong as the season was for Rory Laird overall, it didn't start well. The Adelaide midfielder suffered a broken hand in a pre-season game against Port Adelaide and missed the opening few rounds of the 2023 season. However, once he returned to play in round three, everything he touched turned gold from that point on. He ranked first in the league for disposals, effective disposals and handballs per game. Alongside this, he ranks second for tackles per game and top ten for clearances, stoppages, score involvements, uncontested possessions, and almost every other category that champion data measure.
In AFLFantasy/DreamTeam, he scored sixteen tons; twelve were above 120, five were above 130, and he posted his career-high score of 163. Alongside this was that his scoring didn't dip below 90 all year. His average of 120.35 makes him the top-scoring player in these formats. Despite missing two games, he still ranked fifth for total points. And he ended the year less than 70 points away from overall top scorer Andrew Brayshaw. Don't gloss over this. That ceiling and consistency so were so supreme to everyone else.
For SuperCoach, the season was equally as exceptional. His average of 127.85 consisted of 18 tons, and 77% of those he translated into scores of 120 or higher. He had ten scores over 130 and seven over 140. His worst score of the year was 93, which was his comeback game from injury. Like in AFLFantasy, Laird is the player with the highest seasonal average. Only Callum Mills, Touk Miller, Clayton Oliver and Lachie Neale scored more. However, he's under 150 short of taking the top-scoring mantle from Neale.
Last season there was a stretch in AFLFantasy/DreamTeam between rounds 11-21 where he averaged 132. His lowest score in that ten games was 119. While over in SuperCoach, his hot streak of back-to-back tons was even longer. Over seventeen weeks between rounds 2021, his scoring dip below 105 on his way to averaging 131.4. But this volume and frequency of tons go well beyond just 2022.
During the 2021 season, he scored eighteen tons from 22 games played, including 11 consecutive to end the year. Of these tons, six were above 120, and two monsters of 140+. That's scoring a ton in 81% of games last year. To go with his consistency of tons is his high-scoring basement. Just once all year did his scoring fall beneath 90. He ranked seventh for total averages and points scored in the competition for these formats.
His scoring was similarly dominant in SuperCoach with 18 tons, 11 consecutive to wind up the year and 10 of those tons 120 or higher, including a 144, 149 and a seasonal high 179. Like in AFLFantasy, he had just one score below 90 all season. He ranked 10th overall for total points, and averages ranked 11th.
It was back in mid-2020 that Laird moved from the halfback flank and became a permanent centre-bounce midfielder. In the 51 games in his role, he's averaged a ton in 78% of AFLFantasy/DreamTeam and 84% of SuperCoach games. But it's not just the frequency of triple digits scores. The volume of big scores has seen him dominate for two and 1/2 seasons. Visually here's what the past 51 games look like in summary.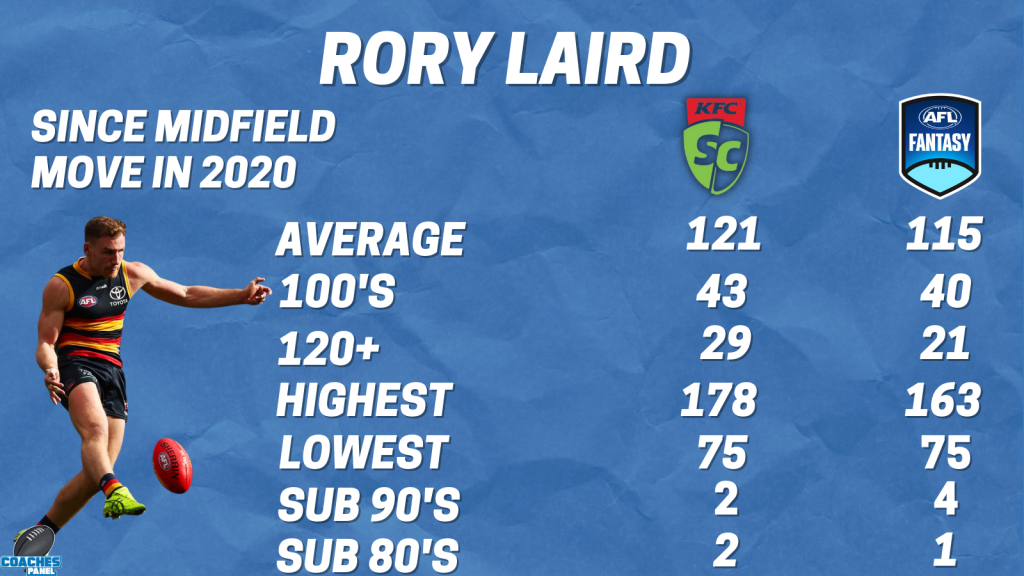 What do you want from your premiums? Let's run a quick dream checklist to see if Rory hits the criteria.
Durable
High Scoring Ceiling
High Scoring FFloor
Low Scoring volatility
Never tagged
Multiple scoring categories and avenues
Reliable with a C or VC armband every week
The answer to all of these regarding Rory Laird is yes! He is the most trustworthy premium midfielder of the past 50 games and looks set to maintain the position heading into 2023.
Embed from Getty Images
MY TAKE
Moment of truth, at some stage during 2023, we all plan to own Rory Laird. His final ten games post-bye from last year put the rubber stamp on that. With him, most teams will feel complete but nervous about battling against him every week. So the question comes down to this, will you start with Rory? Or are you planning to trade with him?
So often, we make a big deal about the value and a player's price in our starting squads. And when we do that to an extreme, we start looking only to start players that are 'value' and potentially underpriced. You're not picking him for value at the price tag of obtaining Laird. You're selecting him for his points delivery. The price is what he is, so he's not expensive or overpriced; it's what he is! So, yes, there will likely be a time in the season he's cheaper. But my question to you is twofold.
One, can you secure him at the lowest price point? Unless you're predicting a massive scoring drop, it will be little you save, and you'll need to capitalise early. Second, even if you can generate the funds to trade into him, will the volume of cash and trades to get up towards him be worth it?
Ultimately, starting with Laird or any high-end premium, it's all about the combination of players rather than just looking at a straight one-for-one. For example, which combination do you like more? Rory Laird at M1 and Darcy Cameron at R2. Or Tim English at R1 and Josh Kelly at M2? Neither is wrong, and both are possible combinations. But it's where you feel most confident and comfortable getting the best bang for your buck.
One last thing on price because the tag only matters in two scenarios. When your selling and when your buying. How expensive he is or what value he has no relevance to owners. Only those looking to jump on.
In DreamTeam & SuperCoach, the game is evolving and running, and spinning value is increasingly more important. But still, at its foundation, success in those games has come down to making sure you own the best players for the longest time. It's why in DT & SC if you believe Laird is an elite premium, he needs to be considered a starting squad candidate.
AFLFantasy is different; the weekly price changes mean you must treat this format differently. The history of recent winners would tell you to spend less on midfield premiums like this. But history is only a guide, not a mandate. The question you need to ask is this. What do you believe he will average over the first six weeks of the season? Adelaide plays GWS, Richmond, Port Adelaide, Fremantle, Carlton & Hawthorn. Does he go 120-125? If so, there's a place where he's ripe for you to start? If he's 110 or below, then clearly, you'll be backing in another player as your VC/C option early and hoping to trade into Laird quickly.
Whether you start him or not is different from what makes him relevant in the preseason. He's relevant because of what he can and probably will do again in 2023. So, when will this relevant midfielder be on your side?
DRAFT DECISION
Rory Laird will be the first defender off the draft boards in 2023. In some leagues, he'll go as the first pick overall. While others will opt for one of the top-end forward premiums. Either way, if you don't have one of the first picks of the draft, safe to say you'll not own him this year.
JOIN THE CONVERSATION
Do you believe he is fantasy relevant?
Will you be starting with him?
Have your say on our Facebook, Twitter or Instagram.
WANT EARLY ACCESS?
Want access 24 hours early to the 50 Most Relevant podcasts? Join our Patreon and get ahead of the Crowd.