The 2022 season of Lachie Neale will go down as one of his best. However, it's another season of wasted opportunities for the Brisbane Lions. Having stocked up over the off-season, is it now the time for Neale to carry his side to premiership glory?
PLAYER PROFILE
Name: Lachie Neale
Age: 29
Club: Brisbane Lions
Position: Midfield
2022 Highest Score:
145 Vs Essendon (AFLFantasy)
198 Vs Essendon (SuperCoach)
Career Highest Score:
169 Vs GWS Giants | AFLFantasy (2019)
198 Vs Essendon | SuperCoach (2022)
2022 Average:
107 (AFLFantasy)
122.8 (SuperCoach)
SuperCoach Price: $676,200
AFLFantasy Price: $947,000
AFLDreamTeam Price: $971,300
Embed from Getty Images
WHY IS HE RELEVANT?
2022 was a stunning season for Lachie Neale. Individually he was so strong and consistent last year that he was just one Brownlow vote away from becoming a two-time winner of the leagues top individual honour. The Brisbane Lions midfield star ranked second in the AFL for possessions and centre clearances while also being in the top ten for disposals, clearances, stoppage clearances and handbells per game.
In AFLFantasy/DreamTeam, he scored thirteen tons, four of them over 120, all of which were between 133-145. He had five additional scores of 90+ and only had his scoring dip below 80 in just three games. He ended the season ranked eighth for total points, and his average of 107 places him with the tenth-best average from 2022.
For SuperCoach, he scored a ton in 86% of matches last year. He registered a triple-digit score in 19 of his 22 games. Eleven tons were above 120, six over 130, and three monsters over 160 – a 164, 187 & his career-high 198. From the three games in which he failed to score a ton, he had just one below 80. Last year he was ranked first for total points and third by averages. His 122.8 was one of four players who went over 120 last season.
This was a return to peak Neale after struggling to find full health in 2021. That year he battled back tightness in the preseason, and then in round six, he suffered a significant ankle injury that saw him miss almost two months of footy. He ended the season with an average of 94.4 in AFLFantasy/DreamTeam and 99.8 in SuperCoach. That was his lowest average in a season since 2014.
As much as he suffered a few injuries in 2021, the narrative of any poor injury history is garbage. In his previous nine seasons, he's missed nine games, and seven of those came during the 2021 season. So is he an injury risk? No. Arguably he's one of the most durable premium midfielders we could own.
One of the questions around Neale before moving to Brisbane was around could he ever be a topline fantasy performer without being protected by the likes of David Mundy and Nat Fye. But since joining the Lions, those concerns haven't been answered; they've been smashed. Since 2019 in his 76 home and away games, he's averaged 107.3 in AFLFantasy/DreamTeam and 118.5 in SuperCoach.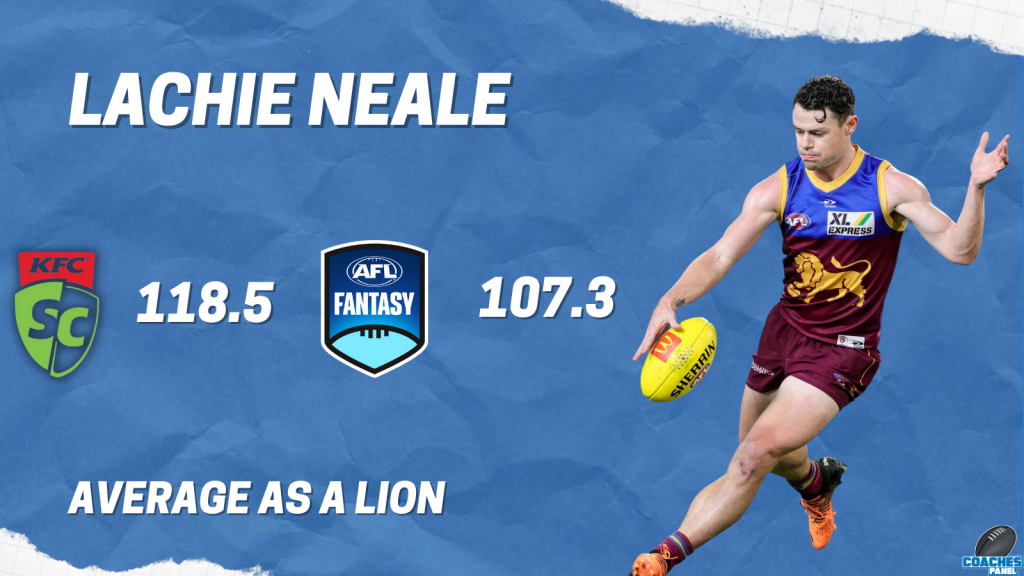 There is a direct correlation between Neale's scoring dominance and when his Lions win. In victories last year, he averaged 122 in SuperCoach, and in losses, he goes at 104.1. A differential of 18.1. When they win in AFLFantasy/DreamTeam, he goes at 113.3, but in losses, he limps to 93.4. A gap of 19.9. Last year the lions won fifteen matches and dropped just seven. But the expectation amongst the broader football media is that it should increase. The addition of Jack Gunston up forward could be a premiership-winning move. At the same time, Josh Dunkley should only strengthen the already excellent midfield. It's easy to see the narrative that Neale, with all this extra support, should have zero concerns about being one of the top-scoring premium midfielders across the game formats.
Embed from Getty Images
MY TAKE
The recent history of Lachie Neale speaks for itself. He is one of the top premium midfielders going around. However, as he enters a new season, there are two key questions that fantasy coaches are asking ahead of deciding whether he's right to choose as a starting squad option or an upgrade target.
The first isn't a new concern, but it's the fact that he's shown over time that he's quite susceptible to a tag. Last year there were six matches he was tagged, and he averaged 81.1 in AFLFantasy/DreamTeam & 101.5 in SuperCoach.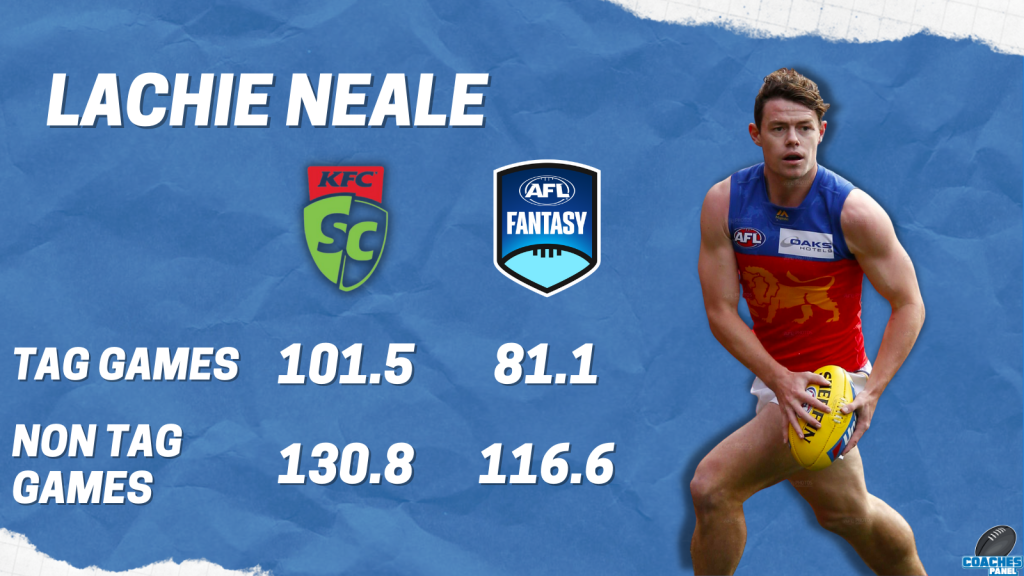 The positive of being a Neale owner is that most of these tags can be predicted when you closely watch the fixture. For those considering starting Lachie, his first six weeks are against Port, Demons, Dogs, Pies, North & Giants. Of those six teams, only Melbourne chose to tag Neale last year.
Speaking of the Lions fixture, they have two Thursday night and one Friday night game in the opening five weeks to start the season. They also have their first Sunday game in round eleven. That makes him a perfect early-round vice-captaincy option where any risk of tags can be mitigated by using the VC/C loophole.
Last year his seasonal splits were interesting. Before the Lions multi-bye round he averaged 115.6 in AFLFantasy/DreamTeam and 130.3 in SuperCoach. However, after the byes, his scoring dipped well below his best & interestingly below his current starting price. In his final nine games of the year, he averaged 94.5 in AFLFantasy/DreamTeam and 111.8 for SuperCoach. As important as it is to take note of, it's important to remember that this Lions midfield unit will have some differences from 2022 to 2023.
It was alluded to earlier in the article, but the big change for the Lions that could impact Neale is the arrival of Josh Dunkley. Does his arrival help or hinder? Ultimately we can only forecast and speculate. Both on Dunkley's role and what it means for Neale's fantasy output. For what it's worth, I believe it will clip some of the ceilings of Neale. Dunkley is an elite groundball player, sensational defensively at stoppages and is a strong overhead mark. I expect him to get plenty of midfield minutes, which won't benefit Neale. But that's purely my speculation. There's a viable scenario where Dunkley does nothing to hinder his scoring power.
Neale has been an elite performer, especially in SuperCoach, over several seasons, and even with Dunkley's arrival, it's this format he still must be considered as a starting option. If you do choose to overlook him in your starting squad, he must be someone you keep an eye on his price during the season. If he drops to the right range, he's someone to consider seriously. He's got the scoring power to put on a monster stretch of big tons.
DRAFT DECISION
The big variable in drafts this year is what happens with the topline premiums that are eligible outside the midfielder. Players like Sam Docherty, Josh Dunkley, Stephen Coniglio, Tim Taranto and even Tim English will drastically shape the first round of a draft. In SuperCoach formats of the draft, I still expect him to be drafted as someone's M1 and be right in the mix late in the first round through to early in the second. For AFLFantasy/DreamTeam drafts, I have him falling outside the top ten mids, which means I'd draft him as my M2. I'd be looking for him in the fourth round.
JOIN THE CONVERSATION
Do you believe he is fantasy relevant?
Will you be starting with him?
Have your say on our Facebook, Twitter or Instagram.
WANT EARLY ACCESS?
Want access 24 hours early to the 50 Most Relevant podcasts? Join our Patreon and get ahead of the Crowd