It's rare you get a player with the potential of being the number one scorer in the game and not having to pay top dollar for them. But in 2023, that's exactly what you could be getting with Jack Steele in 2023.
PLAYER PROFILE
Name: Jack Steele
Age: 27
Club: St Kilda Saints
Position: Midfield
2022 Highest Score:
154 Vs West Coast (AFLFantasy)
143 Vs West Coast (SuperCoach)
Career Highest Score:
162 Vs Carlton | AFLFantasy (2021)
167 Vs Brisbane | SuperCoach (2020)
2022 Average:
110.4 (AFLFantasy)
109.8 (SuperCoach)
SuperCoach Price: $604,400
AFLFantasy Price: $978,000
AFLDreamTeam Price: $1,002,600
Embed from Getty Images
WHY IS HE RELEVANT?
Jack Steele's season experienced a significant hiccup when he suffered a shoulder injury early in round nine. What was impressive is he still managed to play on after suffering the knock early in the second term. He ended the game with 22 touches, four marks and three tackles. Unfortunately, the injury required surgery, and the Saints skipper didn't play until round fifteen. The club said he could've played on but decided to prioritise his long-term well-being rather than force him to shoulder on.
Despite this setback, Steele's overall season fantasy performance was still strong. In AFLFantasy/DreamTeam, he scored fourteen tons four his eighteen games. That was a ton in 77.7% of matches last year. Additionally, he delivered five scores over 120, including 121, 124, 130, 139 & 154. Alongside these tons were two additional scores of 90+, and in just two matches, did his scoring fails to get above that 90 marker.
He finished the season with an average of 110.4, leaving him ranked as the fifth-best player in the game format by averages. Only Rory Laird, Andrew Brayshaw, Callum Mills and Clayton Oliver averaged more. If you remove the match where he got injured early, his average would've jumped up to 112.4, and he'd be ranked equal third with Brayshaw.
For his SuperCoach year, he scored thirteen tons, eight of which were over 120. Four of them were above 130, and two were above 140. The three scores below 80 are well below his historical output. You've got to go back to 2019 for that many scores below this range. His average of 109.7 puts him in the top twenty in the format.
Although the overall data might not look as exciting last year as in previous seasons, we've got to remind ourselves how hard it is to come back from shoulder surgery. However, for a player like Jack, who wins so many fantasy points through tackles and contested possessions, it's impressive that he was still able to average 112.4 in AFLFantasy/DreamTeam and 111.8 in SuperCoach in the nine games post his injury return.
If you look back at his 2021 AFLFantasy/DreamTeam season, it was simply stunning. His average of 121.3 was the second-highest average of the formats. He also ended the season as the number one overall points scorer. Steele scored nineteen tons, eleven above 120 and three over 140. To go with his high ceiling was that he had just three scores below 90 all year and didn't drop his scoring under 78. I could stop there, and we'd all acknowledge it as a strong season. But it gets better. Before the bye round, in his first thirteen matches, he was averaging 112.9. He was impressive, but he got better. Over the final nine games of the year, he averaged 133.5. Six of those scores were over 130, and nothing was under 106.
His season was just as prolific in SuperCoach. He ranked second for total points and was less than 60 points behind the overall leader. His average of 126 was ranked second in the competition, and he was one of only five players to average 120 or higher last year. His year featured nineteen scores over 100, thirteen over 120 and a monster eight that went 140+. In addition to this barrage of monster scores, his scoring didn't fall under 91 all season long.
Like in AFLFantasy/DreamTeam, his pre and post-bye splits are sensational. In the first thirteen games of the year, he was pumping out 118.5. As strong as that is, his 136.7 over the final nine weeks blows it out of the water. In summary, if you Steele in your team during 2021, you were delighted with the result. If you had him over the last few months, you were ecstatic.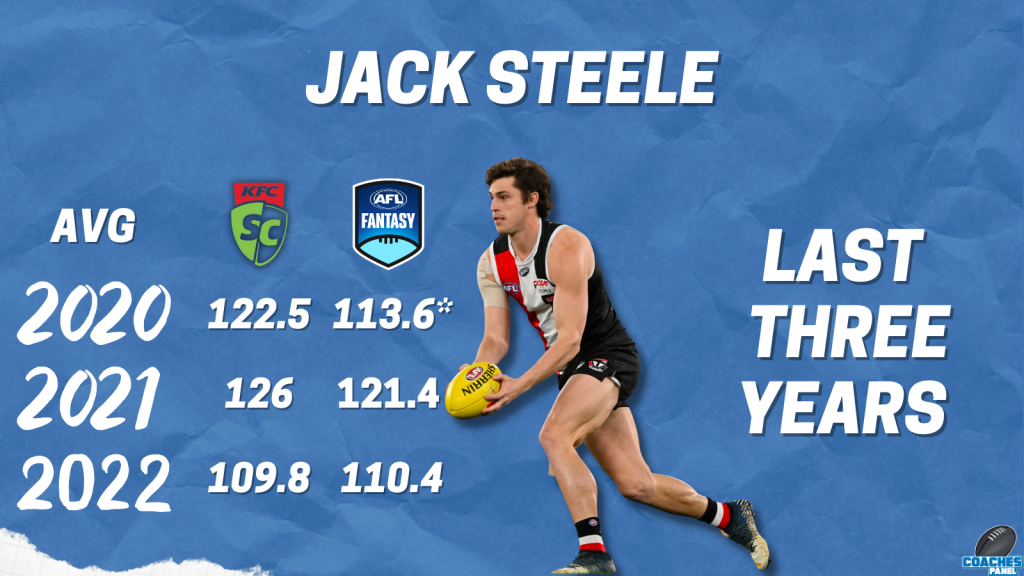 Over the past few seasons, there haven't been many players better across the formats. Beyond the shoulder injury this year, his durability, ceiling and high-scoring floor make him the perfect candidate to build your starting squad. Jack is one of a real handful of players that can deliver or destroy your season within just weeks.
Embed from Getty Images
MY TAKE
Nobody is, nor should they be, questioning the fantasy pedigree of Jack Steele. Since 2020, when he broke out as an elite premium, we've continually seen his ability to score BIG. But that isn't the conversation that's happening surround him. Rather it's twofold. First, what do St Kilda and its game style look like back under the leadership of Ross Lyon? And the second, what is the scoring benchmark of a topline premium midfielder in 2023? How you answer those will ultimately determine your destination with Steele in 2023.
Ultimately, we won't know about the Saints and the game style until we see it play out in the practice games and preseason community series clashes. But what we do know is what his role will be. He'll be the club's leading midfielder and regularly lead from the front in the contest and across the ground.
In 2022 we had just one midfielder in AFLFantasy/DreamTeam average over 120. Four between 110 and 120, four between 105-110 and eight between 100-105. While in 2021, we had two midfielders with an average above 120. Eight more between 110-120, seven between 105-110 and five more between 100-105. It might only be two seasons, but the volume of 110+ midfielders is evolving. In 2021 we had 10; last year, it was just five.
For SuperCoach, we had four players in 2022 averaging above 120. It was a further three between 115-120 and seven between 110-115. In total, fourteen midfielders went above 110. In 2021, we also had four players register an average above 120. Six average between 115-120, and five more 110-115. In total, we had 15 midfielders register an average of 110+.
Based on the current trend, any midfielder who can hit 110 or higher looks safe as a top-tier premium midfielder. For Steele, his worst-case scenario is his scoring holds at his current price point. Why? Because he has various scoring avenues, he's not locked into a game style.
One thing is evident, Steele is an end-of-season scoring specialist. The statistics have shown that over the past three seasons. Why? Predominantly it's linked to his tackle count and contested possession rate increasing. It's paritly due to more winter weather, which does lend itself to more contested footy. But it's also due to teams figuring out more regularly how to slow opposition ball movement down and get the same style on their terms.
Jack Steele needs to be a captaincy/vice-captaincy option at his price point in every match if you're selecting him in your starting squad. Thankfully, history says he's one of the most dependable options. One of the significant factors is that he's not dependent on one specific element to score well. So even when he faces a tagger, he still scores in different avenues other than just through pure ball-winning. Here lies the beauty of Steele. Because he scores through possessions, marks, tackles and goals, he will always be a player capable of scoring.
While he does present 'value' based on his price and what he delivered over the last few years, you are not picking him on those grounds primarily. You're picking Steele because he's a safe captain/vice-captain every week. You're picking him because he's one of the best fantasy premiums in the game. Don't get stuck on the value game; sometimes, it's just not there and doesn't need to be in his price range.
Steele is one of the safest premium midfielders to own in 2023. At best, he's got the potential to once again average over 120 across all formats and be one of the best in the game. At his worst, he scores at the same level he is right now: a clear top-10 midfielder across the formats. For those reasons, I will be locking him in across all formats.
DRAFT DECISION
The ultimate variable in drafts is the format you draft in. But more specifically, within each format this year, the biggest variance will be how early people chase after the F1 spot on their side. Some believe the big four are worth first-round selections, while others do not. However, most coaches across formats will agree that Jack Steele has the proven potential to be a top-five midfielder and even the capacity to be the top-scoring player in the game. As a by-product, I expect him to be heading off draft boards regularly inside the top 15-20 selections.
JOIN THE CONVERSATION
Do you believe he is fantasy relevant?
Will you be starting with him?
Have your say on our Facebook, Twitter or Instagram.
WANT EARLY ACCESS?
Want access 24 hours early to the 50 Most Relevant podcasts? Join our Patreon and get ahead of the Crowd.