For the past six seasons, we've enjoyed the premium performances from Clayton Oliver in AFLFantasy, SuperCoach & DreamTeam. At 25, he's still yet to hit his football prime. All the signs point to yet another season of dominance from Clarry. 
PLAYER PROFILE
Name: Clayton Oliver
Age: 25
Club: Melbourne Demons
Position: Midfield
2022 Highest Score:
151 Vs North Melbourne (AFLFantasy)
178 Vs North Melbourne (SuperCoach)
Career Highest Score:
161 Vs Gold Coast | AFLFantasy (2019)
205 Vs Adelaide | SuperCoach (2020)
2022 Average:
112.5 (AFLFantasy)
127.1 (SuperCoach)
SuperCoach Price: $699,800
AFLFantasy Price: $994,000
AFLDreamTeam Price: $1,021,500
Embed from Getty Images
WHY IS HE RELEVANT?
There are certain things you can bank on every year. For example, an AFL coach is getting sacked mid-year. Someone in the media circles mentions the Crows infamous camp. Toby Greene is getting suspended, and Clayton Oliver is dominating the football landscape for another season.
He did it again in 2022, finishing first by average in the league for clearances, contested possessions & stoppage clerances. He was also top ten for disposals, handbells, centre clearances, effective disposals, and inside 50s.
In AFLFantasy/DreamTeam, he scored a ton in 81% of matches last year. That's seventeen triple-digit games, with seven ticking over the 120 markers. It included 136, 139, 146 & 151. Alongside this, he had two additional scores over 90, and just once all year did his scoring drop below 80 (68.) His average of 112.5 was the second highest in the format, with only Rory Laird going higher, and he finished seventh for total points. He was only 110 points from coming first. Had he played every game and scored an average, you'd be talking about Oliver holding the #1 points mantle.
For Superoach, he posted a seasonal average of 127 which consisted of seventeen tons. Of those tons, twelve were over 120, nine were above 130, seven were 140 0r higher, and his three highest scores of the year were 168, 176 & 178. Of the four games for the year, he didn't get to ton up; two were over 90, one was an 85 & his seasonal low was a 68 against Port Adelaide in round four. He's currently ranked second for averages behind Rory Laird and just 33 points off Lachie Neale with the most SuperCoach points. That is not bad for a player who had one less match.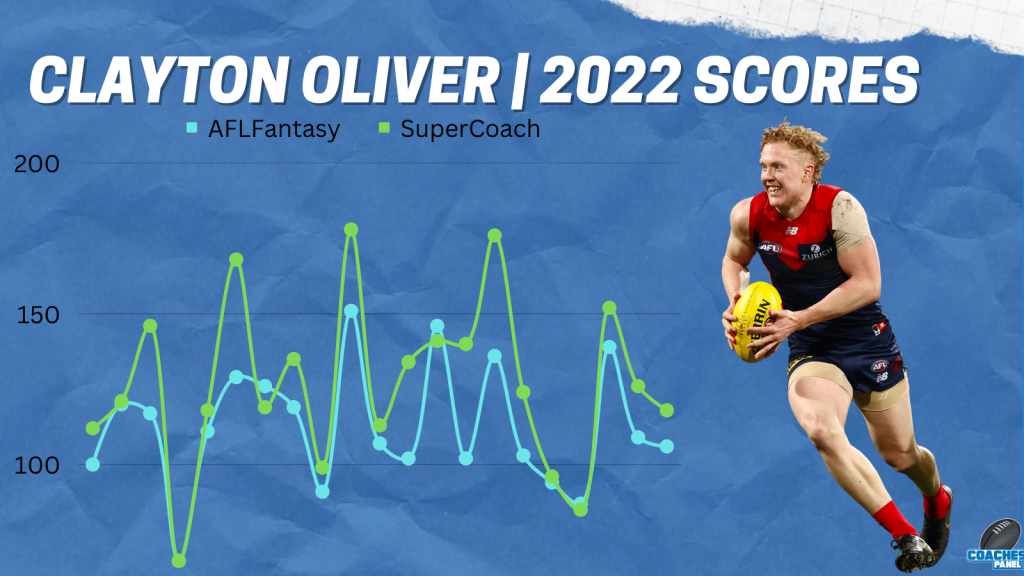 In 2021 Clarry was yet again one of the best premium midfielders in AFLFantasy/DreamTeam he was ranked eleventh for total points, and his average of 108.3 has him ranked fifteenth in the format. This season consisted of fifteen scores of 100+, eight of which were over 120, further dismissing the myth that he's only SuperCoach relevant. When he did hit the ton, his average score was 119. And he had one monster against the Crows, a 155. To go with this high frequency of tons is a low-scoring deviation. He had five games all season where he didn't score over 90 and just one score below 80.

His season was even stronger in SuperCoach; from the twenty-two games, he scored seventeen tons, eleven of which were over 120, while a monster five were 140+, including scoring his second score over 200 in twelve months, both against the Adelaide Crows. His average of 123.4 was the fourth highest in the game.
Over the past sixty games (three seasons) of AFL, he's been simply amazing. He's regularly been inside the top dozen players through his points and averages. However, during this stretch of games, he's gone at an insane average of 124.3 in SuperCoach and 111.7 in AFLFantasy/DreamTeam.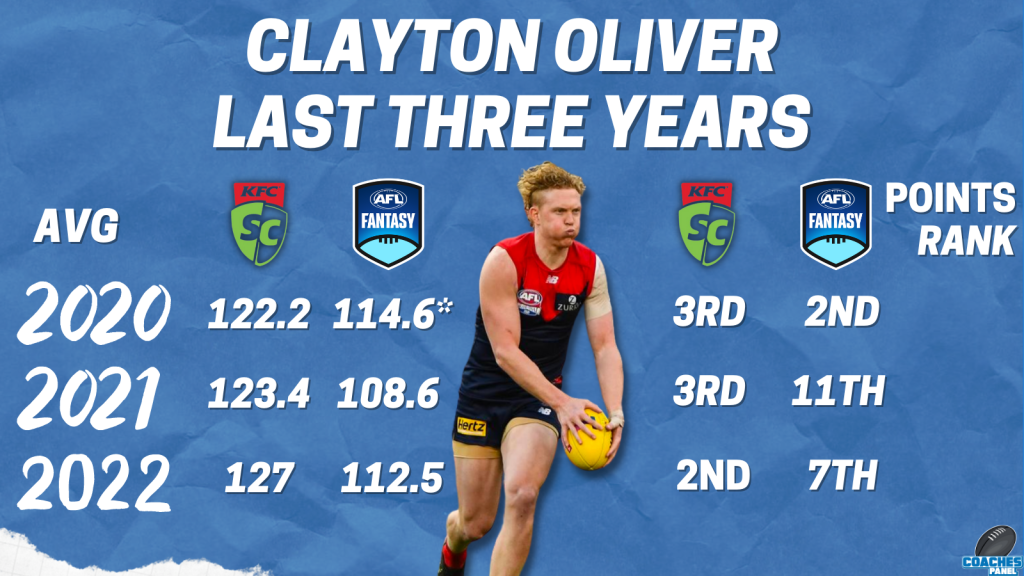 Alongside this incredible scoring run is a near-perfect durability record. Since 2017 he's missed just one match, that was last year after suffering a fractured thumb. Beyond that isolated incident, he's got one of the best durability records in the game over the past six seasons. When you put his durability alongside his scoring ceiling and consistency, he becomes very difficult to overlook in your team for 2023. 
Embed from Getty Images
MY TAKE
What's changed at Melbourne that will cause a change in him? When Brayshaw moved in as a CBA midfielder, he didn't drift scores drastically. The addition of Grundy should only make their CBA mix stronger, not weaker. The issue for Melbourne last year wasn't the midfield but a lack of cohesion in the FWD line.
Across all game formats, I have Clayton Oliver locked in as a top 5-10 midfielder. The concern about him has always been his ability to handle a tag. But Oliver is no longer the primary tag target in the Demons midfield. Instead, it's shutting down Christian Petracca that should be the greater priority; he will more often be the difference-maker in a game, not Oliver.
That's no shade on Clayton; he'd be the top tagging option in most other AFL teams. Instead, this highlights just how destructive CP5 can be. It certainly doesn't mean Oliver will never get a tag; each opposing team may have different views from the next. However, to me, it's pretty evident. With Clayton, it's his ball-winning ability over a game that will become death by a thousand cuts. But with Petracca, he needs five minutes, and the game is over.
The primary narrative for why Clayton won't be in someone people's starting squad is due to the fact. The belief is he can be obtained cheaper after the opening few months. His first three opponents for 2023 are Western Bulldogs, Brisbane Lions & Sydney. In his past three against them for AFLFantasy/DreamTeam is 103 (Dogs), 98 (Lions) & 101 (Swans.) While in SuperCoach, it's 115.6 (Dogs), 117.3 (Lions) & 129.6 (Swans.) Do with that data trend what you wish. But in the next three matches, he plays West Coast, Essendon & Richmond. So whatever 'dip' you are hoping for might not eventuate.
One of the keys to success in this game is making the right trade moves and getting in players who present value. But that isn't the sum of success. Of course, you want the best prospects on your side for as long as possible, and Oliver is certainly one of the best midfielder premiums over the past few years.
Oliver needs to be right in contention to start across formats – and if you're not starting, history says you'll probably miss on him. The reason is that he has elite scoring consistency, so he'll rarely drop off much. So when you decide to look for an avenue to bring him in, you're always paying 'up' to get him. Rarely is that an approach that I advocate for. Buy low, sell high is the cornerstone principle of salary cap games.
DRAFT DECISION
Clayton Oliver is the perfect M1 on your draft side, regardless of the format you play. Having missed just one game in six seasons, that availability is critical. I could see him going in the first round in SuperCoach-style leagues. However, I commonly see him as a second-round selection in AFLFantasy/DreamTeam scoring leagues. But that's more due to the desire to secure an F1 candidate than any shade on Clayton.
JOIN THE CONVERSATION
Do you believe he is fantasy relevant?
Will you be starting with him?
Have your say on our Facebook, Twitter or Instagram.
WANT EARLY ACCESS?
Want access 24 hours early to the 50 Most Relevant podcasts? Join our Patreon and get ahead of the Crowd