Jordan Dawson couldn't have done much more for his new side, the Adelaide Crows, in 2022. He elevated his game and fantasy output to the elite level. The fantasy community is keen to jump on one of the best premium options in the backline for this coming season.
PLAYER PROFILE
Name: Jordan Dawson
Age: 25
Club: Adelaide Crows
Position: Defender
2022 Highest Score:
129 Vs North Melbourne (AFLFantasy)
145 Vs North Melbourne (SuperCoach)
Career Highest Score:
158 Vs Gold Coast | AFLFantasy (2021)
158 Vs Gold Coast | SuperCoach (2021)
2022 Average:
100.8 (AFLFantasy)
109.5 (SuperCoach)
SuperCoach Price: $603,100
AFLFantasy Price: $893,000
AFLDreamTeam Price: $914,800
Embed from Getty Images
WHY IS HE RELEVANT?
Could you have had a better first year at a brand-new club? OK, sure, winning a premiership. But from an individual perspective, Jordan Dawson had one of the most complete seasons possible. He was top ten in the league for meters gained, rebound 50s and kicks per game. And ranked inside the top 20 for marks. He even won his team a match with his after the siren goal against Port Adelaide!
From an AFLFanrtasy/DreamTeam perspective, he was one of the best selections you could've made during the season, both as an upgrade target or as an option for your starting squad. His average of 100.7 consisted of twelve tons, with 120, 128, 129 & 129 being his four highest scores across the season. Alongside these tons was an additional four scores between 93-99. To round it out, he had just three scores under 80 all year and just one under 75. He's now ranked third among defenders for both total points and average.
His SuperCoach season was even stronger. On thirteen occasions, he scored 100 or more, with eight of them above 120. Three were between 130-135, while his three biggest scores of the season were 140, 144 & 145. Alongside these triple digits, scores were a further six games between 90-99. Meaning he scored 90 or above in 86% of games last year. In the year's final game, he posted his only score under 80 all year, a lowly 74. His season now ranks him as the fourth top scorer by points and fifth for averages amongst all defenders. But he's not just a good defensive scorer; he's also ranked 14th across SuperCoach for total points. He scored more than Josh Dunkley and was only 50 points shy of breaking into the top ten total points scorers. What a year!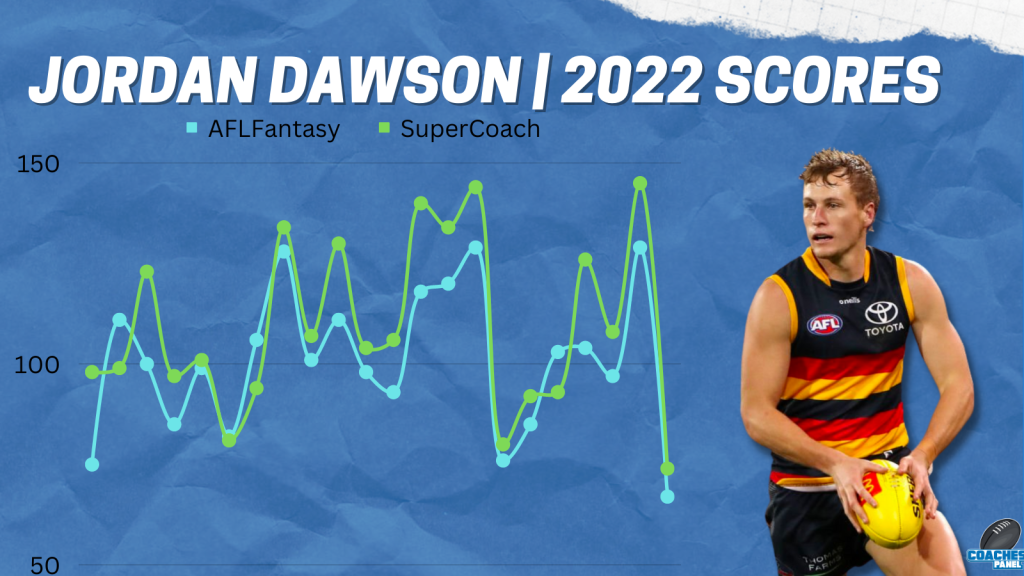 The signs of his fantasy relevance were in his final season as a Swan in 2021. From an AFLFantasy/DreamTeam perspective that year, he posted five tons, two over 120, including a final round of 158 and seven scores under 80. He ended the season ranked 12th for defenders by averages and seventh for total points. While in SuperCoach, he delivered nine tons, four of them over 120, including 141, 145 & 158. To go with this high ceiling is a relatively higher-scoring floor. Last year he had just four scores beneath 80.
It's undoubtedly a strong season for Dawson, but his scoring improved as the season went on. After the bye rounds, Dawson picked up the opportunity to push higher up the ground and play up through the wings. As a result, his average ballooned. In the first thirteen games of the year, he averaged 80.8 in AFLFantasty/DreamTeam. But post-bye, in his final nine games, he averaged 100. While In SuperCoach, he averaged 92 pre-bye and 114 post-bye.
When you consider the defenders across SuperCoach, AFLFantasy & DreamTeam, there are few players across the formats that can say they are elite. But Jordan is one of those. He's one of just three current eligible defenders who averaged 100+ across the game formats. His skills and scoring cross the game platforms, and as an owner, you do rest easy knowing he's on your side and not someone you have to come up against. Sometimes it's best to start players like this in your team. It can certainly take some of the stress out of your starting sides.
Embed from Getty Images
MY TAKE
The scoring ceiling in fantasy football is vital. Players that possess it can win you matchups, rounds, championships and overall rankings. You need players in your SuperCoach, AFLFantasy & DreamTeam sides that possess the ceiling that can break past the good sides and elevate yourself above the pack. Equally as important is a player's scoring consistency. No point being able to put up a 120+ when the weeks on either side of it are in the 60-70 range. It's rollercoaster players like that, which become frustrating to own. Whenever you find someone in fantasy that boasts both ceiling scoring and consistency of a strong scoring floor, they become a gold mine!
Jordan Dawson is one such defender that has that. Four scores last year over 120 in AFLFantasy/DreamTeam and eight over that in SuperCoach highlight that ceiling. But Jordan isn't just a ceiling player; he's also a consistent player. Only three times in SuperCoach dip under 90, his lowest score for the season was 74. While in AFLFantasy/DreamTeam, he had just three scores under 80 all year and just one under 75. So again, this is a phenomenal ability from one player to deliver the two key elements you need from your premiums: consistency and ceiling.
In the offseason, murmurings and changes to teams playing styles and positions start to seep out. From Adelaide, the talk is that Wayne Milera is returning to full fitness and returning to his role across the half-back line. It was here that Milera's speed, skills and evasiveness were on full display. But does Wayne's move into defence hurt Dawson's scoring output? Ultimately, we'll determine how it will work in the preseason games over the coming weeks. But at a first reflection, I'm not too concerned. They are different types of weapons in the Crows backline.
Some have suggested that Dawson could be deployed up on the wing like he was used in the backhaul;f of his 2021 season at Sydney. From a fantasy perspective, that seemed to work ok, with him averaging 100+ across the formats. The best position for Jordan is across the backline. If Crows can isolate him into space in the backline, he will generate some serious scoring. His ability to read the ball in flight to intercept is seen here, as well as his beautiful kick to set up the play.
Watching the Adelaide Crows play in 2022, you start understanding the club's DNA and game style. It's built on pressure, contested footy and competitiveness. But they've identified they need to sit alongside these players with elite skills to help execute when they win the footy. It's one of the reasons they went so hard after Jordan Dawson almost 18 months ago, while last offseason, they chased and secured Izak Rankine.
The Crows don't just love but need the ball in his hands. His elite kick opens up the wings and the forward line and creates opportunities to attack and relieve pressure on the defensive group. So you shouldn't be surprised if the tag comes to him a few times throughout the season. Thankfully, his combination of intercept marking, taking kick-ins, combined with his willingness to tackle will many any 'tag' affected scores won't be a disaster for his owners.
You'll want Jordan Dawson on your side sometime during the season. Barring an injury or some sensationally big DPP inclusion mid-season, I don't see a world that has him missing from the top five defenders by average and points across the year. So he's either a starting squad option, or you'll be putting in place a plan to bring him into your side during the 2023 season.
DRAFT DECISION
As we get to the upper areas of the fifty most relevant, we're hitting the players that will be regularly flying off draft boards early on your draft day. Jordan Dawson will easily be someone's D1 and will probably start flying off SuperCoach drafts as a mid-second round into an early third-round selection. It wouldn't shock me either in AFLFantasy formats if he went in a similar space, but we'll likely see him picked regularly between selections 20-30 overall.
JOIN THE CONVERSATION
Do you believe he is fantasy relevant?
Will you be starting with him?
Have your say on our Facebook, Twitter or Instagram.
WANT EARLY ACCESS?
Want access 24 hours early to the 50 Most Relevant podcasts? Join our Patreon and get ahead of the Crowd