It was a disappointing season for the Fremantle Dockers. However, for Nat Fyfe, it was the season that saw him win his second Brownlow Medal. Will the cavalry come for him in 2020 and will it impact his scoring?
PLAYER PROFILE
Name: Nat Fyfe
Age: 28
Club: Fremantle Dockers
Position: Midfield

2019 Highest Score:
133 Vs Carlton (AFLFantasy)
154 Vs Hawthorn (SuperCoach)

2019 Average:
104.9 (AFLFantasy)
120 (SuperCoach)

SuperCoach Price: $651,600
AFLFantasy Price: $779,000
AFLDreamTeam Price: $758,700

Embed from Getty Images
WHY IS HE RELEVANT?
Nat Fyfe is one of the premier midfielders in the league. No matter where on the ground he plays he's unmatched in almost every area of the game. Inside the contest, he's a bull, in the air he's strong and imposing and to top it all of when need he's a daunting presence inside forward 50 for any defender to stop him.
2019 was a strong personal season for the Fremantle captain. He was awarded his third club best and fairest, recognised as captain this year of all Australian side and won his second Brownlow Medal. Individual accolades like this will see him go down in history as an all-time great.
From his 20 games he averaged 30 possesions, 18 of them were contested, went at 70% efficiency, averaged eight clearances a game and five inside '50s. Across the entire AFL, he ranked third for contested possessions, sixth for clearances and tenth for total disposals.
In AFLFantasy/DreamTeam he was ranked 15th for all midfielders ending the year with an average of 104.9. It featured fourteen scores over the ton, with seven of them over 120. Along with a high frequency of hundreds, he rarely let owners down with a poor score. Just twice throughout the season did he dip below 75.
Despite missing two games in the season, he ranked eighth in SuperCoach for total points of all midfielders and is one of only three available that averaged over 120 last year. In 85% of games last year (17) he scored one hundred or more. Of those 17 tons, 12 of them were over 120, and an insane six were 140 or higher. Across the season he had only three games where he didn't reach triple figures and ended the season averaging 120.
Take a look at his scoring consistency in terms of averages since 2013.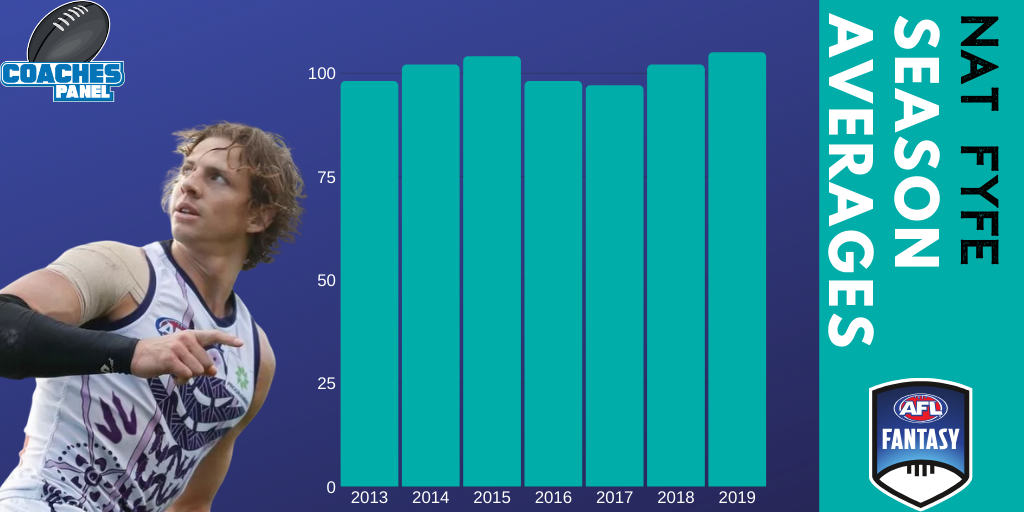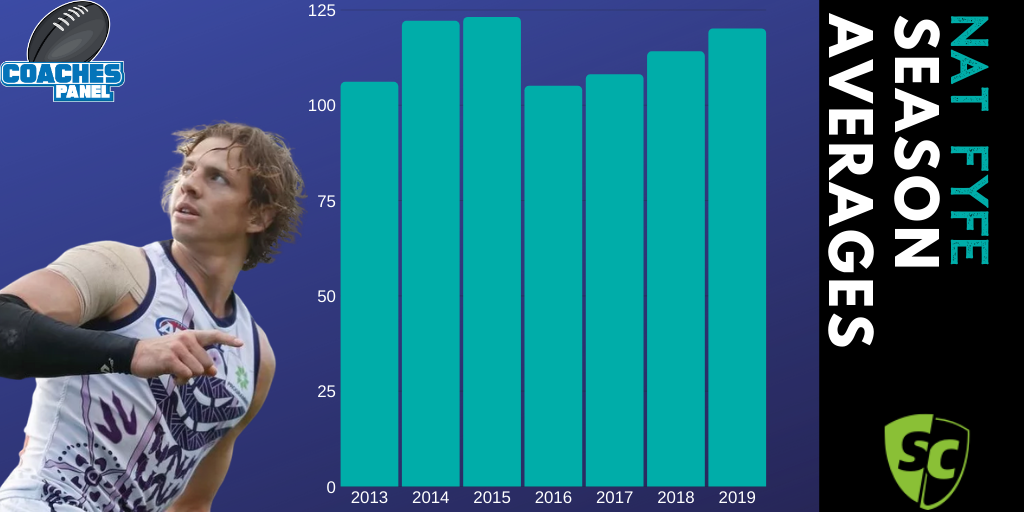 Embed from Getty Images
MY TAKE
The further up the list of the 50 most relevant we get, the harder it is to dismiss selecting a player. More often than not, now it will be personal preferences' or small variables that create the reason for non-selection.
Based on previous history coaches who play AFLFantasy/DreamTeam would attempt to build the case that Nat Fyfe doesn't score beyond ton frequently enough to start him. While it is true he's playing style lends itself to more rewards in SuperCoach he's far from someone to discount.
In a fourteen game stretch last year between round 6-21 he averaged he 109 and had only three games that he didn't post a ton. Yes, it's not a full season, but with a seasonal average of 105 (ranked 15 for midfielders) he's shown he's capable of scoring well enough that when you time the run, he's a genuine candidate.
The only compelling case you can create for passing on Nat Fyfe is his durability. Only three times across his career has he played 20 games or more and is yet to complete a full season. While it is a concern, it shouldn't be a complete deterrent to starting with him.
Whatever side of the selected coin you land on, you have an element of risk with Fyfe, especially in SuperCoach. Should you choose to select him, the risk is that the durability concern becomes real and your forced to either trade or use your bench cover on field. The alternate side is that his scoring is so strong he's one of only a handful of midfielders capable of scoring multiple 140+ over an extended period and taking a season away from you.
In SuperCoach, it's a classic case of risk vs reward and the risk you'd prefer to be on the side of will inform your decision of what's right for your team.
Don't forget, 12 months ago Brad Crouch was 'injury-prone' and had never played 22 games. He had no problems doing it in 2019. Just because someone has a history, it doesn't automatically dictate their future. Should it inform your decision? Absolutely! But not determine it. 
DRAFT DECISION
In SuperCoach, Fyfe is a natural first-round selection. This year if you have a late range pick, there is every chance he'll fall to you as some may be turned away due to his durability concerns. Gosh, he might be available on the turn early in the second which would be a steal.
In AFLFantasy formats, I think the earliest you'll have to jump for him is the third round. He could drift into the early fourth, but his name value let alone scoring potential would be a reason he doesn't slide any further. A Strong M2 candidate and wouldn't be the worst M1 if you'd locked away two superstar selections in the defence, forward or ruck line.
JOIN THE CONVERSATION
Do you believe he is fantasy relevant?
Will you be starting with him?
Have your say at our Facebook, Twitter or Instagram.
WANT EARLY ACCESS?
Want access 24 hours early to the 50 Most Relevant podcasts? Join our Patreon and get ahead of the Crowd!