The loss of DPP will mean he's in substantially fewer teams this year than last. However, the departure of Tim Kelly could be the reason he needs to be in your team.
PLAYER PROFILE
Name: Patrick Dangerfield
Age: 29
Club: Geelong Cats
Position: Midfield

2019 Highest Score:
162 Vs Richmond (AFLFantasy)
163 Vs St Kilda (SuperCoach)

2019 Average:
107.4 (AFLFantasy)
115.1 (SuperCoach)

SuperCoach Price: $625,500
AFLFantasy Price: $798,000
AFLDreamTeam Price: $777,000

Embed from Getty Images
WHY IS HE RELEVANT?
When the gang at Champion Data reveal the positions to the fantasy footy public, it's generally a day of celebration. While we did gain some new forwards in Lachie Whitfield and Dustin Martin, it was a sad day when we had to farewell Patrick Dangerfield from our forward lines.
For the fifth consecutive season, he's been awarded All Australian honours, while it was also his third time in four seasons winning Geelong's Best & Fairest. The almost two time Brownlow Medalist ranked second in the league for a total inside '50s, second for score involvements, fourth for total contested possessions as well as thirteenth for total disposals.
For AFLFantasy/DreamTeam last year he averaged 107, an increase from his 2018 average. It featured fourteen scores over 100, six of those he converted into 120+ score including a final round 150 Vs Carlton. Based off the 2019 data, he's ranked tenth by averages amongst all midfielders, but finished last year inside the top 13 for total points scored.
In SuperCoach his averaged dipped 6 points per game on previous years but still averaged 115. From 21 games he scored 13 times over 100, 8 of those were insanely huge as he went over 140. For available midfielders, he was ranked sixth for total points and eighth for averages.
One of those games he was ravaged with an injury. He was suffering from both his ankle (1st quarter) and knee (2nd quarter) against the Dons in round seven. Pretty much he was plonked forward from quarter time and did nothing for most of the game.
Often Patrick is criticised for being 'too dramatic' when it comes to in-game niggles. While for some (cough Kane Cornes cough) it dints his reputation. One thing that is true though, even though he has a crash and bang style of football, he's been incredibly durable over his career. In just the past five seasons he's missed only four games.
With some of the premiums in our midfield, we see a drastic scoring deviation between how they score in wins versus losses. For Dangerfield in AFLFantasy/DreamTeam, last years numbers would indicate that's got some truth to it. He averaged 112.6 in victories as opposed to 94.7 in losses — a dip of nearly 18 points per game. However, in SuperCoach, it doesn't exist. Last year when the Cats won, he averaged 117.1, and in losses, it was 110.3. A marginal dip of 6.8 points per game.
Patrick Dangerfield is the complete fantasy football package, boasting durability, steady frequency of hundreds, how scoring floor and he has the rare ability to score 180-200+. Just a few seasons ago again North Melbourne he posted career-high scores with a 187 in AFLFantasy and 229 in SuperCoach. Yes, 2016 is some time ago, but even in 2019, he was able to crack over 160 in all scoring formats.
Let's call it for what he is, Dangerfield is an elite fantasy footballer and is more than deserving of consideration in 2020.
Embed from Getty Images
MY TAKE
I have one big question mark when it comes to Geelong this preseason? How will they cover the departure of Tim Kelly? The answer to this could well decide if Danger is a starting squad or potential upgrade target.
Geelong has two clear options. Firstly, is give the next generation cats a chance while the current stars are still around. Charlie Constable, Quinton Narle, Nakia Cockatoo and Brandan Parfitt will need substantial midfield minutes for Geelong to future proof the side. Each of shown the potential through the middle, and while different types of players to Tim Kelly, would add a fresh dynamic to the midfield core.
The other, and for the record is what I believe they'll do. Go all-in with the elder statesman for the season. As long as Geelong still have future legends in Gary Ablett, Joel Selwood and Patrick Dangerfield let alone Tom Hawkins upfront they owe it to themselves to see if they can go on step further in 2020 and make a Grand Final.
With this approach, it seems Selwood and Danger play predominantly midfield, as the club have 'one last crack' with the old blokes still being near their peak. Should this variable happen, we could see a return to the scoring of Paddy from his first two seasons at Geelong.
In 2016 and 2017 in his first two years at the Cattery it was full beast mode from Danger. Over those two seasons, he missed just two matches and had some insane numbers. From his 42 games, he had 35 AFLFantasy/DreamTeam tons and averaged 117 and 120 across both years. That a 100 in 83% of games. In SuperCoach he scored 36 tons (85%) and averaged 130 and 136. If he gets anywhere near those numbers, then Danger at this price could be the bargain of the season.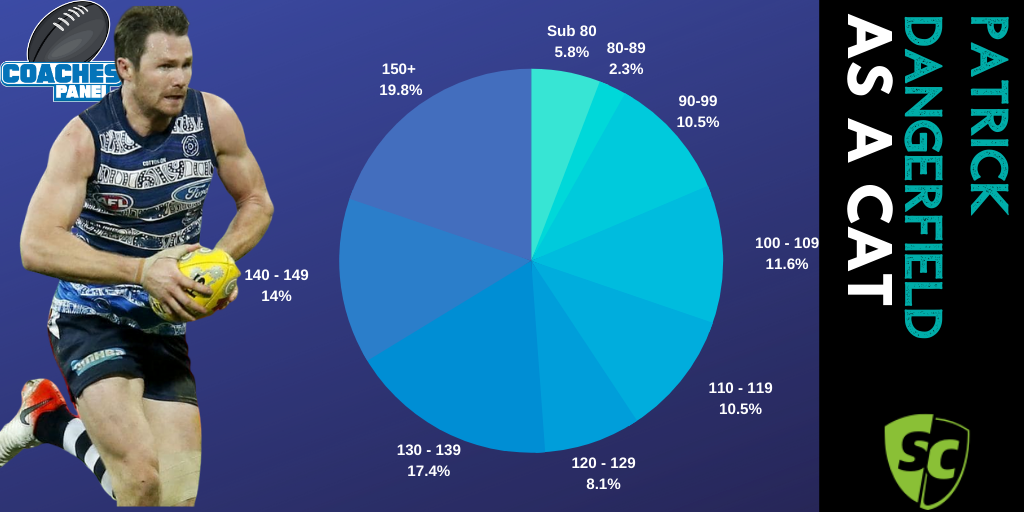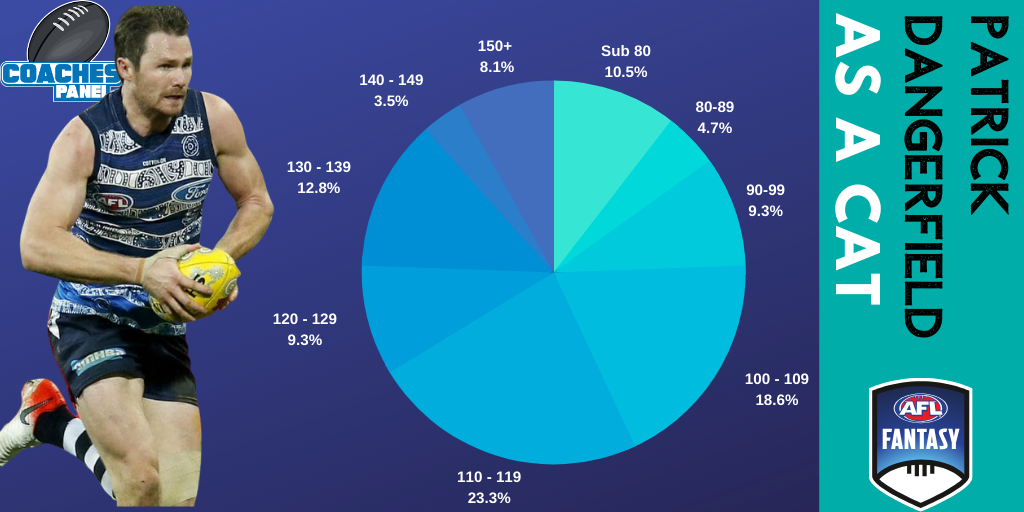 DRAFT DECISION
He's an M1 every day in the SuperCoach formats of drafts. Twelve months ago he would've cost you a likely first selection of the while draft. However, I'm seeing a trend of Max Gawn, Brodie Grundy and Lachie Whitfield all going inside the top five overall picks. On current draft boards, he's ranked as the 8th best midfielder by averages. Therefore, it's not inconceivable that you could get Danger as a late first-round if not available on the turn early in the second.
In AFLFantasy scoring drafts, he probably will go a further 15-20 positions later than SuperCoach formats. Therefore, he's a third-round selection and probably an M2. I wouldn't be disapproving of the strategy of having him as M1 on the provision your first two rounds selections guaranteed you a top tier forward, defender or ruck.
JOIN THE CONVERSATION
Do you believe he is fantasy relevant?
Will you be starting with him?
Have your say at our Facebook, Twitter or Instagram.
WANT EARLY ACCESS?
Want access 24 hours early to the 50 Most Relevant podcasts? Join our Patreon and get ahead of the Crowd!