Lewy & Checkers from Lane Kicking are back with their take on the Geelong Cats. Take a look to see who is on their AFLFantasy watchlist.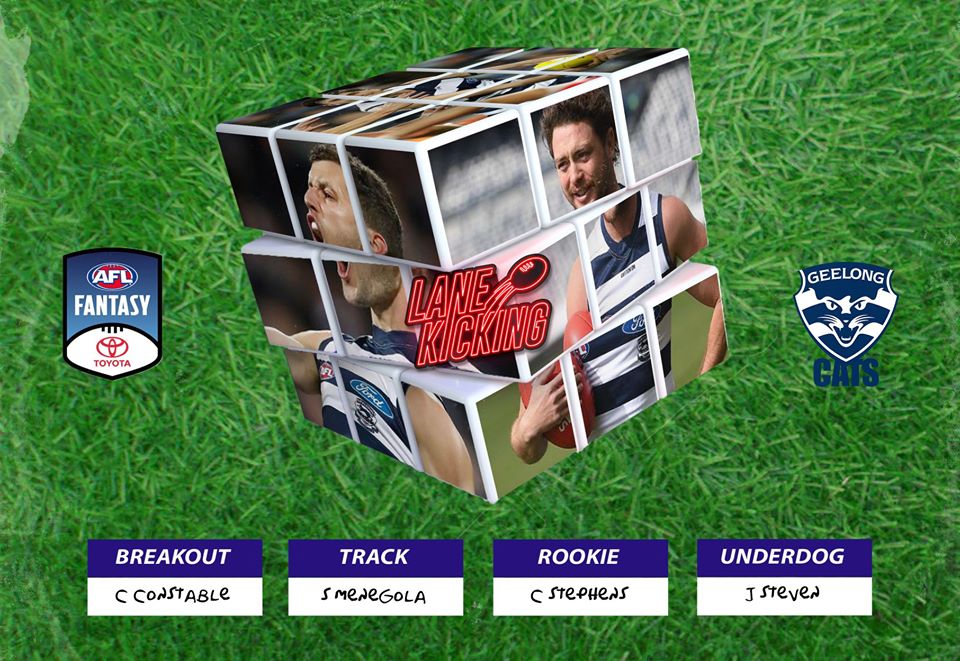 BREAKOUT: Charlie Constable – $563,000 (MID)
There is a little bit of James Worpel about this, Constable playing just the 7 games in his debut season at an average of 83, Worpel played the 9 for an average of 68 back in 2018. Constable will be looked at to hopefully fill the midfield role left behind by Tim Kelly. The 191cm midfielder finished his 2019 season with a massive 41 disposals, 14 clearances and 2 goals in the VFL and we only hope he can bring that form into 2020. We reckon his price point is just slightly awkward to start him in your midfield, but big risks can bring big rewards.
TRACK: Sam Menegola – $710,000 (MID)
Starts the year almost as a premium mid so it will take a lot of heart to pick from the start in classic, but Checkers reckons there is something special about this one. We aren't sure if anyone else has ever matched this stat (maybe Michael Barlow) but in his first 50 games of AFL, Menegola posted a fantasy average of 99.
Struck down by injury last year, Chris Scott will be hoping he can have a big preseason and fill one of the vacant spots in the new-look cats midfield. Will be a big one to track in draft leagues, where he might slip down draft lists and you could grab a bargain a few rounds in due to only averaging 77 in 2019. We honestly wouldn't rule out a 100+ average if he starts the season fit.
ROOKIE: Cooper Stephens – $240,000 (MID)
Young Cooper spent most of his draft year recovering from a broken leg and didn't play a whole lot of footy, but it might have also helped Geelong snag a draft bargain similar to Joel Selwood back in 2006 who had doubters after finishing his draft year with a knee injury. There is a lot to like about this young cat, for someone who missed a large chunk of football, he is one of the most athletically prepared blokes to come out of the draft and is in contentions already for a Round 1 debut.
Rocking one of the tidiest rigs in the senior group in only his first year, Stephens is a hard at it inside midfielder, with pace and endurance (finished top in the Draft Combine Beep Test) and could very much be given the chance to fill the void left by Tim Kelly in 2020. In the three games he managed before the leg break, he averaged 19 touches and 4 tackles a game, and after a year in the sidelines he could come out of the blocks hungry.
While most fantasy coaches will be hot on Rowell and Anderson for their 200k+ rookies, Stephens could quite possibly slide under the radar of a few and be an almost unique rookie selection
UNDERDOG: Jack Steven – $653,000 (MID/FWD)
We were a little dubious on the early interest in Jack Steven, but as pre-season gets into swing we are starting to warm to him. He will start the season as the 10th most expensive forward, priced at an average of 88, and while he might be a 30 year old mid who only managed 7 games in 2019, he does come with a decorated fantasy resume including previous season averages of 112 and 104.
He could very much be a little bit of the unknown and cruise through the final few years of his AFL career and we watch his fantasy numbers dwindle, but an optimistic fantasy coach would see some strong upside if everything falls into place.
In probably the worst fitness of his career, coming off no pre-season he still managed to bang out a 105, 93 and 90 in his 7 games last year. From all reports he has slotted straight into the Geelong structure and program and is putting in the work on the track early in the pre-season. The Geelong program that has gained a strong reputation in previous years, especially in recycling the careers Gary Rohan, Luke Dahlhaus and Sam Menegola.
There is also the strong possibility of some midfield spots up for grabs, with the departure of Tim Kelly, the ageing Joel Selwood likely to move to half back, and the early injury concerns surrounding Mitch Duncan. If Geelong choose to use youngsters Cooper Stephens and Charlie Constable in the midfield, they might want to pair it with the experience of a 4x Best and Fairest winner in Steven.
It's very hard to call it this early in the pre-season but we do see Stuv as such an unknown, he could really go anywhere from a 40 avg playing as a deep forward, all the way to a 100 averaging midfield bull. We will be watching his preseason with interest as he is the sort of player who could make or break a few draft leagues.