We've decided to look at who I believe has been the best SuperCoach performer from each AFL club over the past ten years. Here's who I believe it is for the Fremantle Dockers.
Embed from Getty Images
Nat Fyfe
You can't get much more a sure thing in SuperCoach dominant player than Fremantle captain Nat Fyfe. Ever since his second season in the AFL Fyfe has continually delivered premium scoring seasons. In his second season (2011) he held forward eligibility and ended up playing 21 games, scored 15 tons, including seven over 120 and averaged 108. Those scorers made him one of the best forwards available that year.
Since then Fyfe has been a SuperCoach scoring machine. From 2013 onwards his lowest seasonal average is 105, and he's had four seasons averaging over 110 including a 119, 122 and 123.
Nat Fyfe became an uber premium in 2014. That season he averaged 122 was one of one only five players who average over 115 that season. His 18 games consisted of 16 tons and nine over 120 including a 171 against the Blues. To this date, surprisingly, that's still his career-best score.
In the first of his two Brownlow medal years (2015) he was the highest averaging midfielder with 123. What even more impressive is that he finished the year 14th for total points and missed four games that seasons through injury. That year he posted 15 tons, and 10 of them were over 120.
During the past four seasons, he's averaged 105, 108, 113 and last years Brownlow medal season averaging 119.9. Last year he had just three games where he failed to ton-up, and he scored over 120 on twelve separate occasions.
Over his career, Fyfe has missed plenty of footy through injuries. However, in the past three seasons, he's had two seasons where he has played 20 games or more. Hopefully for him, and the Dockers this games frequency continues.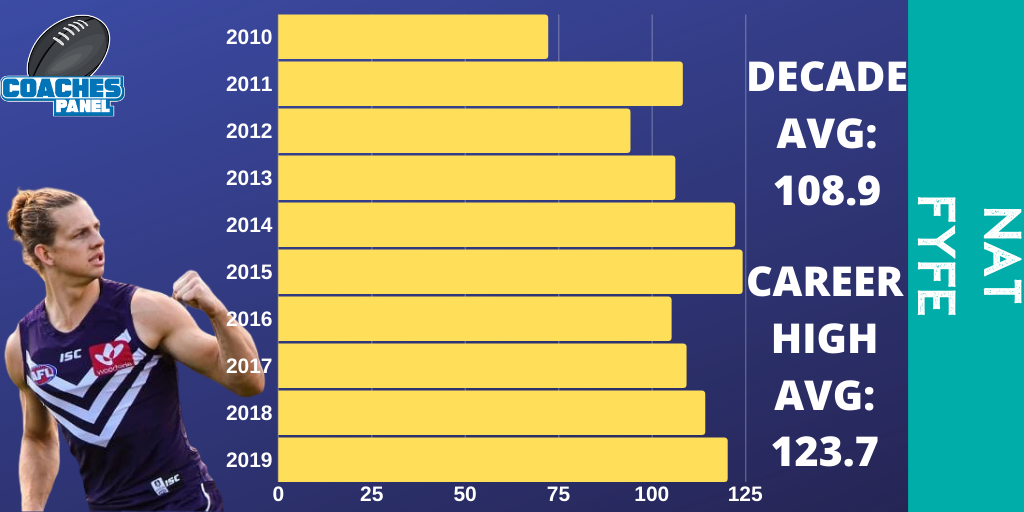 Who Missed Out
Across the decade the Dockers had a sublime scoring ruck in Aaron Sandilands. For multiple seasons across the decade, he was one of the most dominant scoring rucks in the land. Between 2010 -2015 he had five seasons averaging over 100, the lowest being 107. What ultimately hurt Sandi's potential to win was his lack of availability. Between 2010-2019 he had just three seasons where he played over thirteen games and had three seasons where it was under a total of 8 games played. Nat Fyfe certainly isn't the picture of durability, but in contrast to the big ruckman, he looks pretty durable.
Matthew Pavlich opened the decade as the most dominant Docker for SuperCoach. As a forward, he averaged 99, 105 and 111 and missed just four games between 2010-2012. Sadly after that era 'The Pav' was in the twilight of his career and after 2012 failed to average over 86 for the rest of his career.
Since debuting in 2005, David Mundy has been a warrior for the Fremantle footy club. Between 2013-2015 his lowest seasonal average was 102, while his 2015 year he averaged 113 and scored 18 tons from his 21 games. Beyond those three seasons, he just had one other year where he averaged over 100. Sadly that's just nowhere near the territory of Fyfe.
In Michael Barlow's seven seasons as a Docker, he managed to average over 110 in three separate years. That included his famous debut year where he posted a career-high 116 from 13 games. Added to these years, he boasts an additional three years averaging between 93-98. Meaning in just one season at Fremantle did he not average over 93. Barlow is a strong, consistent SuperCoach performer, but is a few tiers below the current Dockers captain.
Since Lachie Neale had his breakout season in 2015 (104), he's been a picture of scoring consistency and durability. In his final four seasons as a Docker, he averaged 104, 112, 109 and 111 while missing just the one game of AFL. Sadly his career-best season average of 121 happened last year as a Lion, making it not count towards his Fremantle tally.
Become a Patron!