We've decided to look at who I believe has been the best SuperCoach performer from each AFL club over the past ten years. Here's who I believe it is for the Essendon Bombers.
Embed from Getty Images
Jobe Watson
Jobe Watson was the inspirational midfielder on the frontline for the club throughout the majority of the decade. For some the infamous drug saga has tainted his career, however, many in the football community still hold him with high regard.
As a SuperCoach performer, Watson played 123 games over seven seasons. During that time he averaged 104.8 and had five consecutive years averaging over 100 between 2010-2015.
Watson was at his scoring peak in 2012, that year he played 22 games scored a ton in 18 matches with nine of them over 130. He ended the year averaging 120. During this season in his first 19 games, he only dipped below 100 twice and his lowest score in that period was 93. That year he was ranked eighth for total points and fifth for averages with only Gary Ablett, Scott Pendlebury, Dayne Beams and Dane Swan with higher seasonal averages.
2012 was his personal best season, but it was far from an aberration. The three seasons prior he averaged 102, 107 and 106. Additionally, in 2013, he averaged 111 and posted 14 tons across the season. As strong as that average is, it featured an injury-affected 24 after suffering a collarbone injury that caused him to miss 3/4 of the game and then the following three weeks. Removing that injury affected game his yearly average would have been 116. Regardless of the 'amended' average he still ended the year as a top 10 averaging midfielder.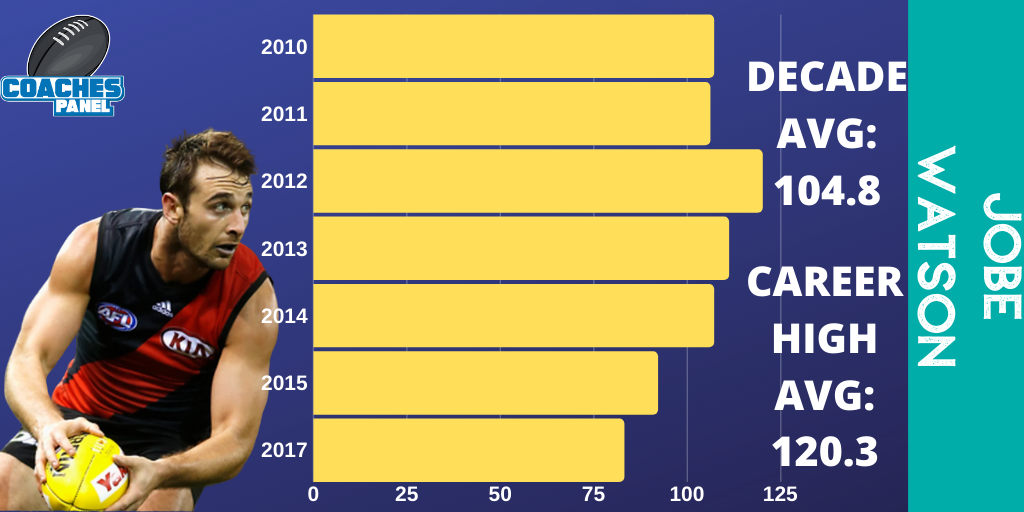 Who Missed Out
If we were talking about the Bomber of the past five seasons, then Zach Merrett would have easily won the mantle. Since 2016 has averaged 100 or more every season including his breakout year averaging 111. What made that season even sweeter for owners was that he was forward eligible. What made me lean towards Jobe over Zach was two-fold. Firstly, that Watson during the decade had two seasons averaging over 110 while for Merrett, it was just one. Second, he was the only Bomber to have a season averaging over 120. This was easily the closest of all the teams I've done so far, and Zach is very unlucky to have missed out.
Michael Hurley's first season (2017) after the drug saga was huge. As a defender, he was one of the best available options for the season. He averaged 102, scored over the ton in twelve matches, and two of these were over 125. Beyond that year he had two seasons averaging over 90. Three 'premium' years a defender is nothing to sneeze at, but it wasn't enough to dethrone Watson.
If Patrick Ryder had chosen to stay a Bomber, he might well have been the one to win this title. A departure of the club post-2014 season sadly dashed his chances. In his final four seasons as a Bomber, the ruckman and occasional forward averaged 90, 104, 90 and 101.
Brendon Goddard moved to Windy Hill after the 2012 season. His first two seasons 'donning the sash' he scored 106 and 102 and then followed it up with three additional years averaging 96, 97 and 97. That's a strong first five seasons at the club, however, with the majority of them as a midfielder, none of them is dominant enough to have been a top tier premium midfielder competition wide.
Become a Patron!