We've decided to look at who I believe has been the best SuperCoach performer from each AFL club over the past ten years. Here's who I believe it is for Hawthorn.
Embed from Getty Images
Luke Hodge
When you talk the 2010 decade of footy it's hard to ignore the Hawthorn Football club. In the first half of the decade the Hawks where the premiere side of the AFL. The premiership three peat of 2013-2015 puts this Hawks unit among one of the all time great sides. Unsurprisingly, this era of Hawks dominance translated into SuperCoach scores.
Captain Luke Hodge was a prolific and damaging scorer throughout the decade. While not holding down defensive eligibility for the entire decade, for the most part, he was one of the games leading defenders. He entered into the decade with a phenomenal season. A season average of 116 was one of the most dominant years with him boasting the seventh-highest average of the year. What's worth noting is his first twelve games is that 11 of them were scores of 108 or more.
The following season (2011) he averaged 106, scored 10 tons and four scores over 140 including a 163 against The Brisbane Lions a side he would seven years later find himself playing for. Three more seasons averaging mid to high 80's, two in the '90s as a defender are more than serviceable.
Of the136 games he played in the decade I must admit my personal favourite season of owning Hodge was in 2015. That he finished the year averaging 108, but it was the extreme ceiling he found himself delivering that SuperCoach players remember with fondness. In round three against the Bulldogs, he scored a 177, while seven weeks later it was a 165 against Fremantle. A fortnight later his Hawks destroyed the Blues by 138 points and Luke helped himself to a lazy 140 SuperCoach points.
In this decade the Hawks had some stunning players, many who are now AFL legends. The tipping point for me in awarding the mantle to Luke Hodge was that for the vast majority of the era he was defensive eligible. While other Hawks in the period (yes I'm looking at you, Sam Mitchell) may have a higher decade average, the position of a players scoring must be considered.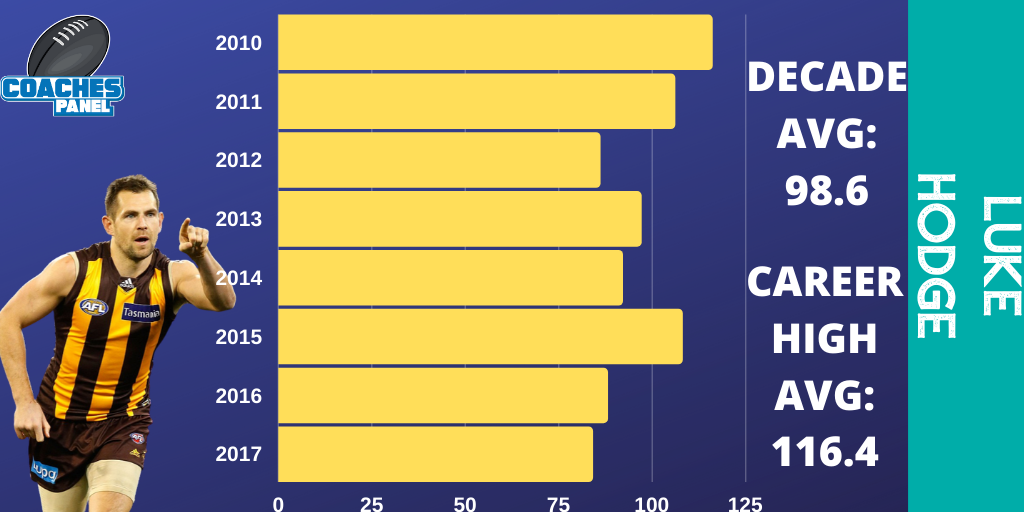 Who Missed Out
It was a close call, but Luke Hodge narrowly beat out Sam Mitchell as the SuperCoach Hawk of the decade. The thing that tipped the scales in Hodge's favour was the fact that for large portions of the decade he was defensive eligible. That said, long time players will remember that Sam spent one season as a Bachman. In 2014 he was a popular backline selection and averaged 91 including a 149 against the Suns early in the year. Across 2010-2016 he had four seasons averaging over 100, including back to back seasons going over 110.
In 2011 he played 20 games, averaged 113.4 and scored over 100 in 14 matches including eight over 120. He followed it up with another 110 year. This time made up of 15 tons including four over 130.
Sadly, Tom Mitchell was never going to be a serious contender. Two seasons at the club was never going to be enough to be a clubs player of the decade. That said, averaging 118 and 129 and playing every game are two very elite scoring seasons.
Speaking of premium midfield seasons, Jordan Lewis was a consistently solid performer with four seasons averaging between 90-99. However, it was his 2014 and 2015 seasons that he delivered at his SuperCoach peak. In 2014 he averaged 109.4, from 21 games he scored 12 tons across the season. As good as he was across the year, it was his final six games that were a thing of scoring beauty. He scored 116, 123, 165, 145, 110 & 154 averaging 135.5
Like many Hawks, early in the decade, they had several players that were strong SuperCoach performers. For Lance Franklin, he opened up the decade averaging 107, 110 & 115 making him the most dominant forward in the game between 2010-2012. A move to the Swans post 2013 dashed any hopes he had of taking the mantle.
Speaking of Hawthorn forwards, Cyril Rioli doesn't get the love from SuperCoach players as much as he should. Between 2010 -2016 his lowest seasonal average was 88 with his 2010-2012 seasonal averages of 94, 99 & 98 a definite highlight.
While during the premiership era Jarryd Roughead was also a phenomenal contributor both to their dominance but also for SuperCoach. Between 2011-2015 'Rough' was arguably one of the most dominant and consistent forward through those years. Averages of 101, 103, 98, 95 and 91 made him a genuine top 6-10 forward every year. Two additional seasons averaging in the 80 just wasn't strong enough, in my opinion, to outperform his former skipper.