We've decided to look at who I believe has been the best SuperCoach performer from each AFL club over the past ten years. Here's who I believe it is for the Gold Coast Suns.
Embed from Getty Images
Gary Ablett
Nobody got even close to challenging the little master at Gold Coast for the title of SuperCoach player of the decade. Gary Ablett has been so far past any other challenger that it wasn't even a competition.
After his stunning move to the new franchise, Ablett was dominant for his club debuting with a 141 against Carlton. That season he went on to average 127, which featured three scores over 170 including a 198 against the Crows. What makes that average even more spectacular is that it included an injury affected score of 19.
He backed this season up with a 20 game season and averaged 138.1 That year consisted of 18 scores over one hundred and six scores over 150.
Across his first four seasons as a Sun Gary was the most dominant SuperCoach player across that era. In fact, before his first-ever major injury (shoulder reconstruction) that ended his year and the Suns dreams of a debut finals appearance his career SuperCoach average as a Sun was 132.
Sadly the final three seasons that Gary played at Gold Coast, he was never able to play more than 14 games in a single season. Despite that, he still delivered strong scores when on the field. Across all three seasons, he averaged 114.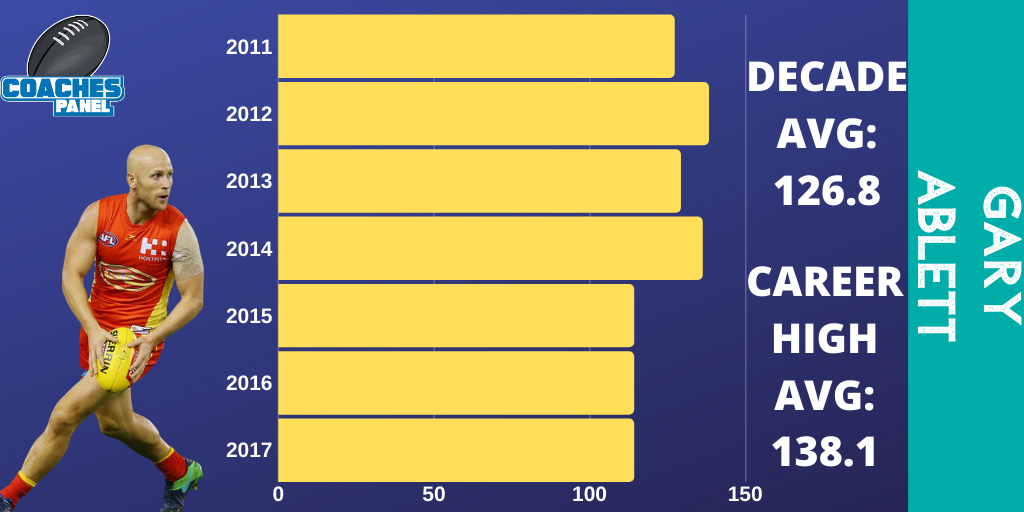 Who Missed Out
Sadly, this wasn't even a competition. While we would get the occasional SuperCoach relevant season from some players, they never could back it up for more than two seasons.
Arguably the closest would have been a former teammate and now two-time premiership Tiger Dion Prestia. During his final four seasons at the club, he averaged 97, 106, 99 and 93. 2014 where he averaged 106 is still he career-best SuperCoach season. That year he played 22 games, scored 12 tons with 9 of them being 120 or higher.
Speaking of Premiership Tigers, Tom Lynch showcased his talent with a breakout 2015 season where he averaged 89. The following year he increased his scoring to post a career-high average of 93. However, four seasons averaging over 80 even as a forward wasn't close to taking the title from Gary.
From the moment Harley Bennell was drafted, SuperCoach fans knew he'd have the potential to be a star. A respectable debut season average of 68.5 included a season-ending 106 against the Hawks. The following year Harley Bennell was a genuine breakout premium. As a forward, he averaged 97.2 played 22 games, posted seven tons and achieved his career-high score of 193 against Melbourne. The following three seasons as a Sun he averaged 96, 95 and 100. Sadly, injuries have robbed him and the footballing community of seeing him dominate the game.
Current captain Jarrod Witts has delivered three serviceable seasons as a Sun. Averages of 94, 88 and 99 are very handy, but even with factoring in his ruck status, it gets nowhere near competing with the little master's dominance.