We've decided to look at who I believe has been the best SuperCoach performer from each AFL club over the past ten years. Here's who I believe it is for the Geelong Cats.
Embed from Getty Images
Joel Selwood
It's pretty rare for a player to be SuperCoach relevant for the entirety of their AFL career, but for Joel Selwood you could create a fairly compelling argument that he has been.
As a cash cow Selwood played 18 games, averaged 77and posted six tons including three over 120. The following year he increased his seasonal average up 21 points to 98. Since his third season (2009) until 2018 he averaged 100+ every year.
In 2010 he played 21 games, averaged 117 had 15 scores over 100 and delivered a massive 175 against Brisbane. Between 2011-2018 his years averages were 111, 117, 118, 120, 104, 110, 102 & 105.
His 2014 where he averaged 120 he was one of only five midfielders to average over that mark. His year featured 16 tons, seven of which were above 140 and a seasonal high 176 in the final round of the year. Had Joel been your captain that round he would have delivered for you a score of 352.
Along with his scoring consistency across the decade, Selwood rarely missed a game. Between 2010-2019 he missed just 16 games and only twice in that time missed more than two games in a single season.
His 2019 season was disappointing with an average of 85 being his second-lowest across his career. Regardless, his body of work over the decade makes him the clear best performing SuperCoach cat.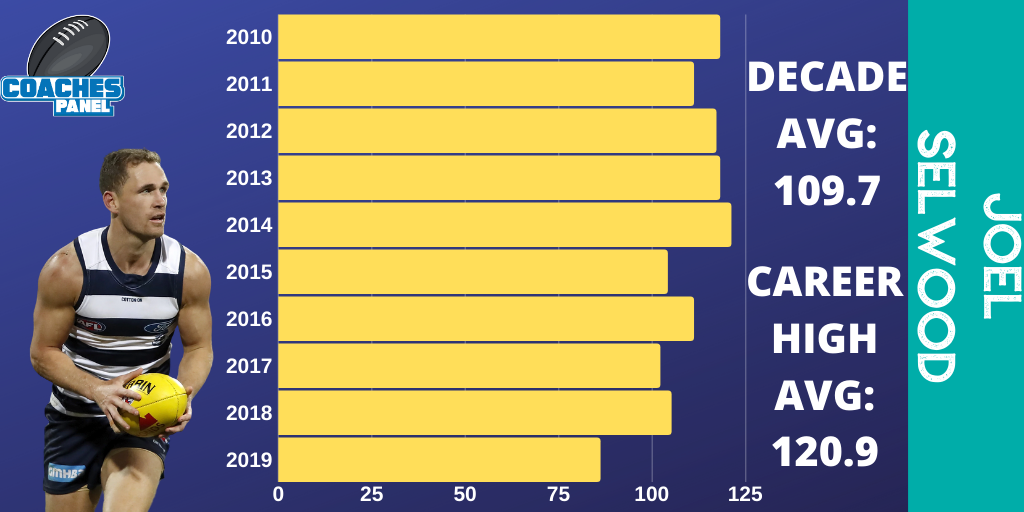 Who Missed Out
Surprisingly to many might be just how dominant Corey Enright was as a premium defensive option for the Cats. One of the most dependable selections in our backline. Between 2010 and his eventual retirement post-2016 his seasonal averages were 98, 96, 94, 94, 89, 95 and 99.8. Added to his scoring consistency was the fact that he missed just seven matches during that time. If you were a highly ranked player often during the early part of the decade, chances are you often owned Enright.
If the question was who has been the best SuperCoach performer in the past few seasons, then Patrick Dangerfield is the winner. Since crossing to The Cats via Adelaide after the 2015 season Danger has been one of the highest-scoring and most popular to owned premiums. In his four seasons as a Cat, he's had seasonal averages of 130, 136, 121 and last year as a forward 115. As a Geelong player, his career SuperCoach average is 125.89. His four seasons of dominance (and that's precisely what he has been) just wasn't enough to dethrone his captains decade of data.
Don't worry about Gary Ablett, spoiler alert he'll get his chance to be featured, but it won't be with the Cats. After a strong season in 2010 averaging 129, he made a move north to join the Gold Coast Suns. It wasn't until 2018 that the goat made his way back to Kardinia Park. Averages of 106.9 and 95 are nothing to sneeze at, but just three seasons as a Cat in the decade meant he was no chance of taking Selwood's mantle.
Over the decade one of the most underrated midfielders has been Mitch Duncan. His 2017 seasons where he averaged 109.8 made him one of the most valuable unique premiums. That year in the final seven rounds he averaged 120. Beyond that year he's had three other seasons averaging over 100 but never been a viable season long-dominant midfield scorer.
One of the most prominent SuperCoach forwards in the early part of the decade was Paul Chapman. In 2010 he averaged 116 and then followed it up with years of 101, 100 and 95. After that, he finished his career as a Bomber.
Similarly, Steve Johnson was a prolific scorer before a move to Greater Western Sydney. In 2013 he had a personal best average of 115, and he followed it up with a 106. However, multiple years of averages in the 80's even as a forward were nowhere near enough to take the title from Jelwood.
Become a Patron!