We've decided to look at who I believe has been the best SuperCoach performer from each AFL club over the past ten years. Here's who I believe it is for GWS Giants.
Embed from Getty Images
Callan Ward
After developing during four seasons at the Western Bulldogs, the freshly faced Callan Ward become the new leader and one of the first players signed to the GWS Giants.
In his debut season at the club (2012) he starred for the club. For SuperCoach players who owned him this year, you'd have a special place in your heart for him. Playing 20 games, he scored 12 tons across the season including four over 130. Added to this, he had just three scores below 89 all year.
Between 2013-2018 Ward led the club in all facets and this translate into his SuperCoach scoring. During this time his lowest seasonal average was 97.3 and his smallest games tally for a season was 20. Before his season-ending ACL injury to start 2019, Ward had only missed five games in the previous seven years.
In the giants eight seasons in the league, Callan Ward's five seasons where he has averaged over 100. The pinnacle of these was his 2014 season. That year he averaged 112, scored over 100 in fifteen matches with 11 of them over 120. During that year from round 6-19, his lowest score was 92, and during this 14 game stretch, he averaged 120.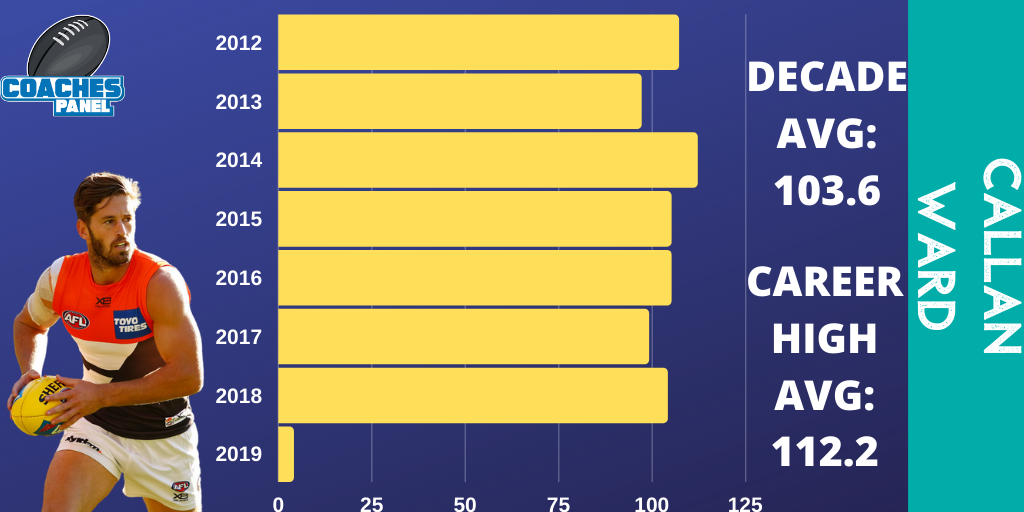 Who Missed Out
The current captain of the Giants Stephen Coniglio has been SuperCoach relevant for well over half of the decade. It started back in 2012 as a cash cow he averaged 75.8 including two scores over 100. However, it wasn't until 2016 that he was able to deliver premium midfield numbers. That year he played 21 games, averaged 105 and scored 13 tons. Since then 'Cogs' has averaged 91, 108 & 101. Certainly a solid last four years in terms of averages, but not enough to topple his former captain
The club traded Taylor Adams for Heath Shaw at the end of 2013 and for multiple years 'Heater' has been a defensive premium for us. The pinnacle of his scoring years as a Giant was in 2015 and 2016 were across those two seasons he played every game and averaged 109. In those 44 games, he scored 27 tons and a personal best of 203 against the Bulldogs. Two additional seasons averaging over 90 at GWS have established him as a reliable option across the decade. However, even while factoring in his positional line I couldn't say he was the best Giant of the decade over Callan Ward. If he had joined the club upon its inception, I think he would've taken the title.
Toby Greene delivered arguably one of the best cash cow seasons for SuperCoach players. As a midfielder, he averaged 94 and in his final 11 games of the season had seven tons including a 165 against Melbourne. Two years later he had his first (and only) season averaging in triple digits. In 2014 he averaged 102 from 15 games. Since then Toby has provided multiple premium scoring years as a forward including a 90, 94 & 96. While his positional line does give him a value boost, the fact that he has just two seasons across his AFL career that have been over 20 games takes his worth back down a notch.
Beyond last season Lachie Whitfield had never averaged 100. Last years 111 as a defender is undoubtedly worth celebrating. But doesn't even get him in the conversation as a podium finisher.
A common thread across this series is that if we were only using a three to five-year window, then we might be awarding the title to a different player. For the Giants, it would likely be assigned to Josh Kelly if we were focussing on just the past few seasons. Since 2017 his seasonal averages have been 113.8, 113.8 and 117.4. When Kelly is on the field, he is one of the best SuperCoach scorers available in the midfield. However, in good faith, I could let Callan Ward's seven-seasons of reliable scoring and availability be more valuable than a dominant three seasons from Kelly.
Speaking of dominant seasons, Zac Williams has given us two outstanding seasons as a defender. His 2017 of 94 and last years 101 have made him a genuine premium for a few seasons. Two great years aren't enough to get him a top-three finish for this club in this list.