We've decided to look at who I believe has been the best SuperCoach performer from each AFL club over the past ten years. Here's who I believe it is for the Collingwood Football Club.
Embed from Getty Images
Scott Pendlebury
Of all the clubs I've gone through, I found Collingwood the easiest so far. Over the past decade current captain Scott Pendlebury has been a SuperCoach beast. During this decade 'Pendls' has averaged over 100 every season with the lowest (2018) was 103.5.
He started the decade as one of the most dominant SuperCoach performers with averages of 110, 129, 124, 126 and 124. During that five-season stretch, he missed only five games. Over 2010-2014 era, Pendls was arguably one of the most dependable captaincy options. Over this period, he had only six scores under 90, that's an insane 94% of games going 90+.
The pinnacle of this period was his 2011 season, where he scored a ridiculous 21 scores over 100 and a seasonal low of 94. Those 21 tons included 11 scores over 130 and four over 150.
His back half of this decade has been nothing to sneeze at too—multiple years averaging over 115 and nothing below 103. Even though the 120 averages have gone, Pendls still has a robust SuperCoach ceiling. Even last year he posted scores of 133, 135, 138, 138 and 146 as his top five scores.
The moment Scott Pendlebury finishes his AFL career,, he'll go straight into the SuperCoach hall of fame. His twelve consecutive seasons of averaging 100+ is a thing of fantasy footy folklore.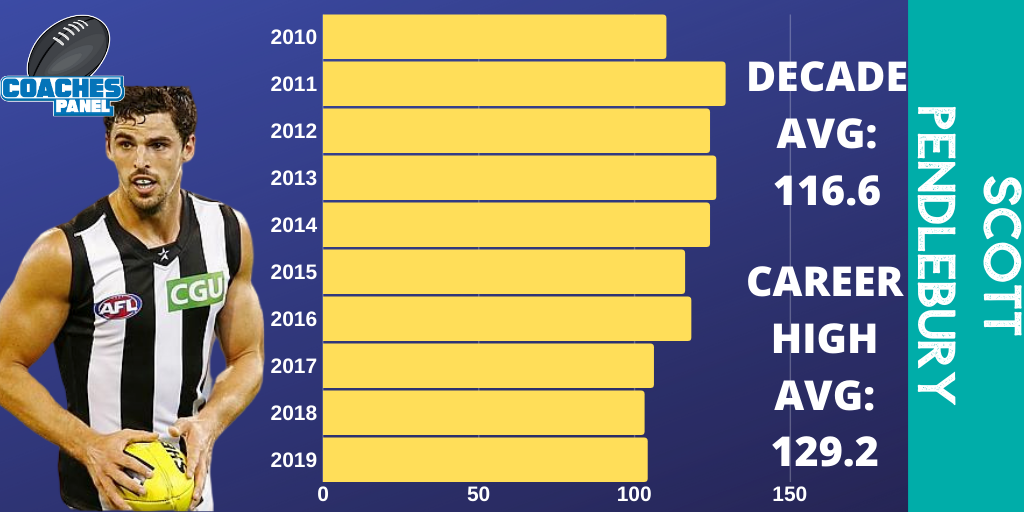 Who Missed Out
Brodie Grundy is currently the most dominant Magpie from a SuperCoach perspective. Back to back seasons averaging 130 and playing every game in that time has made him the most dominant scorer in the game. And in the three-seasons prior he averaged between 90-97. As prolific a scorer he has been over the previous two seasons it wasn't enough data over the decade to dethrone his captain.
Much like Pendls, Dane Swan has been a longtime fan favourite. And like Scott was among the most damaging scorers in the early half of the decade. From 2010 – 2013 he posted averages of 126, 122, 121 and 126. Sadly, a career-ending injury at the start of 2016 dashed any chance of him taking the Magpie SuperCoach mantle.
Adam Treloar has had four seasons as a magpie and with three of them over 109 he's well on his way to forming a strong scoring history as a Pie. However, with only limited seasons at Collingwood, he couldn't match his scoring over the decade.
Since joining Collingwood via Brisbane in trade, Jack Crisp has been one of the most durable players in the AFL. As a magpie, he hasn't missed a game and has averaged between 82-95 in the past five seasons. The fact that he's been a defender during that time does play in his favour, but like others on the list, he just can't compare to Scott's scoring over the decade.
Steele Sidebottom is one of the few pies that matches Pendls both for longevity and also durability over the decade. Since 2010 he's missed only 14 AFL games. However, with just five seasons with an average over 100, but with just one of them higher than 110, his scoring doesn't match his captain's ceiling.
Before seeking a trade to Brisbane mid-decade, Dayne Beams was starting to build a nice SuperCoach resume at Collingwood. From 2011 he had four consecutive seasons averaging over 100 including a 115 and a career-high 123. However, a trade to Brisbane after the 2014 season put an end to any chance of Beamer being a contender.
Become a Patron!