We've decided to look at who I believe has been the best SuperCoach performer from each AFL club over the past ten years. Here's who I believe it is for the Carlton Blues.
Embed from Getty Images
Kade Simpson
For the majority of the decade, Kade Simpson has been a premium defender. While he might not have as many 100+ seasonal averages like Judd, Cripps, Murphy of even Gibbs we do need to take his positional allocation into consideration.
Seven seasons averaging over 92, an additional two over 105 and only one 'stinker' (81.5 last year) is incredible consistency. Added to this consistency is Simmo's freakish durability. During the decade he missed just ten matches, and in one single season has never missed more than four games.
To top it all off Kade has a SuperCoach ceiling about him. This was most recently on display in his 2018 season. That year he posted ten scores over 100, only one of them was under 115 and he five scores of 139 or higher.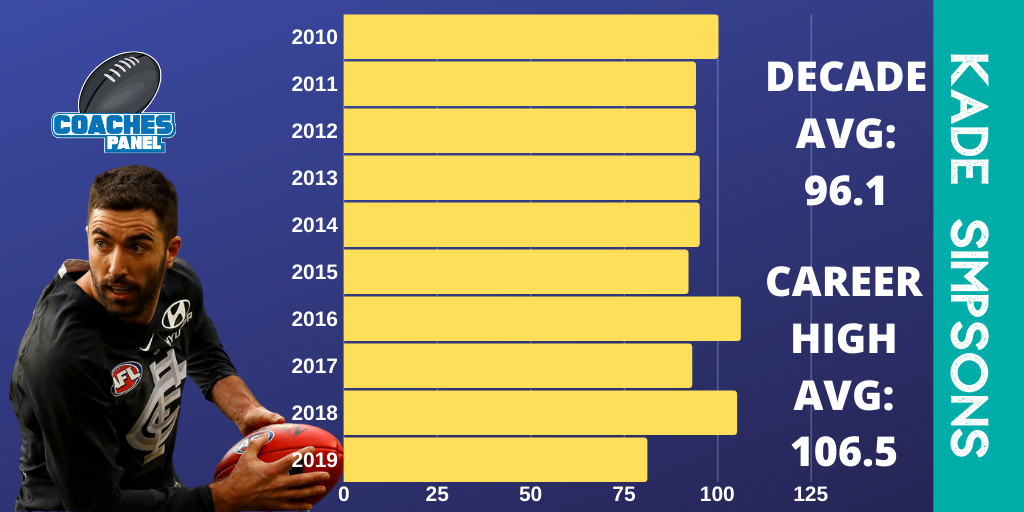 Who Missed Out
The battle for top Blue of the decade was pretty tight. Former skipper Marc Murphy had a pretty phenomenal decade. Had it not been for Simpson's defensive eligibility, then Marc would be the clear winner. He started the decade in ripping form with seasonal averages of 111, 118 and 118. Additionally, he had three other seasons where he averaged over 100 and had just one season (2016) that he didn't average over 90.
Speaking of former captains, Chris Judd was a SuperCoach beast in his day. From 2010-2012 he averaged 118, 115 and 104. This was followed up by consecutive seasons over 90. Sadly an ACL ended his 2015 season, his chance of winning the player of the decade and ultimately his football career.
If we were talking about the top blue of the past five years then Patrick Cripps would be a walk up winner. Since 2015 his lowest seasonal average is 96.3. Included in this time have been three years averaging over 100 and two over 117. As strong as his past five seasons has been, I didn't believe it was enough to overthrow Simpson.
Bryce Gibbs was a Carlton favourite for many years and was a pretty consist SuperCoach performer. Between 2010-2017 he had just one season where he averaged below 95 and had five seasons where he averaged 100 or more. Gibbs even spent some time in this decade where he was defensive eligible. Had he stayed in the navy Blue, a full two more seasons might have just been enough to take the title.
Current captain Sam Docherty had a few elite years in 2016 (104) and 2017 (114). However, with only four years of data at Carlton, it was far from enough for him to be considered.