We've decided to look at who I believe has been the best SuperCoach performer from each AFL club over the past ten years. Here's who I believe it is for the Brisbane Lions.
Embed from Getty Images
Tom Rockliff
Longtime SuperCoach players have a special place in their heart set aside for Tom Rockliff. The now Port Adelaide midfielder was a SuperCoach beast for the best part of his time at Brisbane.
His 2011 year averaging started the love affair where he averaged 113 across the season. However, it was the way he ended the year that players loved. He scored 11 consecutive tons, had a top score of 179 and averaged 124. Two seasons later (2013) he averaged 109. These seasons along with 2016's average of 111 are strong scoring seasons. However, they are nothing in contrast to his 2014 year.
That year was a SuperCoach master class. Despite only playing 18 games, if you didn't own Rocky, it would've been near impossible to have league or rankings success. He averaged 131 and posted 15 tons and had only once score below 91 all year. Of those 15 scores of 100 or more, he had six scores over 150. They were: 155, 158, 158, 168, 175 and 182.
Rocky is also a member of the SuperCoach 200 club. In 2016 against Carlton he racked up 48 disposals, had nine tackles, eight marks and registered a 204.
Over his eight seasons at Brisbane in this decade he averaged 105. Five of those years he averaged over 100, three of them over 110 and an additional two years he averaged between 96-97.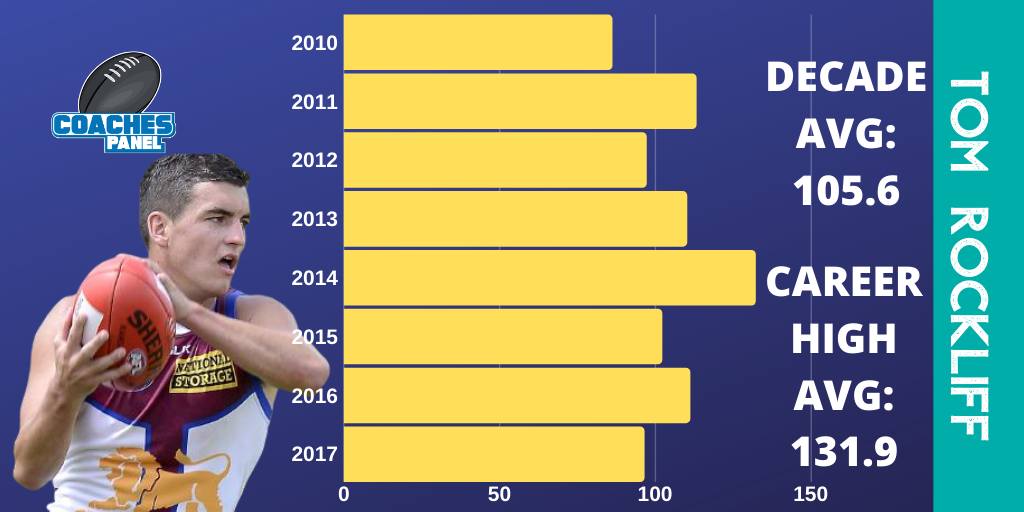 Who Missed Out
Current skipper Dayne Zorko was arguably the closest to taking the title from Rocky. In his eight seasons in the league five of them, he averaged 100 or more including his debut season of 2012. A decade average of 100 and a career-high season of 110 in 2017 is certainly nothing to sneeze at but not enough to chase down Tom.
Stefan Martin has had a few premium seasons at Brisbane. In 2014 and 2015 he averaged 111 and 110 to be one of the top-scoring ruckmen across the competition. He also averaged 105 back in 2018, but three premium scoring seasons weren't enough to be a serious contender.
Pearce Hanley was a premium defender between 2012-2014 with a career-high 103.7. However, like many other Lions, he wasn't a dominant SuperCoach performer consistently.
Former Lion and now premiership Eagle Jack Redden was a premium midfielder in the early half of the decade. He averaged 102, 102, 97, 103 and 95 before an eventual trade to West Coast. Had a stayed at Brisbane, he may have been a genuine contender.
Become a Patron!