During 'iso life' many fantasy footy sites (ours included) have gone into hiding. However, to pass the time we've decided to look at who I believe has been the best SuperCoach performer from each AFL club over the past ten years. Here's who I believe it is for the Adelaide Crows.
Embed from Getty Images
Rory Sloane
Over the past decade, the Crows have had plenty of relevant SuperCoach performers. However, nobody got near the longevity of Rory Sloane. Over the past ten years, he's had seven seasons averaging over 100, with two of those over 110.
Between 2010-2019 he played 85% of possible games and averaged just shy of 103 for the decade. Sloane has shown that his ceiling is among some of the best to play the game. An example of that is a five-week scoring run in 2017 where he averaged 143. It started with a 146 against the Hawks; he then proceeded to add a 168, 124, 139 and 140.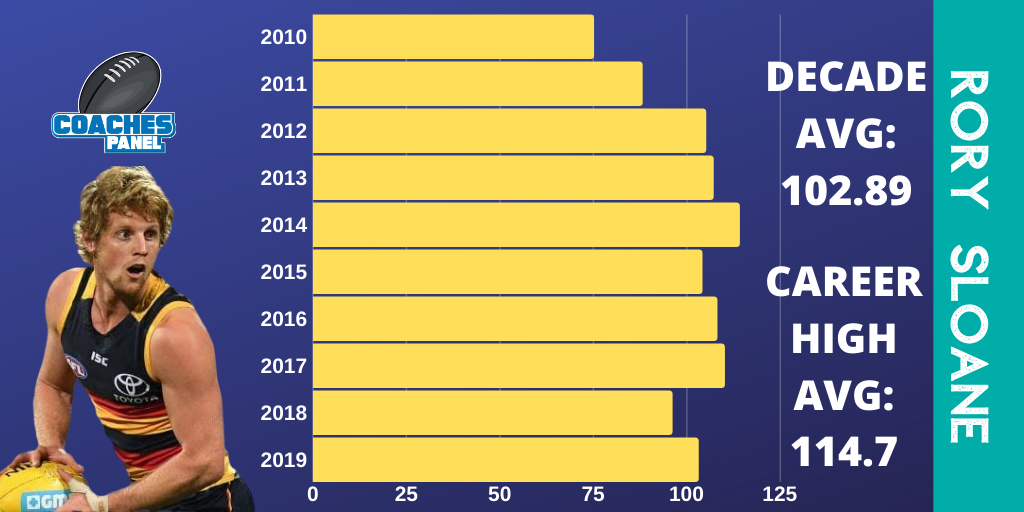 Who missed out?
Brownlow Medalist Patrick Dangerfield was on track to challenge his best mate for the title. His final four seasons at the club he averaged 118, 112, 105 and 118. However, his departure to Geelong at the end of the 2015 season meant Danger didn't have enough data to outperform Sloane. Had he stayed and his Geelong seasonal averages of 130, 136, 121 and 115 happened at Adelaide, he would take the title.
Scott Thompson was a staple in the Crows midfield since joining the club in 2005. However, he had just four seasons averaging over 100, not enough to dethrone Rory. Sam Jacobs had a dominant 2014 averaging 115. Outside of that year, he had only the two seasons going into triple figures.
Rory Laird made some late decade charges with five seasons averaging 92 or above while Matt Crouch has averaged 110, 101 & 103 in the past three seasons.
Become a Patron!