Jack Sinclair was the premium defender that nobody predicted would arrive in 2022. Was it an aberration? Or is this the new normal? Either way, Sinclair is incredibly relevant for fantasy football in 2023.
PLAYER PROFILE
Name: Jack Sinclair
Age: 27
Club: St Kilda Saints
Position: Defender
2022 Highest Score:
146 Vs Western Bulldogs (AFLFantasy)
150 Vs Carlton (SuperCoach)
Career Highest Score:
146 Vs Western Bulldogs | AFLFantasy (2022)
150 Vs Carlton | SuperCoach (2022)
2022 Average:
102.9 (AFLFantasy)
113.7 (SuperCoach)
SuperCoach Price: $626,200
AFLFantasy Price: $911,000
AFLDreamTeam Price: $934,200
Embed from Getty Images
WHY IS HE RELEVANT?
In the preseason, fantasy football content creators speculate about the players that could become premiums every preseason. But, unfortunately, there weren't many (if any) that forecasted the breakout of Jack Sinclair.
Sinclair was ranked first in the league for kicks per game, ninth for effective disposals and inside the top twenty for bounces; metres gained and disposals. He is ranked elite for inside 50's, groundball gets, intercept possessions, pressure acts, score involvements, effective kicks, and contested and uncontested possessions. In summary, his 2022 was ELITE! He deserved his maiden club best & fairest win and his place in the 2022 All-Australian team.
This stunning season certainly translated into a strong AFLFantasy/DreamTeam season. He scored ten tons last year. It included three scores above 120; 133, 140 & 146. On top of this, he had seven scores between 93-99 and dipped his coring under 80 just once. He ended the season with an average of 102.9 and was ranked second behind Sam Docherty for all defenders' total points and averages. He scored 2,264 points last year, thanks ranked him tenth overall, and he finished with the 16th-highest average overall.
It was a near-perfect season in SuperCoach. His average of 113.7 had him the top defender for overall points and averages. He posted nineteen tons. That's a triple-digit score from 86% of his games played. He went over 120 five times, including 133, 135, 140 & 150. He also dipped his score once under 80 (79) all season! If you include all player lines, he ranked seventh for total points and had the eighth-highest average.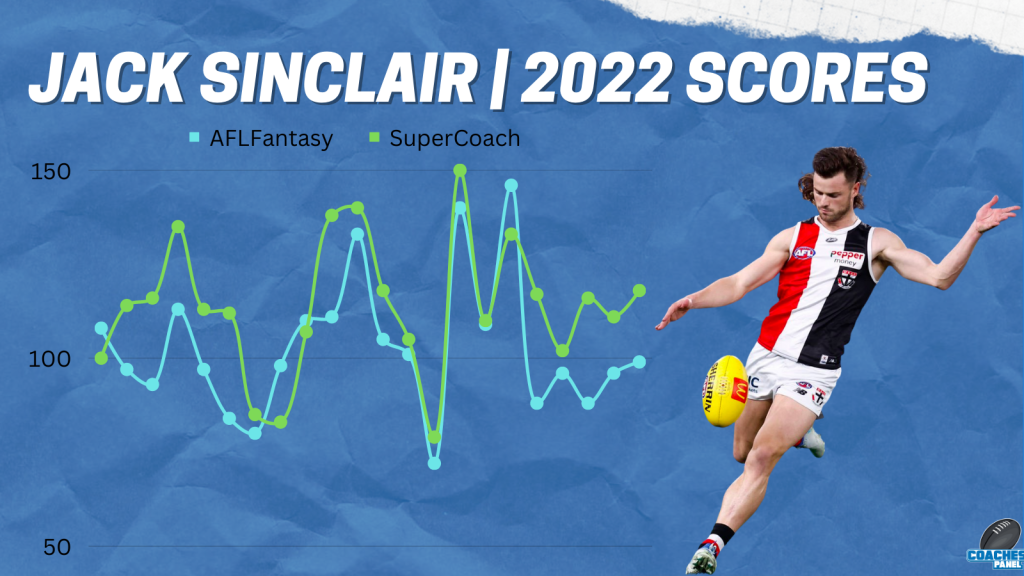 Before 2022 his best fantasy football performances came the season prior. In AFLFantasy/DreamTeam, he scored four tons and five additional scores over 80 on his way to an average of 79.3. For SuperCoach, he scored five tons, one over 120 and an extra seven scores over 80, with an average of 86.2. These numbers could look better. But it's a reminder that players develop at different rates and sometimes need the right role to become fantasy relevant.
Embed from Getty Images
MY TAKE
Almost everything is open to change whenever a club has a coaching change. From game style, players positions even to the sides best 22. So much can evolve. Under Ross Lyon, he has given early indications that Brad Hill will play on the wing in a similar role to what he did at Fremantle. This is relevant because Jack Sinclair now appears to have the freedom to be the sole mover of the ball off the Saints halfback line.
Becoming the man could be a double-edged sword for Jack. The upside, St Kilda rebound the ball almost exclusively. He already has the monopoly on kicking duties, but by becoming the backline general, he could see his scoring power increase, let alone hold. The negative is that he becomes the opposition team's sole target for a tag. While they aren't as regular as in previous eras, we did see teams happy to deploy a forward tag on the opposition's team's most damaging halfback. For St Kilda, that's Sinclair.
In some corridors of the fantasy community, there's some concern that Jack won't have the plumb role across halfback. Some track watchers have talked about him spending significant time with the midfield group. While that's not a role where I believe he'll score at his optimum, it's hardly a disaster if he roles through there. He spent four weeks last year attending between 31%-71% of centre bounces. In those four games, he averaged 99 in AFLFantasy/DreamTeam and 103 in SuperCoach. If we contrast his scoring in that role against last season's top defenders, he'd still be a top-six across all formats.
With such low ownership compared to what he's done, what would classify a 'success' in starting teams? Simple that he scores need to have him at or alongside the top defenders. Over nine weeks between rounds 9-18, he averaged 120 in SuperCoach and 114 in AFLFantasy/DreamTeam. If he does that, then he's been an outstanding selection. Side note, that's not cherry-picking data; that's deliberately including his tagged game against Sydney, where he posted his lowest season score!
Relevance is the keyword of this series. Jack will be one of the most relevant defenders this year. If Sinclair holds his current low ownership but maintains his high scoring this season, he'll be near impossible to catch cheap again. That makes him relevant. If he starts slow, the community will flock to him as an upgrade target and get a bargain. That makes him relevant. No matter what happens with his season, his fantasy output will directly correlate to the success of people's seasons this year in SuperCoach, AFLFantasy & DreamTeam. For me, he's right in the mix to start for SuperCoach.
DRAFT DECISION
If you want to own Jack Sinclair this year, you won't be getting him at the bargain spaces you did in 2022. Instead, it'll cost you a premium draft selection. As good as his 2022 season was, I still don't see coaches choosing him as the first defender off draft boards. Even in SuperCoach, most will feel safest with Sam Docherty as the first defender selected.
He'll be selected as someone's D1, and his range will be mostly in the second round across formats. In AFLFantasy formats, he might sneak early into the third, but I can't see him falling much beyond that.
JOIN THE CONVERSATION
Do you believe he is fantasy relevant?
Will you be starting with him?
Have your say on our Facebook, Twitter or Instagram.
WANT EARLY ACCESS?
Want access 24 hours early to the 50 Most Relevant podcasts? Join our Patreon and get ahead of the Crowd