Rarely can a premium still be seen with significant value built into it's price. Stephen Coniglio has that potential in 2023. But, as good as he has been, and can be, is Cogs the perfect player to start within our teams? Or should we be watching what happens under a new coaching regime?
PLAYER PROFILE
Name: Stephen Coniglio
Age: 29
Club: GWS Giants
Position: Midfield/Forward
2022 Highest Score:
130 Vs North Melbourne (AFLFantasy)
174 Vs North Melbourne (SuperCoach)
Career Highest Score:
192 Vs Gold Coast | AFLFantasy (2019)
207 Vs Gold Coast | SuperCoach (2019)
2022 Average:
98.4 (AFLFantasy)
101.3 (SuperCoach)
SuperCoach Price: $557,700
AFLFantasy Price: $871,000
AFLDreamTeam Price: $893,100
Embed from Getty Images
WHY IS HE RELEVANT?
For over a decade, we've spoken favourably about Stephen Coniglio in fantasy football circles. The Giants co-captain has spent multiple seasons as part of this series and in the conversation of being a valuable premium and value pick since his debut in 2012. However, over recent seasons Cogs has shown whether he's playing as a centre-bounce midfielder or as a high half-forward when he's on the park, he's still a damaging prospect for opposition teams to play against.
The 2022 season started promisingly enough, stalled in the middle and flew home over the final few months. His average of 98.3 in AFLFantasy/DreamTeam and 101.3 in SuperCach places him as the second-highest-ranked forward available this year based on averages. For a true reflection of Stephen's season, the year should be split into two halves. He had the nine games of the season under Leon Cameron and then what he did in the next twelve under interim coach Mark McVeigh.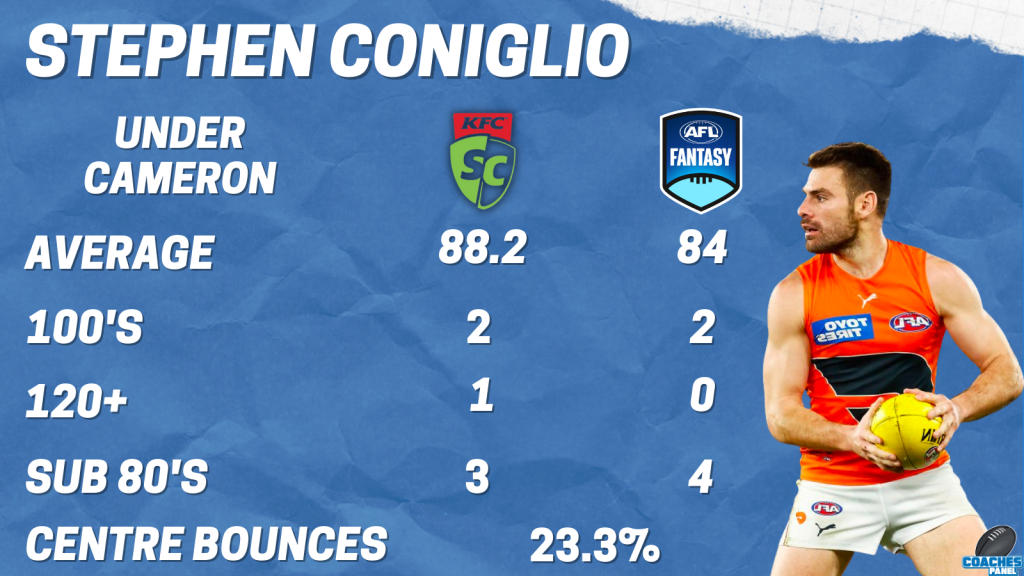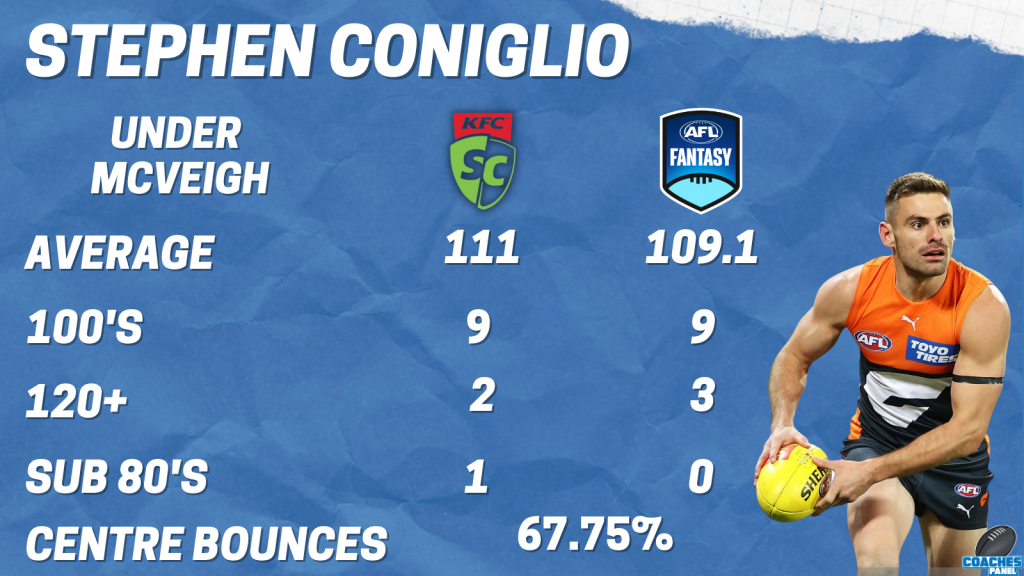 No fantasy coach enjoyed the rollercoaster ride of the final few months of Leon's coaching reign. But the positive is it created some inbuilt value into his price point for 2023. He's priced at 98 in AFLFantasy/DreamTeam and 101 in SuperCoach. But shown in the twelve games he played under McVeigh, he could score upwards of ten points per game higher than he's priced at. You rarely get this much potential upside with premiums at this pricing range, but with Stephen, we have it.
This scoring under McVeigh echoes some of his historical data of years gone by. In 2018-2019 he averaged 110.3 & 103.6 in AFLFantasy/DreamTeam and 108.4 & 101.2 in SuperCoach. So the data is really clear. If we can get Cogs north of 60% of centre bounces, then we've got a serious top-end forward-eligible premium that can score at the same levels as our midfield premos.
Even though our forward lines have taken a significant hit with the loss of MID/FWD DOPP to Bailey Smith, Marcus Bontempelli and Luke Parker as a notable big three, we've still got some top-end talent, and Coniglio, based on proven scoring, can be right in the conversations as a top tier forward this season.
Over previous seasons there had been significant concerns about his injury history. And while he's still yet to play a full season, he played 95% of games last year and 94% of 2020, showing that he's just as likely recently to play out the majority of a season as he is to miss big chunks. Therefore the injury narrative can get in the bin.
Embed from Getty Images
MY TAKE
Whenever a team undergoes a coaching change, that can significantly change several elements. From a club culture, the game style, the best on-field 22 mix, and even player roles can all see significant transformation under a new coach. We saw this play out in real-time last year under the difference of how Leon utilised Stephen Coniglio as opposed to Mark McVeigh.
Fantasy football coaches must seek answers to several primary questions to make an informed decision regarding Cogs in your starting squad. First, what is the game style that Adam Kingsley will deploy at GWS? Will this game style be conducive to fantasy scoring? What is the midfield mix like for the Giants? And what roles will Stephen be asked to fulfil within this?
What does the midfield mix look like for GWS? Regardless of the mix and approach, I can't see Tom Green missing out on being a senior figure and being the one that they build this new Giants era around. We spoke about him earlier in the 50 most relevant here. But who is standing at centre bounces alongside him? Is it a heavy reliance on experienced hands in Josh Kelly, Stephen Coniglio and Callan Ward? If that's the case, the path to a 105+ average is potentially very clear and simple.
Also available for consideration in the mix for Kingsley and co are Lachie Ash & Harry Perryman, who've both sown potential through the guts when given opportunities, all be it limited. It could be trickier if the CBA mix is expanded and spread more evenly to include these lads. And then the likes of Finn Callaghan, Harry Rowston and even Toby McMullin are all likely key pillars of the future. Does 'Pipes' Kingsley give them just glimpses, or will he throw them into the deep end at the centre bounce? Ultimately, we will know season proper, but how you view this mix will inform the decision substantially around his selection on your side.
How much of what Kingsley sat under at Richmond as an assistant coach will translate to GWS? Historically we've seen Richmond over the recent era give us only a few fantasy prospects. While Collingwood got a new coach from the Richmond regime last year, we also saw a need for genuine fantasy prospects at the top end. Does that mean we'll see something similar from Adam at GWS? Ultimately, the trend isn't positive, but it's far from definitive. As I spoke about with Rids on the podcast, this GWS midfield, in a pound-for-pound battle at the top end, is still one of the most elite units in the AFL. Just as probable as a poor fantasy-friendly game style is that he plays to his playing cattle strength and leverages the elite midfield players on the list.
Many coaches will have Josh Dunkley as their first forward selected and would strongly argue that by season's end, he'll be the top-performing forward in 2023. The fact he is already it and done in a split MID-FWD role at Western Bulldogs, the expectation of an even higher performance as a pure midfielder at Brisbane is highly valid. Only a few currently eligible forwards have the potential to match Dunkley, let alone challenge him for that mantle. Stephen has the proven scoring ceiling to not just go on hot runs of a few months of 110+ but has multiple seasons of average north of 100.
As of February 1st, 35% of DreamTeam, 34% of AFLFantasy and 21% of SuperCoach players have him on their side. So either with a valid reason or not, there is a level of high selection confidence across the community that Coniglio will be open to the top performing forward this year. That's likely because at his 'downside,' he's still a mid-high 80's performer. While the upside
He will be cheaper than this if he's a player attending anything higher than 60% centre bounces. However, he is valuable, and he can take a season away from you if he has a hot start through the midfield.
If you have any significant doubts about Coniglio, he's an upgrade target for you. Whether that be in a role or how the Giants structure up. If you trust two or three more premium forward options than Coniglio, then he's an upgrade target for you. The fact that the community is split on what to do makes him highly relevant, and his early season performance will impact your season's success.
DRAFT DECISION
The first forward off the board on draft day will be Josh Dunkley. That seems a fait accompli universally across all drafts and formats. But where will Stephen Congilio go? Some have him ranked second, while others are hesitant on the GWS midfield and will fade him marginally. Either way, he'll be in the first handful of forwards selected.
Forward premiums fall away fast this year, and the popular community sentiment is to lock away the best forward early. Should this sentiment get actioned, I can see coaches leaping for him in the first round. If he doesn't go there, he'll be a snaffled up as an early selection in the second round
JOIN THE CONVERSATION
Do you believe he is fantasy relevant?
Will you be starting with him?
Have your say on our Facebook, Twitter or Instagram.
WANT EARLY ACCESS?
Want access 24 hours early to the 50 Most Relevant podcasts? Join our Patreon and get ahead of the Crowd