Sometimes all a player needs to become a premium fantasy scorer is an opportunity. In the case of Tom Green, several vacancies with the Giants midfield opportunities have been created, and at the Coaches Panel, we believe he's ready to maximise it.
PLAYER PROFILE
Name: Tom Green
Age: 21
Club: GWS Giants
Position: Midfield
2022 Highest Score:
133 Vs Sydney (AFLFantasy)
164 Vs Sydney (SuperCoach)
Career Highest Score:
133 Vs Sydney | AFLFantasy (2022)
164 Vs Sydney | SuperCoach (2022)
2022 Average:
84.9 (AFLFantasy)
97.1 (SuperCoach)
SuperCoach Price: $534,600
AFLFantasy Price: $752,000
AFLDreamTeam Price: $770,300
Embed from Getty Images
WHY IS HE RELEVANT?
Over the past few seasons in the broader football media landscape, not just in fantasy footy circles, a constant narrative conversation has been held. The discussion has been around just how stacked the GWS Giants midfield is and how they can get everyone a slice of the midfield pie. Yet despite the squeeze, Tom Green has provided moments that have made the football public stop and say, 'this kid has got something special about him.'
As a junior, Tom was often contrasted to Patrick Cripps because of his power and ability to get into every contested ball situation and somehow come away with the football. His ability to win the hot footy, his clean hands and his ability to seemingly have the ball on a string became even more evident last year. In 2022 he averaged 14th in the league for contested possessions and 20th for handballs per game.
Overall his 2022 season saw him take his game to new heights and end the year with career-best stats and his best season in fantasy football. In AFLFantasy/DreamTeam last year, he averaged 84.9, which included six tons, including his career-high 133 in round one against the Swans. On top of this, he had an additional three scores between 90-99 and four more over 80. For SuperCoach, he scored eleven tons, five of them over 115, including 125, 147 & 167. In addition, he had four additional scores of 90+ on his way to averaging 97.1.
The season was solid overall, but it was his scoring over the opening five to eight weeks. Between rounds 1-5, he averaged 124.8 in SuperCoach and 105.8 in AFLFantasy/DreamTeam. From rounds 1-8, he averaged 99 in AFLFantasy/DreamTeam and 116 in SuperCoach.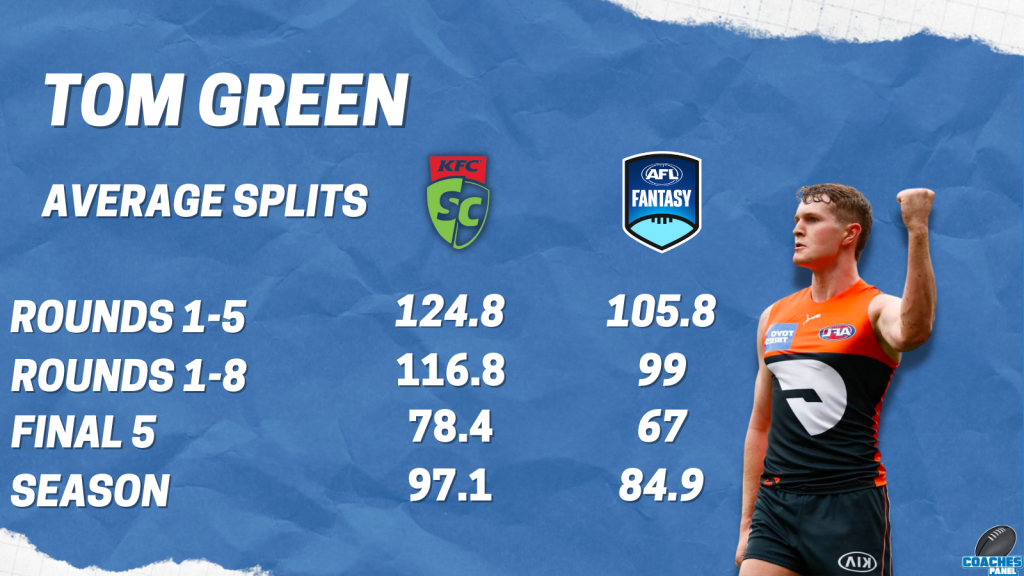 Green has plenty of inbuilt value on his price. Alongside the potential value of starting price vs his opening few months of scoring is the fact he has value inbuilt to his late role flip in the Giants midfield. Across the formats, his scoring dipped below 70 on four occasions.
These four scores all came in the last five games of the season. During this period, we saw multiple changes in the Giants midfield. Despite him leading the Giants CBA's over the season, we saw incredible volatility with his role during these five games. Additionally, some names that had spent no or low time as a centre bounce midfielder started to pick them up. Harry Perryman had three games where he attended over 89% of the CBA's. Jacob Hopper also returned from injury and started to pick up opportunities.
Are you looking for a midfielder who offers potential value and has the capacity and opportunity to push into the top tier of midfield premiums? Then Tom Green must be a consideration for you.
Embed from Getty Images
MY TAKE
Whenever you select a player, there is one thing underpinning that selection. It's the narrative. The story you tell yourself of why a player will do a certain thing. In Tom Green's scenario, a primary undercurrent will pull you to select him as the primary midfielder in the revolutionized GWS Giants midfield.
During the offseason, Jacob Hopper and Tim Taranto departed the Giants, leaving two players with over 50% centre bounce attendance each from the previous seasons. How will the new coaching regime cover these losses and transform the Giants? No matter how you look at it, Tom Green has to be pivotal to what GWS does in the midfield.
At 21 years of age, regardless of how Adam Kingsley wants to structure the midfield, it is centred around Tom. If it's holding some more experience with Josh Kelly, Stephen Coniglio and Callan Ward as primary role players Green is still the centrepiece. If they go for a younger combination of Harry Perryman, Lachie Ash or Finn Callaghan, it still has Tom at the core of it.
Sometimes we overcomplicate things in the preseason; we make clear and simple narratives, incredibly complex and complicated. Tom Green will be in the middle of what the Giants do this year and for many years.
Rather than questioning his role, the conversations need to be more centred on two bigger and more important questions. First, what will be the Giants game style in 2023 and will it be conducive to fantasy scoring? Ultimately that will be proven once we see how the club plays against others in the preseason.
The other big question is, are there better options at a comparable price point? Yesterday, we highlighted this with Caleb Serong. We've got a handful of players who could elevate themselves to the topline of midfield premiums. Tom is just one of those, but he's not the only guy that needs to be considered.
If you are in the market for a value selection of a guy that could become a premium, then Tom has to be a consideration.
DRAFT DECISION
Tom Green's draft position is entirely depending on the format you use for the format you use. For example, in AFLFantasy/DreamTeam scoring, he's ranked by the previous average just outside the top fifty midfielders. But there's not a world that I see him sliding as late as an M5, even hoping he's available as your M4 feels too late, given his upside. So in this format, if you want him, you'll need to secure him as an M3. That might feel early to get him around the sixth or seventh round, but if you want him, that's the draft range you'll need to leap to guarantee to secure him.
In SuperCoach, he'll go as early as M2 but will be a popular M3. If he goes as well as Rids predicts in the corresponding podcast, then even at M2, he's valuable!
JOIN THE CONVERSATION
Do you believe he is fantasy relevant?
Will you be starting with him?
Have your say on our Facebook, Twitter or Instagram.
WANT EARLY ACCESS?
Want access 24 hours early to the 50 Most Relevant podcasts? Join our Patreon and get ahead of the Crowd