Zach Merrett has been a staple premium in our midfield for over half a decade. As we enter another season, does the trend continue, or will we start to see his scoring decline?
PLAYER PROFILE
Name: Zach Merrett
Age: 27
Club: Essendon Bombers
Position: Midfield
2022 Highest Score:
172 Vs North Melbourne (AFLFantasy)
150 Vs Richmond (SuperCoach)
Career Highest Score:
172 Vs North Melbourne | AFLFantasy (2022)
168 Vs Sydney | SuperCoach (2021)
2022 Average:
107.2 (AFLFantasy)
112.2 (SuperCoach)
SuperCoach Price: $617,500
AFLFantasy Price: $949,000
AFLDreamTeam Price: $972,800
Embed from Getty Images
WHY IS HE RELEVANT?
Zach Merrett has been one of the most dependable fantasy midfield premiums. What makes Merrett so damaging as a footballer, not just a fantasy prospect, is that he's one of the hardest-working players in the league. Zach uses his workrate to get into space and create an option for his teammates in traffic. And when he gets the ball, he rarely wastes it.
It was another strong season statistically for Zach; he ranked second by average for uncontested possessions, sixth for disposals, eighth for inside 50s and tenth for score involvements. This was equally impressive, given he missed three matches with a serious ankle injury.
From an AFLFantasy/DreamTeam point of view, he averaged 107.1. That places him seventh by midfielders by average and ninth across the whole format by average. He scored twelve times over 100, ten of which were over 110, six over 120 and two over 130, including his career-high 172. To go alongside this strong scoring ceiling is a high-scoring floor. He had an additional three scores between 90-99, and in two tagged games, he had just two under 80 all year.
In SuperCoach, his average of 112.1, he had the eleventh highest average in the game and ninth for all midfielders. He scored thirteen tons across the season, eleven above 110, eight over 120, seven over 130 and four 140 or higher. Alongside this, he had three games where he scored below 90 across all 2022.
There was a patch of six games last year where you were cursing his name if you didn't have Merrett on your side. Between rounds 15-20, he averaged 134.5 in SuperCoach, with a top score of 147 and only one score below 130 in this hot streak. For AFLFantasy/DreamTeam, he went at an average of 132 with a top score of 172 and a lowest score of 118. What's crazy about this season is that as good as it was, it's his lowest seasonal average over the previous three years.
From twenty-two games in 2021, he delivered seventeen AFLFantasy/DreamTeam tons, seven of them were above 120, and three times he scored 140 or higher. To go with this high ceiling is one of the safest top-end basement scores. Only twice did he dip his scores below 80. By the year's close, he ranked ninth for total points, while his average of 110.3 leaves him also ranked ninth.
Over in SuperCoach for 2021, he also scored seventeen tons; eight were above 120, six over 130 and one was his career-high 168. In addition, in only two games did he drop his scores under 90. His average of 114.9 is ranked fourteenth, and he's twelfth for points.
Since 2016 Merrett has averaged over 100 across all formats and had four seasons averaging over 110. Over the past six years, Zach's been one of if not the most reliable players to deliver a season average of 100+. Visually, here's what it looks like.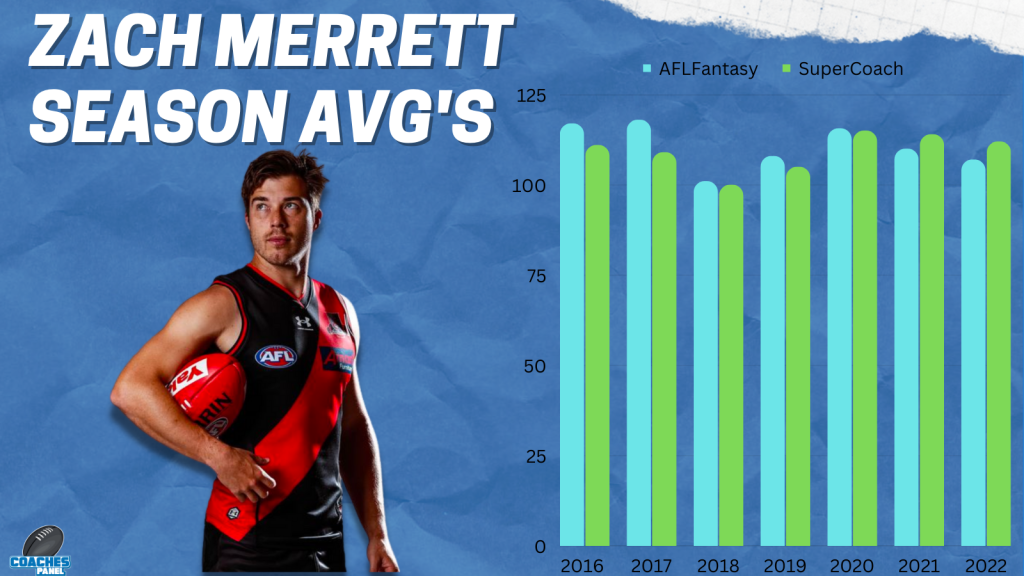 Over the past seven seasons, Merrett has missed just five footy games. He missed three matches this year with syndesmosis surgery, but outside of 2022, he hasn't missed more than one game in a single season since 2016. Alongside his high-scoring consistency are his sensational levels of availability & durability.
Embed from Getty Images
MY TAKE
What makes Zach Merrett such a good fantasy performer? Simple, his diverse range of scoring avenues. He can win the ball on the inside and use his elite endurance to get into space outside. Equally, he applies strong defensive pressure without the ball.
In 2022 not only did we see the best scoring of Merrett, but we also saw the challenges of owning him when he got tagged out of games and barely scored like a cash cow. As much as nobody wants to receive premiums scoring poorly, Merrett's 'tag' games only really hurt when you trade into these lower scores and have missed the big scoring games beforehand.
For example, in round 20, he scored 172 in AFLFantasy/DreamTeam and 140 in SuperCoach. The following week he went 55 in AFLFantasy/DreamTeam and 72 in SuperCoach. If you traded into him beyond this, it stung big time! If you didn't, he averaged 113.5 for AFLFantasy/DreamTeam and 105.5 in SuperCoach over that fortnight.
As much as the tag historically has been and potentially will be again a challenge at times for him, I believe there's a larger, more pertinent question at hand. Is that how the Essendon midfield manifests in 2023 under new coach Brad Scott?
What's the structure? They might not be the strongest options, but they have plenty of options. Alongside Merrett, Darcy Parish, Dylan Shiel & Jye Caldwell have been on regular rotations. Throw in the next generation of options like Ben Hobbs, Archie Perkins and the yet-to-debut Elijah Tsatas, who should all see increased opportunities. And lastly, guys like Andrew McGrath, Nick Martin, Jake Stringer, and Andrew McGrath have all historically had moments and matches in the midfield. Thankfully as the pre-season continues, clarity will eventuate.
The question marks around the Essendon midfield mix have been floating for years. This isn't new under Brad Scott's coaching era. And yet every year, Merrett continues to be a key man in the midfield and score well across the formats.
At his price point, you're starting him not just because you believe he's set to be a topline premium midfielder but because you also believe he's a captaincy candidate most weeks. If you don't view him as a potential VC/C option in your opening few weeks of the season, then he's someone to view as an upgrade target more than a starting squad option.
DRAFT DECISION
Zach Merrett is another example of how their draft ranks will defer depending on the format. In AFLFantasy/DreamTeam, his average from 2022 and previous scoring will place him as an M1 in most drafts. The variable will be how many union midfielders go off the draft board in the first round. I see him as a popular second-round selection.
For SuperCoach, while he is ranked as the ninth best midfielder by 2022 average, ranked below him are Jack Steele, Andrew Brayshaw and Patrick Cripps. I'd be surprised if Merrett's ADP has him ahead of these guys. He's likelier to go as an M2 and start flying off draft boards in the third or early fourth round.
JOIN THE CONVERSATION
Do you believe he is fantasy relevant?
Will you be starting with him?
Have your say on our Facebook, Twitter or Instagram.
WANT EARLY ACCESS?
Want access 24 hours early to the 50 Most Relevant podcasts? Join our Patreon and get ahead of the Crowd