Since he walked into the AFL, the fantasy community has been waiting for the premium season of Caleb Serong. He's shown as glimpses over the past few seasons, is 2023 the year he puts it all together?
PLAYER PROFILE
Name: Caleb Serong
Age: 21
Club: Fremantle Dockers
Position: Midfield
2022 Highest Score:
126 Vs Gold Coast (AFLFantasy)
128 Vs Collingwood (SuperCoach)
Career Highest Score:
135 Vs West Coast | AFLFantasy (2021)
143 Vs North Melbourne | SuperCoach (2021)
2022 Average:
87.7 (AFLFantasy)
90.6 (SuperCoach)
SuperCoach Price: $498,800
AFLFantasy Price: $777,000
AFLDreamTeam Price: $796,100
Embed from Getty Images
WHY IS HE RELEVANT?
Over the past few seasons, the Fremantle Dockers have drafted incredibly well and secured some elite high-end talent. One of those is midfielder Caleb Serong. Ever since he broke into the side in 2020, the eventual rising star winner has shown glimpses of his potential in numerous seasons.
His 2022 season started slowly as he had an interrupted preseason with a knee injury. Eventually, he succumbed to it and missed a few games. Despite this, Serong still elevated his game to some strong new levels. He ended the year ranked inside the top twenty of the league for stoppage clearances, handbells, contested possessions and clearances per game.
From an AFLFantasy/DreamTeam perspective, he scored seven, including 112, 113 & a season-high 126. He had seven games where he scored below 80, but four came in his first five games where he was working his way through his injury niggle. In SuperCoach, he scored eight tons, four above 110, including 117, 119 & 127. He also dipped seven times under 80, but like in AFLFantasy, four were in the opening five weeks. While not ideal, having this many sub-80 scores is quite common for younger players. The potential upside here is that if he can lift his scoring basement, let alone pop his ceiling frequency, he can reach a triple-digit average.
Whenever you're looking at a breakout candidate like Serong, you're looking for pockets of scoring to provide you confidence that they can score like a premium. He had six weeks last year between rounds 8-13, averaging 102.5 in AFLFantasy/DreamTeam and 109.3 in SuperCoach. If he can maintain scoring like that for the 2023 season, he'll not just push the line of a top-ten midfielder, but it could be a competition-winning pick.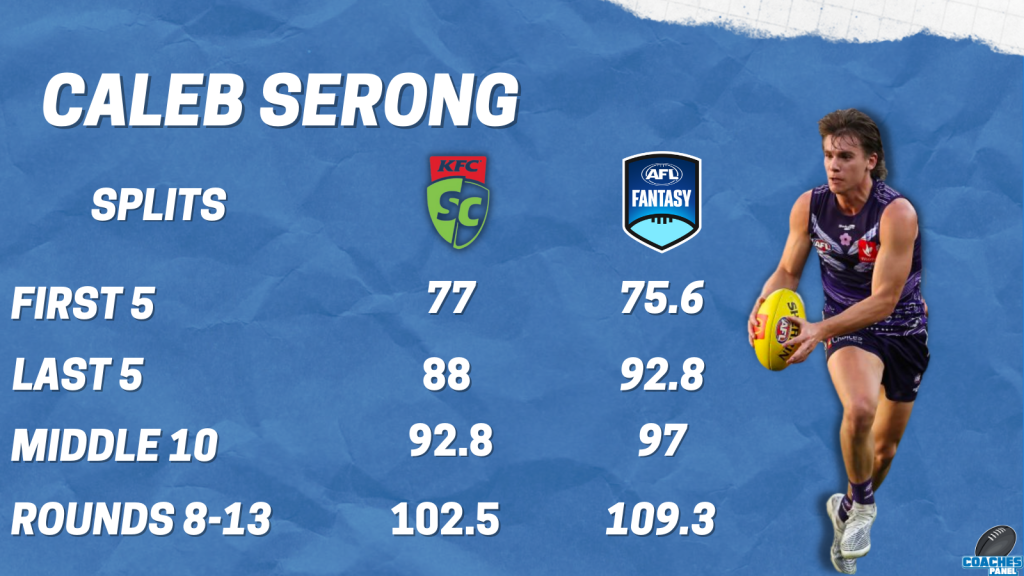 For the two previous seasons, in 2020 and 2021, we saw more glimpses of his scoring pedigree. He averaged 82.8 in AFLFantasy/DreamTeam and scored five tons. In SuperCoach, he averaged 92.3 and scored seven tons. However, his final three games of the season caught the fantasy community's attention. He scored 118, 117, & 116 in AFLFantasy/DreamTeam and 115, 135, and 103 in SuperCoach.
He's shown potential in glimpses over multiple stretches of games over multiple seasons. However, the opportunity for Serong to elevate himself to premium midfield status is ahead of him, and he's a strong chance to become one.
Embed from Getty Images
MY TAKE
After that strong scoring trio of tons to end the 2021 season, Caleb Serong entered 2022 with plenty of expectation that he would finally break out. Although we saw pockets of it as the season went on, his poor start due to the knee complaint ruined the hype surrounding him. When a player is hyped in the community and they 'fail', it creates a smell on them that's hard to shake. The positive for prospective owners is that, arguably, Serong is better placed now than he was twelve months ago to transition into premium midfield averages.
In the offseason, the Dockers had three significant changes in their midfield. First, the retirement of David Mundy. Even in his last season, he attended 65% of centre bounces of the club. Second is the departure of wingmen Blake Acres to Carlton. And lastly, the addition of Jaeger O'Meara from Hawthorn. But do these movements affect the role or scoring forecast for Serong?
Ultimately, we'll get these answers as the preseason continues, but my immediate response is that the three changes don't negatively impact him. Earlier in the article, we highlighted that his statistical strength is around when contested footy and in clearances. Fremantle will not push him out to a wing. Their offensive and defensive midfield look stronger with him at centre bounces and stoppages around the ground.
One of the most obvious reasons to overlook Serong is the high volume of comparably priced options. Luke Davies-Uniacke, Tom Green, Adam Cerra, Jai Newcombe and Chad Warner are within a few grand of his price point. Even former #1 draft pick Lachie Whitfield is in that pricing space. Looking at all these names, you can build a compelling case for why you should select them. All are capable of elevating themselves to the next level. In the cases of Green, Cerra & Newcombe, it's about opportunity & responsibility in the midfield. For Whitfield, it's about the drive to prove himself as one of the best players in the league under the new coach. While for LDU & Warner, it's the evolution of being their sides bright young stars and becoming the #1 option.
What's the upside narrative for Serong? It's about the early fixture for the Dockers. Over the opening six weeks of the season, they play St Kilda (A), North Melbourne (H), West Coat (H), Adelaide (A), Gold Coast (H) and Western Bulldogs (H). That runs both in teams, and the venue cannot get much tastier.
If you play AFLFantasy, Serong needs to be genuinely considered. The key will be to set scoring benchmarks over the first two-three weeks. If he fails to deliver, pivot quickly to the flying stepping stone. If he nails it, he does have the capacity to transform into your M8 by the conclusion of the season. Remember, often, the first 4-6 trades you make in this format are correctional moves.
In SuperCoach, he does get hurt by his disposal efficiency. The upside is that it means he'll never get tagged. But any points lost through poor ball use are offset by his high-quality contested ball numbers. So it'll create a strong scoring bump if he can tidy up his efficiency even by 5%.
With more trades in DreamTeam and SuperCoach than ever before, coaches can afford to attack the game differently. So while in previous eras, you needed to view Serong as a season-long hold. But I don't believe you have to anymore. He can still be someone that is used as a premium runner. So when he scores like a premium for six weeks, you pocket the $100k+ you've saved instead of starting one at his spot. You can then reinvest those dollars on top of another player. Then, after your stretch of games, you can sideways trade to a fallen premium in the midfield.
There isn't the preseason hype around Serong, but one preseason match is all it takes for that to change.
DRAFT DECISION
Based on his averages from last year, he's ranked as the 45th-best midfielder in SuperCoach and the 44th-best in AFLFantasy/DreamTeam. On the draft day, that'd place Caleb Serong at M5. But I'd be shocked to see him be available at that point of the draft. Given his apparent upside, M4 will be a more normative ADP for him.
The beauty of a draft is that everyone values players differently. I can see someone reaching for him at M3 in some leagues because they want to own him. And while it's a touch early, sometimes you need to reach 10-15 spots earlier to secure the player you want.
JOIN THE CONVERSATION
Do you believe he is fantasy relevant?
Will you be starting with him?
Have your say on our Facebook, Twitter or Instagram.
WANT EARLY ACCESS?
Want access 24 hours early to the 50 Most Relevant podcasts? Join our Patreon and get ahead of the Crowd