Last year Luke Davies-Uniacke moved from the realm of a hopeful fantasy footballer into a player with the potential to be among the top scoring premiums in the game. But, under a new coaching regime, can LDU become one of the most relevant players in 2023?
PLAYER PROFILE
Name: Luke Davies-Uniacke
Age: 23
Club: North Melbourne Kangaroos
Position: Midfield
2022 Highest Score:
145 Vs Collingwood (AFLFantasy)
149 Vs Collingwood(SuperCoach)
Career Highest Score:
145 Vs Collingwood | AFLFantasy (2022)
149 Vs Collingwood | SuperCoach (2022)
2022 Average:
93 (AFLFantasy)
101.2 (SuperCoach)
SuperCoach Price: $557,400
AFLFantasy Price: $824,000
AFLDreamTeam Price: $844,300
Embed from Getty Images
WHY IS HE RELEVANT?
North Melbourne fans haven't had much to smile about over the past few seasons. One of the shining lights from 2022 is that Luke Davies-Uniacke appears to be on the verge of AFL stardom. He well and truly broke out as a footballer and a fantasy footballer last year.
The signs of the 2022 breakout season were starting to emerge the year prior. He appeared to have overcome the injury concerns of the past and played twenty games. He averaged 81.6 in AFLFantasty/DreamTeam, which featured eleven scores over 82 and, to date, his first ton a 115 against Richmond. While in SuperCoach, he averaged 84.9, scored five tons and had three additional scores between 90-99.
In 2022 LDU averaged 25 touches a game going at an efficiency of 77%. He ranked eleventh in the league for centre clearances and fourteenth for inside 50s. From an AFLFantasy/DreamTeam perspective, he finished the season with eleven tons, four of them over 120, including a 129 & his career-high 145 against the Magpies. He ended the season with an average of 93.
Over in SuperCoach, he scored ten tons; five of them were over 120, including 138, 141 & 149. He also had five additional scores between 92-97. He ended the season with an average of 101.2.
As good as the trend of scoring was over the season, the data from round nine onwards has caused coaches to be highly optimistic that he can elevate himself into the next tier of premium midfielders. Over a fourteen-game stretch between rounds 9-23, he averaged 103.35 in AFLFantasy/DreamTeam and scored ten tons. In SuperCoach, he averaged 110.5, scoring nine tons and only going under 88 once. If he could maintain those averages over a season, that'd place him right on the ledge of being a top-10 midfielder across the formats.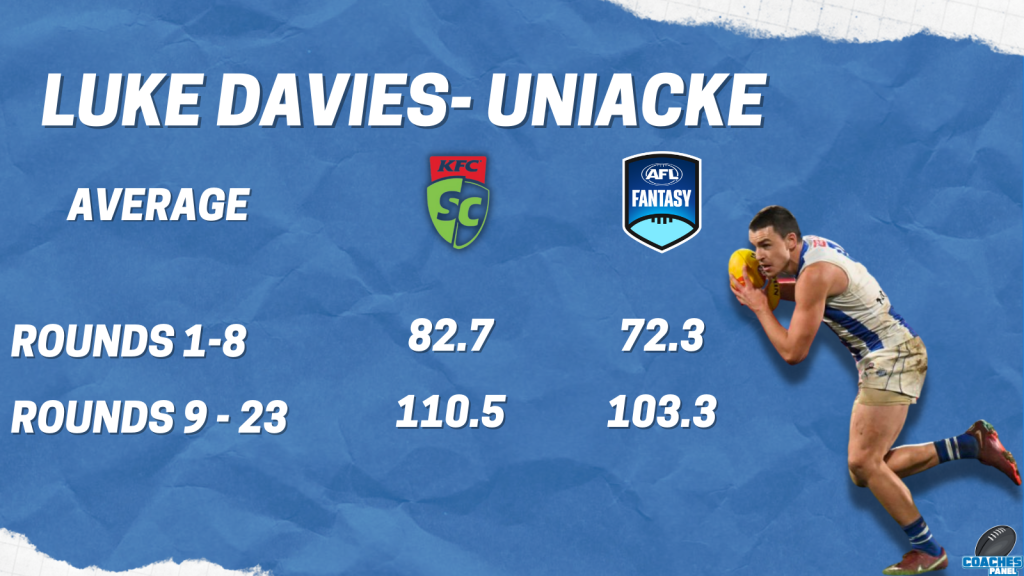 Luke offers the scoring potential of a top-tier midfielder, and he comes in at a lower price. Part of that is due to an injury-affected game. He was subbed out in round two against the Eagles. That day he dislocated his shoulder and then missed the subsequent next week. If you're looking for a premium-level midfielder and a lower price, then Davies-Uniacke is an option.
Embed from Getty Images
MY TAKE
The scoring trend for Luke Davies-Uniacke is strong and clear. He's finally gotten over his body concerns and is showing the footballing world why he was selected at the draft with #4 back in 2017. His past fourteen games of AFL are why the community is considering him as a starting squad candidate. But where does that run relate in contrast to the past two seasons of scoring?
Last year in AFLFantasy/DreamTeam, we had 24 players with an average of 100 or more. Twelve players averaged over 105, while we had just six over 110. In 2021 we had 29 players average triple figures, 22 over 105 and 10 going 110 or higher. SuperCoach had 44 players achieve an average of triple figures in 2022. Seventeen of them were above 110, while just seven went 115+. The seasons prior, we had 43 players average over 100, 19 over 110 and fourteen over 115.
If you want to start Luke in 2023, there are a few things you need to factor in. Firstly, you believe his final few months of the season will maintain into the upcoming season. Even if it fell by five points per game, his average would only elevate to a 98 in AFLFantasy/DreamTeam and 105 in SuperCoach. Based on the previous two seasons data, that would make him a bust selection for your starting side.
The second is that in SuperCoach or DreamTeam if you're selecting him, it's with the intent that he's in your side until round 24. You don't have enough 'fat on the bone' to make selecting him financially worthwhile as a stepping stone. When investing this much of your salary cap, it's with the desired intent that it won't be attached to a trade unless injury or suspension forces it. AFLFantasy is a different beast, with two trades a week. He's got some upside of 12 points based on his average to what he did over the final fourteen games.
As North Melbourne steps into a new era under Alastair Clarkson. Like with any new coach, we cannot assume that what we saw under an old regime will automatically translate into the new. Now, I don't see a world where LDU isn't the leader of the midfield unit. But it's more about how the supporting cast around him functions and what (if any) impact that has on his volume of ball and fantasy numbers.
Ben Cunnington is at the back of his career but is a clearance beast and missed significant parts of the year. At the same time, George Wardlaw was the best-contested ball winner from the draft crop. Jy Simpkin can play on the outside but has done some of his best work as an inside ball winner. Then you've former first-round selections in Tom Powell and Will Phillips pushing for a regular spot in the best 22. While Hugh Greenwood is no slouch when he's in the middle.
There are plenty of reasons coaches can fade interest in starting LDU, but the upside is clear, proven and apparent for starting Luke. Of course, a player in his price range might only be for some. You can structure the midfield in multiple ways. However, if you're in the market for a player who's potentially under his value and could reach the edges of the top tier of midfielders, then not only is LDU relevant but he must be considered.
DRAFT DECISION
Based on the 2022 seasonal averages, in SuperCoach, Luke Davies-Uniacke is ranked as the 21st-best midfielder and 35th-best in AFLFantasy/DreamTeam. He'll get selected higher in SuperCoach draft formats because his scoring is more favourably weighted. He's got the potential of an M2, but he probably will come in at an M3. Ranked by average beneath him are Bailey Smith, Noah Anderson, Tom Green & Tom Mithell. I can see all getting selected ahead of him in most leagues.
Over in AFLFantasy/DreamTeam scoring formats, he'll be selected inside the top 30 midfielders, with George Hewett, Jayden Short, Will Brodie and Travis Boak currently ranked above him. If your drafting LDU any 'higher' than an M3, you're potentially running a little skinny on your midfield depth.
JOIN THE CONVERSATION
Do you believe he is fantasy relevant?
Will you be starting with him?
Have your say on our Facebook, Twitter or Instagram.
WANT EARLY ACCESS?
Want access 24 hours early to the 50 Most Relevant podcasts? Join our Patreon and get ahead of the Crowd