In the past two years, it's two premierships and two Norm Smith medals for Dustin Martin? What does 2021 hold for him and for fantasy coaches that select him?
PLAYER PROFILE
Name: Dustin Martin
Age: 29
Club: Richmond
Position: MID/FWD
2020 Highest Score: 
105 Vs Essendon (AFLFantasy)
184 Vs Western Bulldogs (SuperCoach)
Career Highest Score: 
164 Vs North Melbourne | AFLFantasy (2017)
184 Vs Western Bulldogs | SuperCoach (2020)
2020 Average: 
74.6 (AFLFantasy) | 93.25 (Adjusted Average)
100.8 (SuperCoach)
SuperCoach Price: $541,600
AFLFantasy Price: $713,000
AFLDreamTeam Price: $689,600
Embed from Getty Images
WHY IS HE RELEVANT?
Another year and another Dustin Martin Norm Smith Medal. Despite not being at his prolific peak across the season, Dusty has proven once and for all he's among the best finals players in AFL history.
He was cruising in third gear for the majority of the home and away season, despite that he still ranked 8th in the AFL for contested possessions, 9th for goal assists and 15th for total disposals.
In SuperCoach he had a slower start than owners would've liked. With just one ton and multiple scores below 80 and averaging 89. However, in the next 7 weeks, he scored 5 tons including that career best 184 to average 116 between round 7-13. The 2020 season ended with him averaging 100, scoring 7 tons and 4 scores below 80.
AFLFantasy/DreamTeam he averaged 74 (adjusted93), consisting of 2 tons and 5 additional scores between 90-99. Across both formats, he ranked top 5 among all forwards for points and average.
2020 was a similar output on his 2019 season. In AFLFantasy, he averaged 97 across the season. It was made up of ten tons with five scores of 128 or higher. He also had some of the lowest ceiling scores of his recent career with six scores under 80 with a seasonal low of 59.
For SuperCoach season saw him miss an average of over 100, the first time since 2014. It wasn't by much with an average of 99.9. Across the season he had 11 scores over 100 with three 120 or above. In addition to getting hundreds in 50% of games, he added four scores between 90-99.
You need to go back to 2012 for the last time Dustin Martin failed to average 90 or higher across all game formats. Please take a look at it from a visual perspective.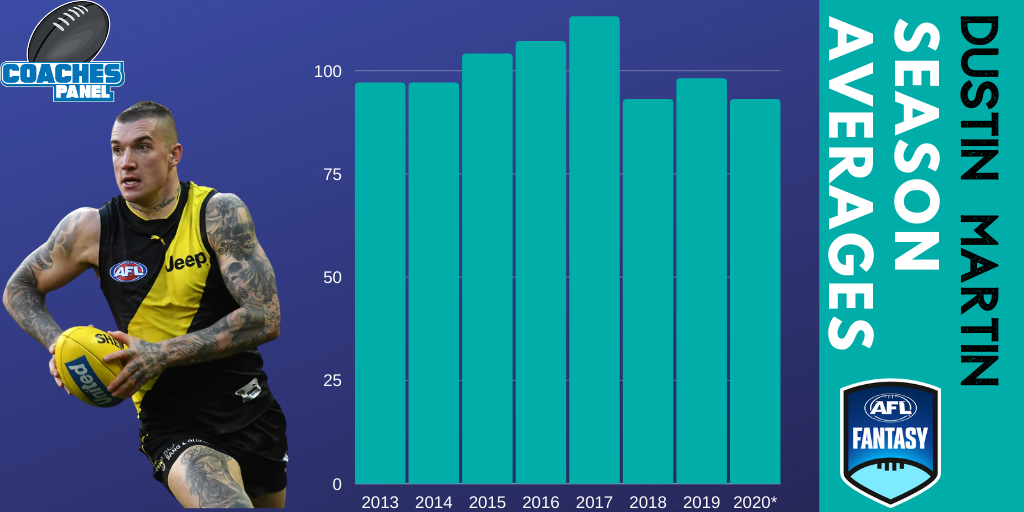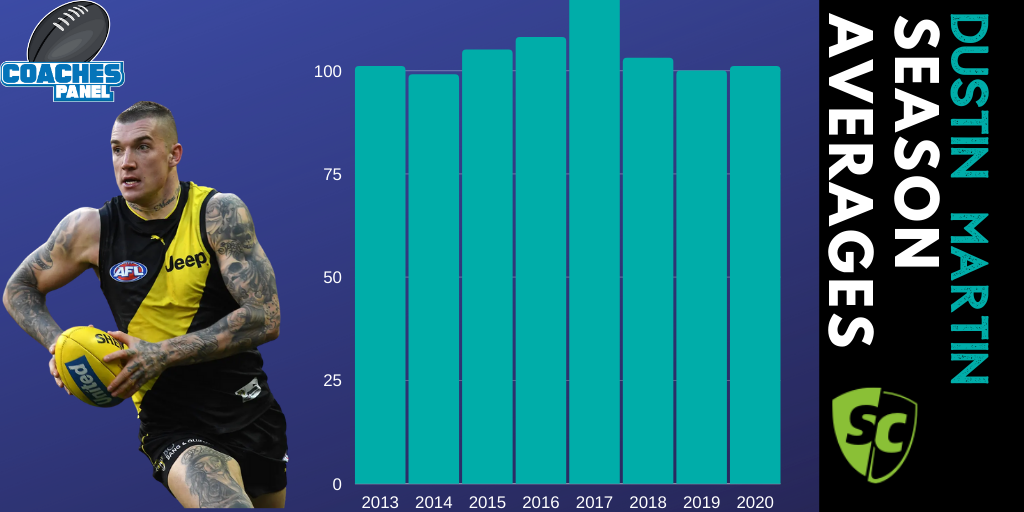 To pair with this high scoring capacity and consistency is his durability. Dustin Martin doesn't miss games of footy. Over the past seven seasons of AFL, he's missed just 4 games. Incredible durability and availability during this time. A selection of Dusty is a reliable scoring safety net for coaches again in 2021.
Embed from Getty Images
MY TAKE
A safe pick can often be presumed as vanilla or lazy pick by some in the fantasy football community. However, I don't see it this way. Sometimes the safest move is the best move for your team.
Picking Dustin Martin in your forward line is a safe move. Any bad scores he may deliver will be balanced out with a few monster scores across the season. So as long as you don't panic, he'll reward you. SuperCoach is certainly his preferred format, but he still has plenty to offer in AFLFantasy and DreamTeam.
I believe there is one reason why we do not see Dustin Martin in more starting squads. He's not a value pick, neither is he a captaincy option. Rather what you pay for, is likely what you are to get. Fantasy coaches are scampering to stretch the salary cap more than ever before and finding it harder to justify paying for a premium, that isn't a weekly captaincy consideration.
Sometimes looking at a player's numbers can say two entirely different things to different people. For some, they look at his 2019-2020 scores and believe they can't go without him. While others will look at the same data and choose he can be missed. With Dusty, confirmation bias will have potentially an even greater sway in the decision to pick or pass.
Like many AFL teams, they lost the home ground advantage. But for Richmond and Dusty, the MCG has been a fortress since 2017. Over his first 12 games before the multi bye round the Tigers plays 8 games at the home of football. That's a handy start for the reigning Norm Smith medalist.
The Tigers are part of the 6 teams taking round 13 off. While it's not as painful as other rounds, it still does require some planning to navigate well. In your forward line, the only other premiums to consider is Josh Dunkley and Dayne Zorko. In Part how you rank Dusty compared to these two will inform whether you start, upgrade or pass on him.
History says that at some stage during the season he'll go on a hot streak of scoring for a few months. The question isn't if, but rather when? Answer that, and you can time that right, then you'll be ahead of the pack.
DRAFT DECISION
For the second season running Dustin Martin will fly off early in draft boards as someones F1. The question is just how early? In SuperCoach I can see him leaving draft boards ranging from the late second round and into no later than the fourth. In AFLFantasy, it's probably sliding another 5 picks. So from the early third to late fourth at the latest.
In 2021 securing a top tier F1 is coming with a premium, and with one of his scoring and durability, it'll justifiably cost you an early round selection.
JOIN THE CONVERSATION
Do you believe he is fantasy relevant?
Will you be starting with him?
Have your say at our Facebook, Twitter or Instagram.
WANT EARLY ACCESS?
Want access 24 hours early to the 50 Most Relevant podcasts? Join our Patreon and get ahead of the Crowd!
Become a Patron!