2019 was a disaster for the Demons; one of the bright lights of the year was the consistency of Clayton Oliver. After a marginal dip, can he bounce back and post personal best numbers?
PLAYER PROFILE
Name: Clayton Oliver
Age: 22
Club: Melbourne Demons
Position: Midfield

2019 Highest Score:
161 Vs Gold Coast (AFLFantasy)
175 Vs Gold Coast (SuperCoach)

2019 Average:
105.8 (AFLFantasy)
109.3 (SuperCoach)

SuperCoach Price: $593,900
AFLFantasy Price: $786,000
AFLDreamTeam Price: $765,300

Embed from Getty Images
WHY IS HE RELEVANT?
It's hard to believe Clayton Oliver is just 22 years old. It's incredible to think we still have another potential decade of this midfielder superstar in our fantasy sides.
Last season he had 12 games with 30 possesions or higher. He ranked Second, in the league for contested possessions (16 per game), only Lachie Neale had more. Ranked 4th in Total Clearances, Ranked 7th in Total Tackles 9th in Disposals Per Game
Looking into his AFLFantasy/DreamTeam scores from last season he scored 100 or more in fifteen games of his 22 games. Ten of those hundreds were higher than 110, and he had only four scores that were below 90 all year. His seasonal average of 105 ranks him as the eleventh best by averages for all midfielders. For overall points, he was the tenth highest last season across all lines.
SuperCoach was another excellent season even if it did see a marginal scoring dip. He posted 14 tons across the season, ten of them were 110 or higher and a strong return of four scores over 140. In addition to his stable frequency and ceiling of tons, he had only four scores all year than he dropped below 90. If you were to contrast him to others seasons, he ended up ranked 10th for overall points, seventh for midfielders and eleventh by the average for all midfielders.
Over his past three seasons (hasn't missed a game) and has been a consistent scoring player in that time. In those 66 games in AFLFantasy/DreamTeam, he has an average of 105 and scored 38 tons during that time. That a hundred every 57% of games. SuperCoach, the conversion is even stronger! He averages 111 in the past three seasons, has reached the 100 markers in 49 of those matches which are 74% of his games.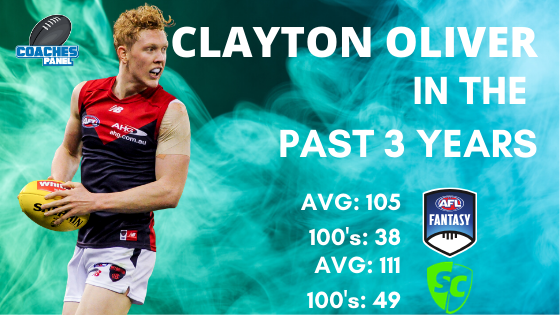 Embed from Getty Images
MY TAKE
Have you heard the myth about Clayton Oliver in AFLFantasy scoring? The tale goes that he doesn't score hundreds that hurt you. While it's true that his frequency of 140+ scores isn't near the likes of Tom Mitchell and Jackson Macrae, his number prove this myth not to be true. Of his previous 32 scores of 100 or more 27 of them have been over 110 and 12 over 120.
He ticks everything you want in a premium. Durable (hasn't missed a game in three years), has a high frequency of 100's, a consistently top-scoring floor and shows the capacity to score over 150.
If you believe that the Demons will be better in 2020 and win substantially more games, then the scoring splits of Oliver with scores in wins versus losses is an important variable. Last year in AFLFantasy/DreamTeam her averaged 119 as opposed to 102 in losses. A differential of 17 points. For Supercoach in wins, Clarry averaged 126 and 104.5 when they lost. An even further difference of 21.5 points
His bye round isn't short of accessible premium midfield selections. Patrick Cripps, Adam Treloar and Nat Fyfe lead the charge. If his ownership percentage is considerably lower than them, he could be the difference-maker that scores within the ballpark of the more popular pick.
Given it's his frequency of hundreds more so than the ceiling of tons (which does exist) that is the appeal. Along with durability, Clayton Oliver is a more appealing starting squad option than upgrade. That said, he's perfectly fine to trade into your side during the season. If he's not on your preseason watchlist, you need to add him on the list today seriously. Regardless of the format, you play.
DRAFT DECISION
Whether he's a coaches M1 or M2 selection will largely depend whether you lock away another line player with your first selection. He's not an opening-round selection but will be a popular second-round pick that might drift as late as the third.
JOIN THE CONVERSATION
Do you believe he is fantasy-relevant?
Will you be starting with him?
Have your say at our Facebook, Twitter or Instagram.
WANT EARLY ACCESS?
Want access 24 hours early to the 50 Most Relevant podcasts? Join our Patreon and get ahead of the Crowd!