Lewy & Checkers from Lane Kicking are back with their take on some Essendon Bombers on their AFLFantasy watchlist.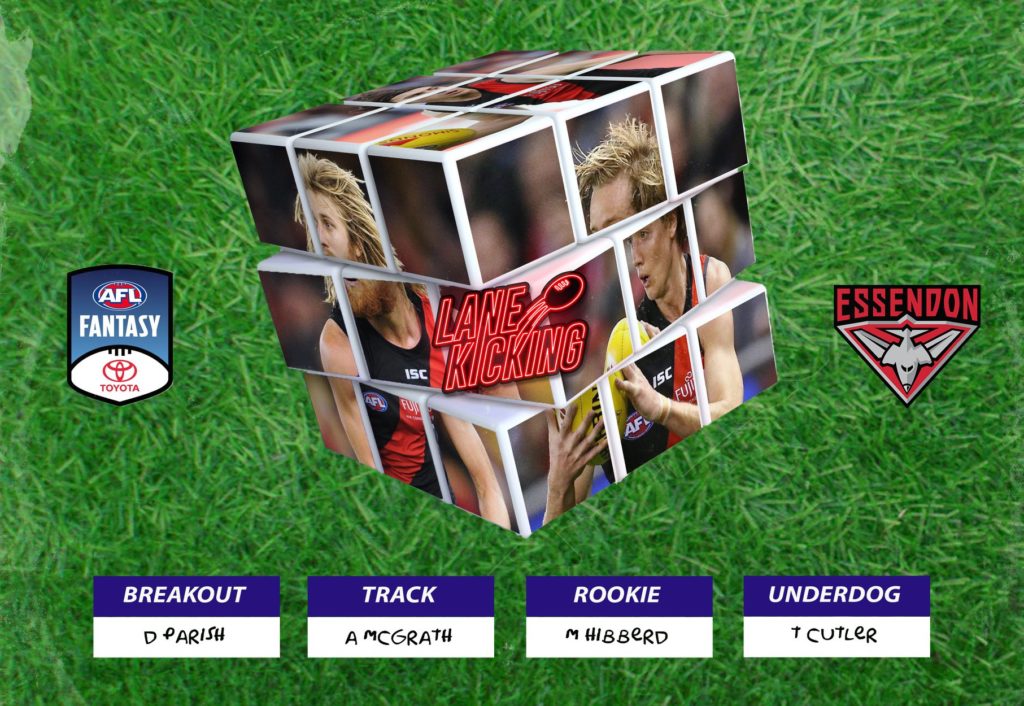 BREAKOUT: Darcy Parish – $589,000 (MID/FWD)
Make or break year for the former Pick 5, has been tempting us each year with the promise of "more midfield time" but has always been underwhelming with just 6 tons in his 74 game career. Averaged 28 disposals and 7 clearances in his draft year, so fingers crossed he can get his numbers back towards that, there was a brief patch last year where he put together consecutive 30+ disposal games and had a 5 game rolling average of 95 between Round 10-15. The advantage here is his DPP because while a lack of tons won't cut it in your midfield, some consistent high 80s and 90s could be handy up forward
TRACK: Andrew McGrath – $554,000 (MID)
Moved into a more permanent spot in the midfield last year, but it did very little for his fantasy game, only adding 3 points to his average. 4th year in the competition, 60+ games under his belt, we know how much potential he has, track the pre-season games to see if we can expect any improvement in 2020

ROOKIE: Mitchell Hibberd – $197,000 (MID)
Three words that get fantasy coaches lips watering "Mature Age Midfielder" and 23-year-old Mitch Hibberd is the juiciest of them all. Previously on North Melbourne's list, he played just 4 games off the half-back flank for an average in the 40s. Went back to the VFL and moved back into the midfield last year, averaging 99 fantasy points. At 190cm tall he could be very handy in what is quite a small midfield, watch his pre-season and if named Round 1 you would almost have to start him
UNDERDOG: Tom Cutler – $496,000 (MID)
Sharing some similarities to Mitch Hibberd, Tom Cutler stands at 192cm and 95kg and comes to the Bombers as a very handy candidate to add some height and size to their midfield and will be used as a two-way runner on the wings. We also saw Essendon's midfield get decimated by injuries last year with Heppell, Smith and Fantasia missing at different stages, so some very smart recruiting trading for 24-year-old Cutler and drafting 23-year-old Hibberd to add some ready-made options to their list.
Cutler was starved of opportunities at Brisbane, playing just 3 games in 2019, but if we go back to 2018 he reeks of fantasy potential, showing ceiling with a 142 and a 126, plus averaging 7 marks a game in the midfield, including 14 in Round 16 against Carlton. Keep a close eye on the ball magnet, while we are unsure if he will break into the side for Round 1, he does have some potential to be a handy cash cow