In the past two seasons, Jordan Ridley has emerged as one of the best defensive premiums available. Now, there's a world where he could improve his scoring even more.
PLAYER PROFILE
Name: Jordan Ridley
Age: 23
Club: Essendon Bombers
Position: Defender
2021 Highest Score:
124 Vs St Kilda (AFLFantasy)
147 Vs St Kilda (SuperCoach)
Career Highest Score:
124 Vs St Kilda | AFLFantasy (2021)
147 Vs St Kilda | SuperCoach (2021)
2021 Average:
80 (AFLFantasy)
98.7 (SuperCoach)
SuperCoach Price: $537,100
AFLFantasy Price: $671,000
AFLDreamTeam Price: $682,500
Embed from Getty Images
WHY IS HE RELEVANT?
It's incredible to me to think about the evolution of Jordan Ridley as a footballer. He was fighting for a spot in the Essendon backline just two years ago. Now he's won a best & fairest and is arguably the most valuable player to the club's success over the coming seasons. At 23, Jordan has a rare skill combination where he's elite by foot with the ball in his hands, and he's one of the best readers of the play and, as a result, is one of the intercept kings of the league.
Last season from his 22 games, he ranked seventh in the league for effective disposals and tenth for rebound '50s per game. At the same time, he was ranked top twenty for total intercepts and one per enters.
From an AFLFantasy & DreamTeam perspective, he scored four tons, three additional scores between 90-99 and averaged 80. At first, glance that might not be enough for you to consider him. But you need to look beyond just that overarching data sometimes. For example, that 80 included a concussion that affected 15 against the Lions. But in the four games prior, he scored 90, 109, 124 & 110. Not a bad start to the season, right?
It was even stronger in SuperCoach when he opened the year with 125, 136, 147 & 124. In totality, he had twelve tons last year, five over 120 and six additional scores 80+. His average of 98.6 has him ranked tenth among defenders, which isn't bad given his average would be 102 if we removed that concussion game I alluded to earlier.
Across the formats, these are in isolation solid seasons, but it's when you place them alongside his 2020 year that you see two things. One, confirmation that his scoring capabilities go beyond just last year. Two that he's priced with a slice of value attached to him. Something that coaches are constantly on the hunt for.
His 2020 SuperCoach season saw a total increase of 35 points per game from his 2019 average. During the 2020 season, he averaged 101, had ten scores over 100, four over 120 and dipped below 70 in just one game. He ended the season ranked fifth for total points and seventh by the average for all defenders.
For DreamTeam/AFLFantasy, he averaged 72 (adjusted 89); it included just the one ton and had nine scores of 70+. In the shortened quarter and no weighting, that's a solid return. In adjusted scoring terms, those '70s are high 80's-90's. He ended the season ranked thirteenth by averages and seventh for total points compared to his fellow defenders.
The scoring trend is strong, the value is present, and the narrative of potential scoring upside due to some tweaks in the side of the bomber is one of the most compelling and clear of the preseason.
Embed from Getty Images
MY TAKE
Sometimes your greatest strength can also be a weakness. For Jordan Ridley, that's a true statement. For Jordan, one of his key strengths is his versatility to play on small and tall forwards. While also playing lockdown roles and not being the intercepting defender. The result is that if the Venn diagram of lockdown role and small forward comes up, his fantasy football performances drastically fall away. It's why two core elements need to happen for him to deliver a high fantasy output.
The addition of former Crow Jake Kelly as a free agent could be one of the most significant fantasy footy moves from the offseason. At Adelaide, Kelly was a specialist versatile defender. If the club needed him to play tall defender, medium or even small, he could. Although Jake might lack flair and even elite skills, he more than makes up for competitiveness and workrate. It's why he developed the nickname 'Bull' at West Lakes.
With Kelly now able to play a more versatile defensive-focused role, Essendon is now freed from having to use Ridley in a lockdown role. This frees him up to be the third man up at marking contests. He can now have a greater mindset shift to the attacking option in defence. With his elite aerial marking and kicking combination, he's the perfect weapon for Essendon. It's this freedom we need to see him hold for us to have confidence that he can hold, let alone grow his scoring output.
However, it's not the only element; the other is for him to get the majority share of the kick-in duties. Over the season, we saw a drastic split in how the Bombers would share the kick-in duties. He had the monopoly share for some matches; others would split between Mason Redman and Dyson Heppell. While others, he'd barely get a look in.
Statistically, the results are drastic. While it more speaks to the value of defenders getting kick-in duties in general, it shows the high scoring variance for Ridley about whether he gets none, some or most of the kick-in duties.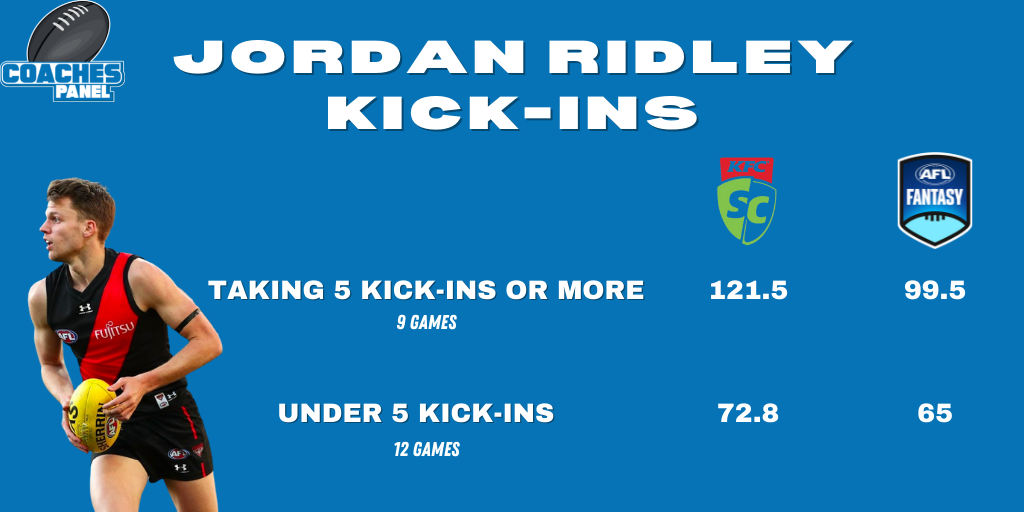 He'll need that freedom role to elevate himself to the 90+ averages of AFLFantasy and 100+ in SuperCoach. To be free to intercept and free to pick up some kick-in duties. He'll still be a solid pick without it, but given he's likely a D2 or D3 in people starting squads, that won't be sufficient return. Nevertheless, he should be on coaches preseason radars, and the bomber structure will ultimately determine if he's a start, pass or upgrade option.
DRAFT DECISION
The draft range for Jordan Ridley will vary depending on your play format or if you've got specific custom scores activated. In SuperCoach, he'll likely head off the board as D2, which could be anything from the fourth – late fifth rounds. While in AFLFantasy/DreamTeam scoring, I have him still a D2 in teams, but possibly a round or two later, given the defender stock heights in these formats isn't as high.
JOIN THE CONVERSATION
Do you believe he is fantasy relevant?
Will you be starting with him?
Have your say at our Facebook, Twitter or Instagram.
WANT EARLY ACCESS?
Want access 24 hours early to the 50 Most Relevant podcasts? Join our Patreon and get ahead of the Crowd