The #1 player in fantasy footy last year is primed to go back to back and do it again in 2020.
PLAYER PROFILE
Name: Brodie Grundy
Age: 25
Club: Collingwood Magpies
Position: Ruck

2019 Highest Score:
181 Vs Giants (AFLFantasy)
174 Vs Western Bulldogs (SuperCoach)

2019 Average:
122 (AFLFantasy)
130 (SuperCoach)
SuperCoach Price: $705,900
AFLFantasy Price: $906,000
AFLDreamTeam Price: $882,600
Embed from Getty Images
WHY IS HE RELEVANT?
Brodie Grundy is the complete package. From a dominant presence at ruck contests, through to his aerobic ability to get across the ground and be another midfielder. The Collingwood footy club has a superstar of the competition for many years to come.
Last season he led the league it total hitouts, seventh for contested possessions and eighth for total clearances. Also, he was the highest-scoring and top averaging player in SuperCoach, AFLFantasy and AFLDreamTeam in 2019.
In fantasy footy, he didn't put a foot wrong all season, and those that chose to go against him learnt the hard way that he can be brutal on the scoreboard and almost impossible to chase down.
In AFLFantasy last year his season consisted of 17 tons, 11 of them were converted into 120+ scores while almost half of all tons (8) were 140 or above. In addition to scoring a ton in 77% of the time last year, he dipped beneath 90 in just three matches on his way to averaging 122 for the season. For the first time in his career, he was the top-scoring AFLFantasy player.
Grundy was even more dominant in SuperCoach! His seasonal average of 130 was built around 18 scores over one hundred and an insane 16 of these he turned into scores north of 120. Additionally, eight of his tons were over 140. Along with scoring a ton in 81% of games last year, he had only three games all year that he didn't score above 90. For the first time in his career, he was the top-scoring SuperCoach player.
With that many scores over 120, let alone the 140+ scores Brodie Grundy is a good captaincy option every week. If you look at some of the most popular selections this year, you can easily see that Grundy towers above them in scores north of 120 from last year.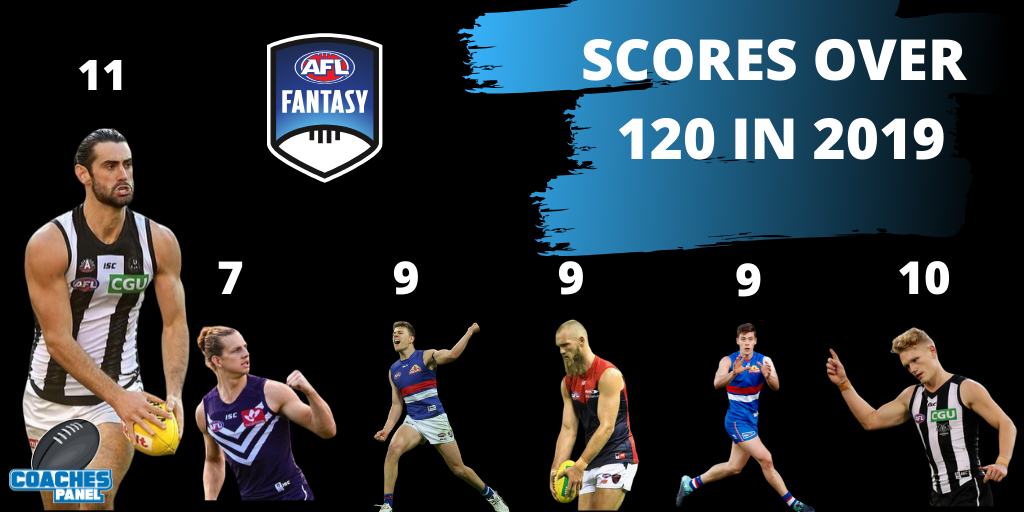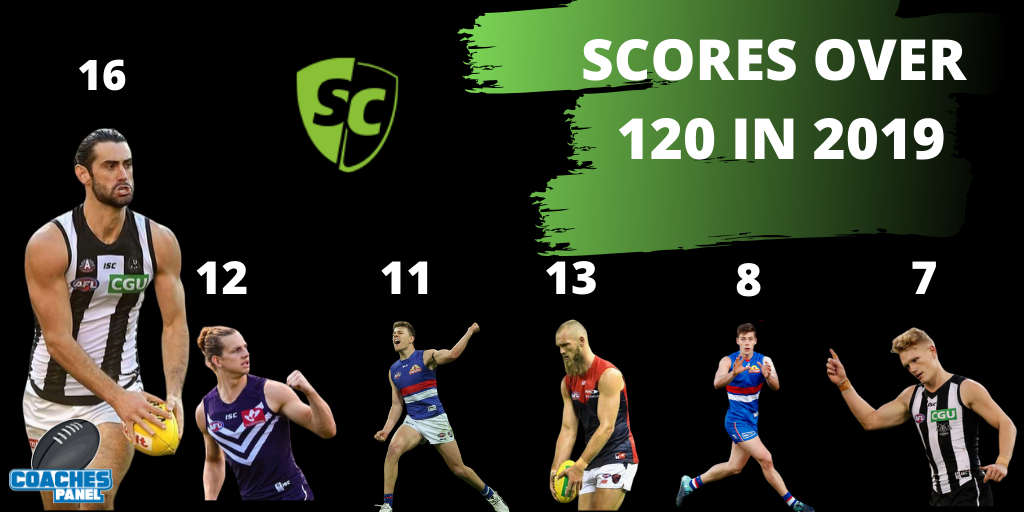 If you've played any formats of fantasy footy for more than 12 months then you'll be very familiar that last year was far from an aberration. Across 2018 in AFLFantasy/DreamTeam he posted 19 tons, 13 of which were over 120 and a massive five over 150. His numbers for SuperCoach were even stronger with 19 tons, 12 of them over 120, seven above 150 and his lowest score of the year was 95.
Embed from Getty Images
MY TAKE
Brodie Grundy is worth every single cent. While you may be able to get him cheaper after the first price drops, based off last years history, it may be a tiny window of time and only a marginal reduction. Is $50K that big of a 'gain' to your side given the number of points you may miss trying to get him in?
The often unspoken benefit of starting with him is the fact that his team have many of their games pre-bye as one of the first few matches in each round. Inside the opening nine rounds, they have zero Sunday matches. To make it even stronger, in round two and four they have the Thursday night match. This makes him a brilliant loophole option weekly in SuperCoach and DreamTeam while also a reliable option for the Thursday matches in AFLFantasy.
Like any of these top-end premiums, if you choose to 'take them on' and go against them, you need to have a mapped out strategy to get them eventually, and how you plan to maximise your scoring elsewhere. Can you afford to go against Grundy?
You can build a case that no premium is a must-have, as there is always multiple ways, players and strategies that can help you. However, with going against Grundy, it's a fragile argument line to pursue. Nothing has significantly changed at Collingwood in-game style or structure to suggest his role will dimish or adjust.
I'm starting him in all formats. I genuinely can't make a compelling case for going against him in either SuperCoach or DreamTeam.
AFLFantasy, I'm not opposed to it. However, you need to build a plan for how you will make up the money needed to get him. Considering if you started him he's priced at $906,000 even if you paired him with a basement ruck, your still forking out over $1,000,000 in two spots. It's only a further $80,000 to start both Nic Naitanui and Sam Jacobs as opposed to Grundy on his own. Could you generate more points on the field going against him?
DRAFT DECISION
He's the #1 pick in all draft formats! If I have the top pick, that's who I'd take. The only player you could be prepared to consider going ahead of him in AFLFantasy formats would be Lachie Whitfield but even then, I'm probably just thinking about it for a minute before picking Brodie.
JOIN THE CONVERSATION
Do you believe he is fantasy relevant?
Will you be starting with him?
Have your say at our Facebook, Twitter or Instagram.
WANT EARLY ACCESS?
Want access 24 hours early to the 50 Most Relevant podcasts? Join our Patreon and get ahead of the Crowd!