Lewy & Checkers from Lane Kicking are back with their take on the Hawks. Take a look to see who is on their AFLFantasy watchlist.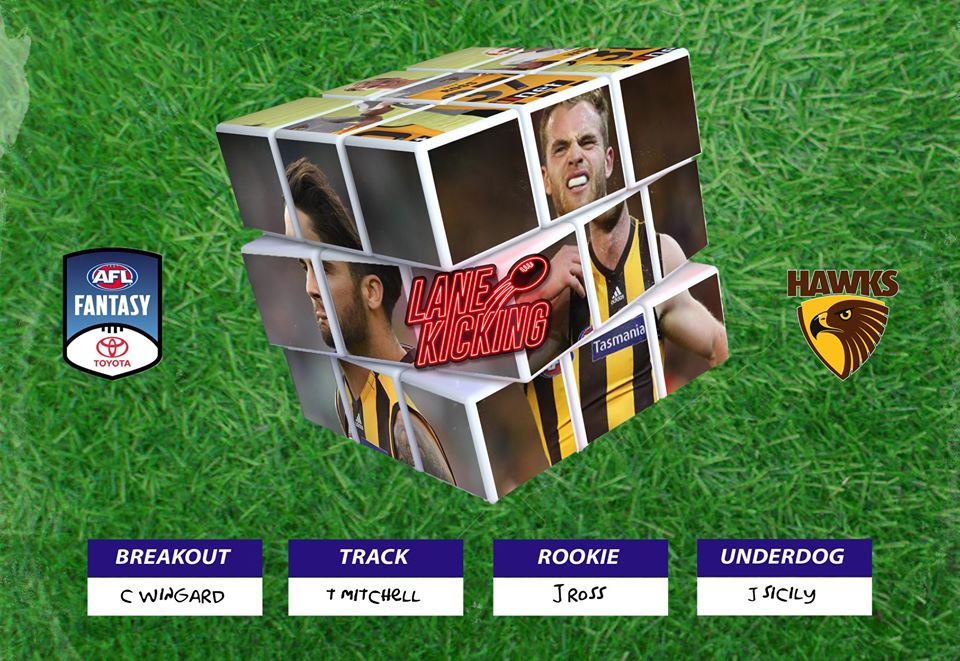 BREAKOUT: Chad Wingard – $582,000 (MID/FWD)
Feels strange referring to a bloke who has been in the system for nine years now and played 150+ games as a potential breakout player, but we don't think we have seen the best of Chad just yet.
Started the year up forward and dished up some horrible scores averaging just 65 before the bye, but then was tossed into the midfield late in the year and finished off with three consecutive tons in the final three games of the season. Feel like Clarkson had originally planned for Chad to be an X-Factor forward who can hit the scoreboard, but after seeing him flourish in that midfield, we can only hope they plan to keep him there.
Hopefully, the recruitment of Patton, plus the development of young Jackson Ross, James Cousins and Mitch Lewis will help take some heat away from their forward issues and free Chad to play up the ground. Has potential to average the very high 90s if let loose in the middle
TRACK: Tom Mitchell – $671,000 (MID)
We don't need to do a big write up on why you should pick Tom Mitchell when he is fit he is the best fantasy player in the game, but it would be naive if we didn't track his pre-season and see how he has recovered from the broken leg suffered last year. There have been some rumours he won't be ready for Round 1.
With the development of Worpel, plus Wingard, O'Meara and Scully all being fit, Hawthorn isn't in a rush and could also ease him back into it which could end up horribly for his fantasy scores early on. It will be hard to say no if he is picked Round 1, but watch the next month or so with caution.
ROOKIE: Jackson Ross – $170,000 (FWD)
Lewy is rather hot on Harrison Jones who is a young mid who averaged 87 in the VFL last year. Still, with the injury clouds surrounding Jack Gunston, Checkers also reckons young Jackson Ross could be the man to play that third agile tall role alongside Patton and Lewis.
Ross led the Box Hill goal kicking with 35 majors last year, and while he only averaged 11 disposals, at 192cm, he is versatile enough to fill Gunston's shoes. If we could list two rookies here, we would go Ross and Jones, but it might just be a little hard for Jones to crack a regular game in a powerful Hawks midfield.
Underdog: James Sicily – $620,000 (DEF)
Can be one of the most frustrating players to own with his rollercoaster scoring an ability to find himself at the tribunal. While he has burnt a lot of coaches already in his short career, just a little bit of us hopes 2020 is the year he can put it all together because there are obvious talent and potential there and he will start the year as an underdog.
Scored the 7 tons in 2019, but also dished up eight scores below 70 including two scores in the 40s. Sicily is known to take a lot of intercept marks across half-back, and also loves to kick with a 3:1 kick to handball ratio. When he is on, his game is fantasy-friendly, all we need is some more consistency from him.
We are hoping the addition of Patton up forward locks Sicily into a half-back, and the addition of Frost can also help take some heat of his back and allow him to play as a rebounder off the flanks. We will be tracking with interest