Over the past two seasons, Jackson Macrae has been one of the best midfielders available. Entering into 2020 it looks like business as usual for this Bulldogs star.
PLAYER PROFILE
Name: Jackson Macrae
Age: 25
Club: Western Bulldogs
Position: Midfield

2019 Highest Score:
180 Vs Collingwood (AFLFantasy)
155 Vs Brisbane (SuperCoach)

2019 Average:
115.6 (AFLFantasy)
123.1 (SuperCoach)
SuperCoach Price: $668,900
AFLFantasy Price: $858,000
AFLDreamTeam Price: $836,000
Embed from Getty Images
WHY IS HE RELEVANT?
When it comes to Jackson Macrae even the most experienced of coaches can start to run out of superlatives to describe just how good of a footballer he is. Last year he averaged 34 possessions, 21 of these were uncontested while going at 74% efficiency. He averaged seven score involvements a game, five tackles, five clearances and four inside 50's.
Across the league, he ended up finishing second for total disposals, second for uncontested possessions, sixth for goals assists, eleventh for contested possessions and eighteenth for total tackles. He ended the year with 22 Brownload votes (8th), came third in the clubs best and fairest and won his first All Australian honours.
When we look at his AFLFantasy season, it was another stunning season from the Bulldogs superstar. Across the season he averaged 115 and had only two scores below 80 all year. His year was made up of 17 tons, 9 of them he converted into 120+ including two 150+ monsters.
Looking at his SuperCoach season is a similar level of dominance. Across the season he posted 19 tons, 11 of these were over 120 and three above 150. He had just two scores all year beneath 80 and averaged 123 across the year.
Look at that season in totality looks stunning, however, he was even better in the second half of the season. From round 13 onwards Luke Beveridge established a clear dominant three midfielders, it was Josh Dunkley, Marcus Bontempelli and Jackson Macrae. These three became the centrepiece of the midfield and as such all of their scoring skyrocketed.
Macrae, in particular, received a strong boost. Pre bye in AFLFantasy he was average 101 with 6 scores of 100 or more. After the multi bye rounds, he averaged 129 and scored 11 consecutive tons with the lowest being 106.
Similarly, Pre bye in SuperCoach he was average 113 with 8 scores of 100 or more. After the multi bye rounds, he averaged 133 and scored 11 consecutive tons with only his 105 his only score under 115.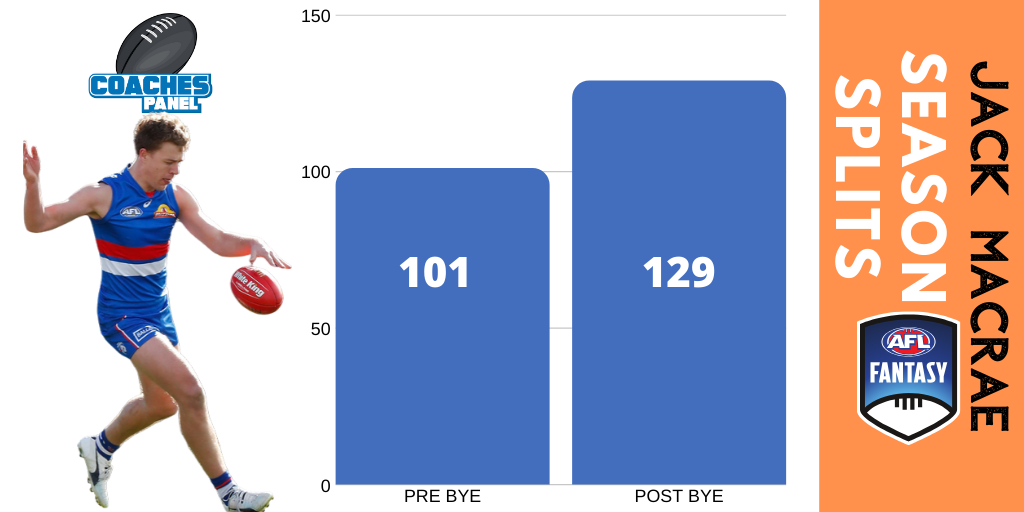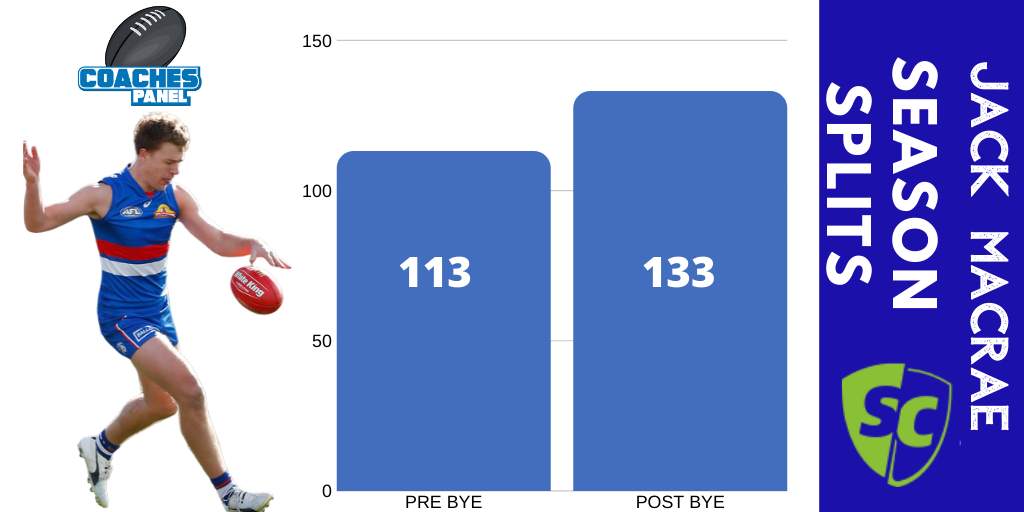 It's hard to believe but based on how he ended last season and what he did the year prior, is we have some value for money in our selection of Macrae.
Across the 2018 season In AFLFantasy he was the second-best averaging midfielder of the season averaging of 122.6. That year was made up of sixteen tons, ten of those were over 120, five of those were over 140 and one which included personal best 190 in the final round of the year. On top of his consistent hundred scores, he had only two matches that he failed to reach 90, one of which he injured his hamstring before halftime.
For SuperCoach in 2018, his average of 127 included 16 over 100, 12 over 120 and just the two scores under 90 one, of course, being an injury impacted the game.
Embed from Getty Images
MY TAKE
Whether you choose to start or not you'll want Jackson Macrae in your completed side. If your passing on him in the hope he'll be cheaper, later on, that's fine. Just make sure you have a plan for how you can quickly get him in. By the times it gets to the bye round for the Dogs he'll have had 13 games.
If he maintains the same scoring we've seen over the past two seasons, I don't know if you can wait to his post-bye round 15 to trade him in. Macrae is the type of player who can take a season away from you quickly if you don't have him.
The case for Macrae is fairly compelling due to the past two seasons. However, the case for upgrading him does have merit but requires some luck to go your way. Macrae is just as likely of having a slower start as he is to outperform his price point average well.
In choosing to go against him, you need to be clear in your mind why you're not starting him? Do you want someone more unique early in the season that could match him? Do you forecast another 'Bevo' moment that causes a scoring dip? Whatever your view is be clear, be intentional and follow-through, however, if it's wrong to be prepared to move quickly.
I'm starting Jackson Macrae in all formats of the game. I'm paying up because I believe he will be the top-scoring midfielder again in 2020. And as a final sweetener for me. In round one this season he plays Collingwood the last time he played them he scored 180 (AF) and 148 (SC). Round Two they take on Carlton and his most recent score again them is 140 (AF) and 150 (SC).
DRAFT DECISION
Jackson Macrae will be off draft boards very quickly. The consensus seems to suggest that Brodie Grundy is a popular candidate to take the top pick. From there, Jackson Macrae will likely be taken off draft boards within the next one, two to three selections.
JOIN THE CONVERSATION
Do you believe he is fantasy relevant?
Will you be starting with him?
Have your say at our Facebook, Twitter or Instagram.
WANT EARLY ACCESS?
Want access 24 hours early to the 50 Most Relevant podcasts? Join our Patreon and get ahead of the Crowd!