Lewy & Checkers from Lane Kicking are back with their take on the GWS Giants. Take a look to see who is on their AFLFantasy watchlist.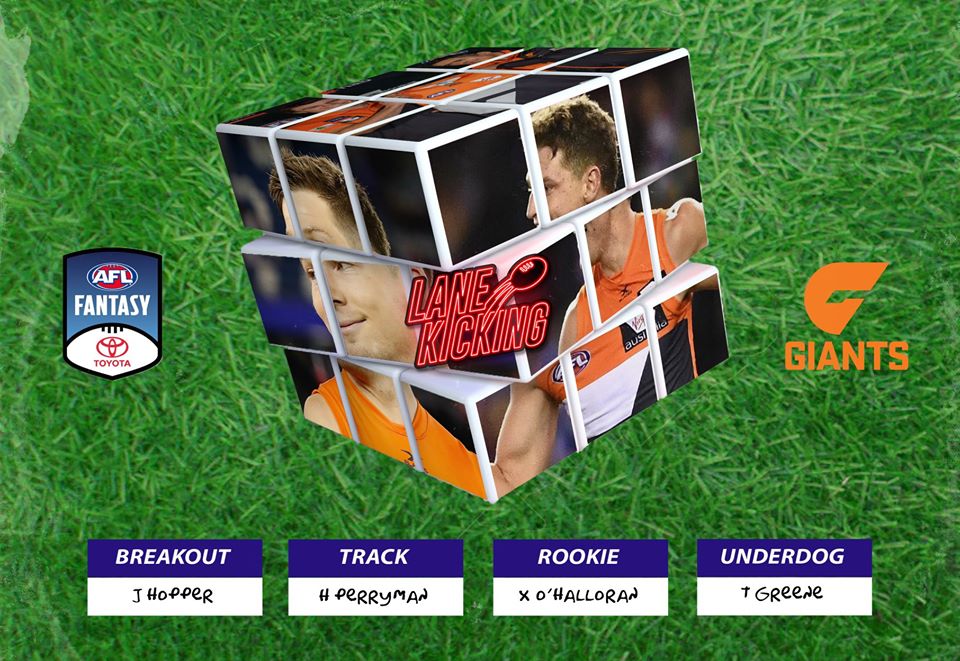 BREAKOUT: Jacob Hopper – $695,000 (MID)
Some might say Hopper has already had his breakout year, adding 15 points to his average (93.5) in 2019, but we reckon there is still some room for improvement. It will be hard to predict that midfield set up with a lot of the big guns back from injury, but many have touted Hopper as a future leader of the club and if he can cement his spot in the midfield we believe he has another 10 points to add to his average and take his fantasy game up to that next tier of midfielders.
TRACK: Harry Perryman – $562,000 (MID)
Another huge candidate for a break out year, but before we commit we just really want to track where he fits in to the Giants in 2020. He rotated off half back and through the midfield last year, but with the injured midfielders like Coniglio, Kelly, Ward all back and fit, and the recruitment of Lachie Ash, development of Jackson Hately and also Zac Williams probably going back to the half back flank, it really just depends what role Perryman plays in 2020.
He had a couple nice games last year which caught our eye, then also had 23 touches and 8 tackles for 111 against Collingwood in the Prelim final so he has made it onto our watch list. While his possesion count hasn't been massive at AFL level just yet, he was a ball magnet in the NEAFL averaging 30 disposals and 5 tackles a game. He also loves to kick the ball, almost a 2:1 ratio which is something not only rare in that Giants midfield, but great for fantasy scoring.
It will be interesting to see where he plays in the pre-season games and how he scores. Coming into his fourth year, was a high draft pick and the Giants are also a very fantasy friendly side, he has upside.

ROOKIE: Xavier O'Halloran – $170,000 (MID)
Everyone is going to be hot on Lachie Ash and Tom Green BUT, as we saw last year with Hately and Caldwell the Giants midfield and half back flank can be very hard to break into. I have no doubt Ash and Green will play at some point, and probably score well, its just very hard to pay that $250k mark for a rookie when its hard to know their job security.
This is where Pick 22 from the 2019 draft Xavier O'Halloran comes into the picture, the forgotten man. Speedy and agile midfielder, with great ball skills, he has also been trialed up forward and from our sources has come back from his first off-season in unreal nick. Only averaged the 20 touches in the NEAFL last year and isn't a massive accumulator, but we do see potential for Xavier to lock down a spot on the half forward flank because of his skills, efficiency and leadership.
This means he could string together a good patch of games and be a very handy bench rookie in the midfield, who we see averaging that 50-70 mark. Watch his pre-season form and where he lines up, while everyone is focusing on this high end midfield rookies, he could slide under the radar and be a cheeky little 170k gem.
UNDERDOG: Toby Greene – $730,000 (FWD)
At his best he is the most damaging player in the game, but at his worst he is also a bloke who has been charged 18 times and finds himself in and out of hearings at the AFL's match-review process. We saw a purple patch from Toby in the back half of last year, shifting into the midfield and averaging 129 in his last 6 games including 3 scores above 140.
At the same time Green struggled for form early in the year only averaging 79 between Rounds 7-13 playing as a forward. Starting 2020 as the second most expensive forward, it would be a big risk, but if he does manage to rotate through the midfield he could become one of the highest averaging players in the competition.
One thing we do like about Greene's fantasy game is his ceiling, this rare ability to really turn it on when he is on. In his 8 year career, Greene has notched 43 tons, and while that stats not massive, in games where he does ton up, he averages 118.
If he gets some consistency about his game he has potential to be one of those real fantasy pigs and a genuine captain choice. For all his upside, there is of course the high risk of his downside, so fingers crossed for those game enough to start him in 2020 that he can stay on the park and away from the tribunal.