2021 didn't go to plan for Richmond or Dustin Martin. Fresh after recovering from a lacerated kidney, he's got something to prove and a mantle to reclaim as the best player in the AFL.
PLAYER PROFILE
Name: Dustin Martin
Age: 30
Club: Richmond Tigers
Position: MID/FWD
2021 Highest Score:
131 Vs Carlton (AFLFantasy)
158 Vs Carlton (SuperCoach)
Career Highest Score:
164 Vs North Melbourne | AFLFantasy (2017)
184 Vs Western Bulldogs| SuperCoach (2020)
2021 Average:
81.2 (AFLFantasy)
92.5 (SuperCoach)
SuperCoach Price: $503,500
AFLFantasy Price: $682,000
AFLDreamTeam Price: $692,800
Embed from Getty Images
WHY IS HE RELEVANT?
For Richmond and Dustin Martin, it was a frustrating campgain. It started promising with some dominant performances and aspirations of a premiership three pear and ended in horrific scenes with a lacerated kidney. The injury kept him in hospital, and unable to participate in any form of contact training until 2022.
We still saw plenty of dominant moments throughout the season that reminded football fans he's still an elite talent. However, whenever Richmond did manage to get over the line, he provided some vital moments in the game.
Dusty averaged 81 in AFLFantasy/DreamTeam and scored four tons, five more scores over 80. While in SuperCoach, he averaged 93, scored five tons, three over 120 and an additional seven more above 80. So it's not a bad season it;'s also not a tree season. And to be fair, he even had a couple of injury impacted games that have further dented his numbers.
Despite the challenging end, the season started on fire with a 131and 100 in AFLFantasy/DreamTeaam and 158 & 120 in SuperCoach. And for the high volume of coaches that owned him, they loved his start, especially if you traded into him via the suspended Patrick Dangerfield after round one. So maybe that scoring ceiling regression myth isn't as factual after all?
What Martin offers fantasy coaches this year is something he hasn't for a long time. That's value. This is the lowest his starting average has been for the better part of a decade. Since 2013 to 2020 he's averaged in AFLFantasy/DreamTeam 97, 97, 103, 107, 113, 92, 97 & 93 adjusted. While in SuperCoach it's better, he's averaged 102, 99, 105, 108, 119, 104, 100 & 100. Here's what it looks like visually; he's a picture of consistency!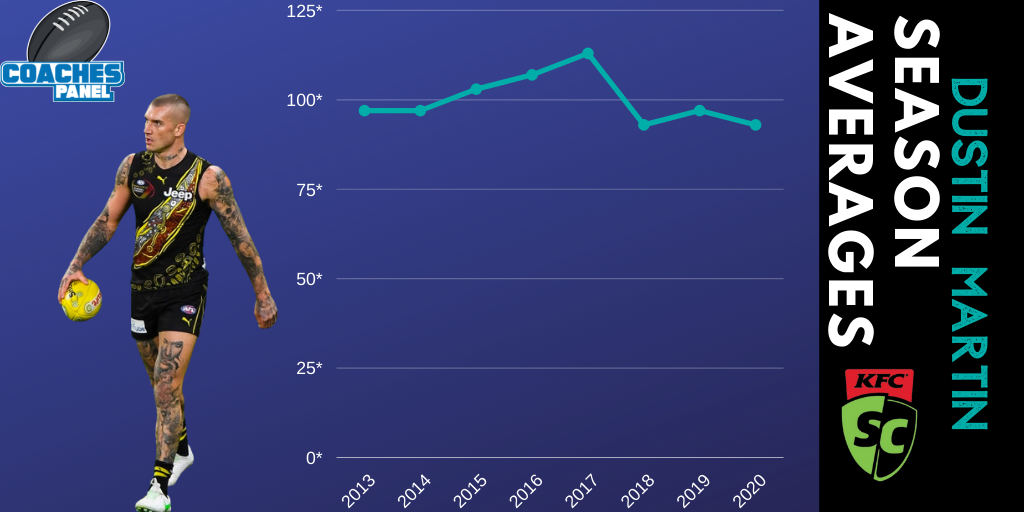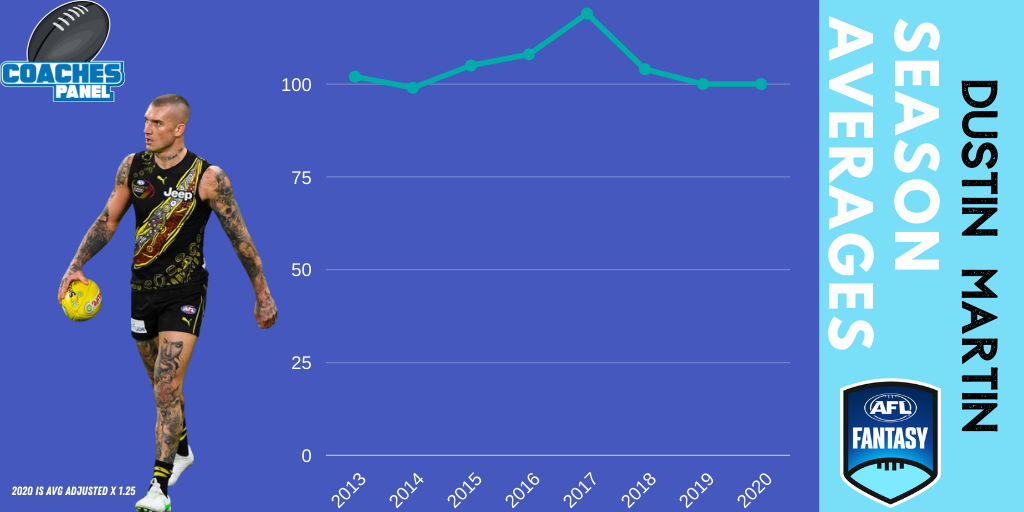 It's been a long time since Dustin and his Tigers have had something to prove. Since 2017 they've been one of the most dominant forces in modern AFL history. Richmond and even the most loyal faithful do know that the era is coming to an end, but the recruitment of veteran Robbie Tarrant suggests Richmond have put all the chips into one last big hoorah with the aging premiership core. For this to happen, it'll take Dusty to get back towards his best, and at 30 years of age, that's undoubtedly very easily achieved.
All Richmond track watchers have made numerous comments about Dustin Martin. Not just down a slightly slimmed-down look to a change in diet. But that the number one asset to his game in his strength and power are evident in all training drills. The Tigers have been very vocal about increasing his midfield minutes and not being as level in the split between midfield and forward. Should that unfold, we're not just talking about a points jump of 10 per game but potentially 15-20. Should that eventuate, then starting Dusty might be one of the selections of the year.
Embed from Getty Images
MY TAKE
I don't think anyone is questioning the historical scoring pedigree of Dustin Martin. We know that he's the most damaging pure footballer in the game on his day. More often than not, when he dominates, the Tigers win, and he posts strong fantasy footy digits. But what will this coming season hold for him? An average of 81 in AFLFantasy/DreamTeam has him ranked tenth for averages and sixth for SuperCoach for forwards. This is important because after his firing tons in rounds one and two in the final fourteen games, he averaged 76 in AFLFantasy/DreamTeam and 85 in SuperCoach. So even with a poor last few months, he's still towards the top tier of options.
There seems a consensus across the fantasy community that Mitch Duncan, Tim Taranto and Josh Dunkley are the clear top three forwards in the game if they can stay fit. However, the diversity of opinion of who's the next best five or six forwards can include 15 -20 different players depending on the format. The upside for those considering Dusty is that he is still ranked in the top areas of the forward line even off a frustrating season. So what happens if he has some scoring increase? Based on history, he's a safe and durable 90-95 in AFLFantasy/DreamTeam and 95-100 in SuperCoach. That should be enough to lock him as a top 10 forward.
Even getting back to just good level dusty will be enough to be in the conversation of top forwards. But I wonder if the most damaging days of fantasy scoring are behind him? Specifically, in AFLFantasy/DreamTeam where it's just pure volume and no scoring inflation due to impact. Over the past two seasons in these formats, he's had just three games where he's scored above 120, and that's including making the 1.25 adjustment. So if the ceiling is gone, at least in those formats, he might be value, but he also might not burn you by passing on him as a starter and be a premium you can take on.
Dusty gets on a hot run every season, and if you can time owning him during that, it'll offset any of the other games. For example, in 2020, between rounds 7-14 last year, he averaged an adjusted 105.3 in AFLFantasy and 114 in SuperCoach.The year prior, in 2019, in between rounds 9-15, he averaged 119 in AFLFantasy/DreamTeam and 106 in SuperCoach. Every year Dusty this and pops a monster ceiling game. The trend for coaches is that it often happens after the first 6-7 weeks. of the season ;).
In AFLFantasy, there's some value there. But for some coaches, it may not be enough, especially if the format allocate 1-2 'must have' DPP's like Josh Kelly was last year. I don't see a vast number of DreamTeam coaches reaching for him. If anything, he'll be an upgrade target as coaches look to back in Mitch Duncan, Tim Taranto, and Josh Dunkley early. Over his career, SuperCoach has been his format, and he has to be a consideration for a starting squad at the very least. For me, it doesn't suit my current structure. But I've got an eye on him.
DRAFT DECISION
On draft boards, he'll be someone's F1. The question is, just how early? Especially after Mitch Duncan, Tim Taranto and Josh Dunkley are gone. In SuperCoach, I can see him leaving draft boards ranging from the third round and into no later than the fourth. In AFLFantasy, it's probably sliding another ten picks. So from the early fourth to late fifth at the latest.
JOIN THE CONVERSATION
Do you believe he is fantasy relevant?
Will you be starting with him?
Have your say at our Facebook, Twitter or Instagram.
WANT EARLY ACCESS?
Want access 24 hours early to the 50 Most Relevant podcasts? Join our Patreon and get ahead of the Crowd