Everything went right for Christian Petracca and the Melbourne Football Club in 2021, resulting in a Norm Smith Medal and a drought-breaking premiership. The question everyone wants to know is, can CP5 continue his dominance entering into a new year?
PLAYER PROFILE
Name: Christian Petracca
Age: 26
Club: Melbourne Demons
Position: Midfield
2021 Highest Score:
153 Vs Port Adelaide (AFLFantasy)
173 Vs Port Adelaide (SuperCoach)
Career Highest Score:
153 Vs Port Adelaide | AFLFantasy (2021)
173 Vs Port Adelaide| SuperCoach (2021)
2021 Average:
110.8 (AFLFantasy)
111.3 (SuperCoach)
SuperCoach Price: $606,200
AFLFantasy Price: $930,000
AFLDreamTeam Price: $945,300
Embed from Getty Images
WHY IS HE RELEVANT?
After generations of disappointment, the Melbourne faithful can finally breathe. 2021 was the season that the premiership drought and one of the primary reasons for it was the emergence of Christian Petracca from an outstanding player to one of the league elite. He now has the Premiership and Norm Smith medal to prove he belongs as one of the best players in the competition.
He ranked first in the league by averages as the top player for score involvements and inside '50s. He was fifth-best in the competition for contested possessions, eight for metres gained, tenth for disposals and twelfth for clearances. It was a complete and elite season from CP5.
In AFLFantasy/DreamTeam, he scored 14 tons, seven above 120 and five were higher than 130. To go with his ceiling and consistency of tons was a strong basement with no scores under 78. His average of 110 meant he was ranked eighth by averages in the game. Petracca scored more points than Zach Merrett, Sam Walsh, Marcus Bontempelli, Bean Keays and teammate Clayton Oliver.
For SuperCoach, he had an equally as strong season. He posted thirteen tons for the year, eight above 120 and three monsters of 145 or higher. He also dropped just once score below 80 all year. By the close of the 2021 season, he finished the year ranked sixteenth for total points and his average of 111.4 just snuck inside the top 20 overall.
If you play the classic formats, aka 'salary cap', you'll know that the correct timing of owning a player can make all the difference. And as good as Christian was in the front half of the season if you timed it right, you would've owned one of the form midfielders across the formats.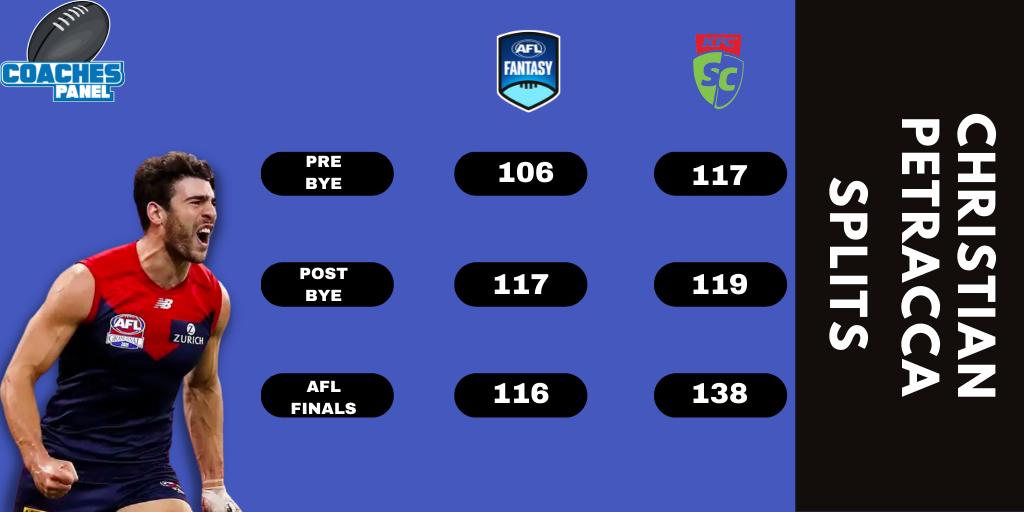 This scoring backs up his breakout season of 2020. The year in AFLFantasy and DreamTeam, he averaged 86.4 (adjusted 108) consisted of him scoring 2 tons, five additional scores between 90-99, plus four extra scores over 80. Across the 2020 season, he had just two scores below 73 all year, and if you want to understand it based on the adjusted scoring (of x 1.25), then his lowest score of the year was an 86. While in SuperCoach, he averaged 117, scored 13 tons from 17 games, went over 130 in nine games and just once went below 80.
To go with the past few years of high-performance scoring is near-flawless durability. In the previous five seasons, he's missed just one match since 2017 and missed none in the last three. So the risk in selecting Christian is minimal, and the reward is substantial.
Embed from Getty Images
MY TAKE
Twelve months ago, the questions surrounding Christian Petracca were around whether or not he could deliver the same elite scoring of 2020 into the full-length games. The answer was stamped with a definitive yes in 2021. What makes him so consistent and nearly impossible to stop with his fantasy scoring ceiling and basement is that he scores every column. He wins the inside and out ball, works hard defensively and punishes opposition in the forward half of the ground. If you can average 25 possessions per game and more and have your mark, tackle and goal columns equally to ten or higher, you stand a strong chance of averaging over 110 most seasons.
It feels like it's just a matter of time wherein SuperCoach will deliver a 120+ seasonal average. Given that Christian is such an impactful player, I can see it happening as early as this season if he can tidy up some of the more wasteful moments in his game. Some might believe regression was the only possible outcome given his strong season last year, and I disagree while I understand that narrative.
One thing that's evident with Petracca is that he's one of the most focussed and driven footballers. He's tenacious. He wants to be the best. He's not just satisfied with a premiership and a norm smith medal. He wants multiple. The insatiable motivation like this would give prospective owners confidence that he won't rest on the past few seasons results.
Nothing can be taken away from his great season last year, but he has a slightly lower 'consecutive 100's' history compared to other top mids. His best was five last year in AFLFantasy, while in SuperCoach, it was just four. Again, not horrible, but its elements like this can be a factor in fantasy coaches eyes to target players as either a must start or someone you consider an upgrade.
If you're starting with CP5, you'll be selecting him as one of your weekly VC/C candidates in the opening rounds, and he does have the ceiling (130+) to be able to give owners confidence that he can be that for you. If you look over his average of the final nine games, you could even build an argument that he's also got the value of up to eight points per game in his starting price.
As good as Petracca should be in 2022, the question is whether it will be good enough? Last year we saw the return of some stunningly high midfielders. In many coaches eyes, jack Steele, Touk Miller, Tom Mitchell and Jack Macrae are certainties for the upper echelons again? From this proposed top tier of midfielders, is Petracca in the next bunch? Is he too far away from the best starting midfielders and, as a result, only be targeted as an upgrade? Conversely, can he get close enough to the big boys and provide some value and allow coaches a chance to save some cash to reinvest elsewhere.
The answer you have to that will probably inform the best action for you to pursue with him. I believe CP5 will average between 107-112 this year in AFLFantasy/DreamTeam and is someone I'll target as an upgrade option. I think he elevates his season scores in SuperCoach and goes past the 115 barriers. He's in the consideration camp for a starter in that format.
DRAFT DECISION
The fact Christian Petracca hasn't missed a game in three seasons will not be lost on draft day if you can get a midfielder with proven 110+ history and available every week. In UltimateFooty, he'll head off the draft board likely in the second to the early third round and will be someone's M1. For SuperCoach, he'll be off the board at M2 and will likely get snagged in the third round of a draft. I think he's one of the first 30 players selected across formats.
JOIN THE CONVERSATION
Do you believe he is fantasy relevant?
Will you be starting with him?
Have your say at our Facebook, Twitter or Instagram.
WANT EARLY ACCESS?
Want access 24 hours early to the 50 Most Relevant podcasts? Join our Patreon and get ahead of the Crowd