Fantasy football coaches love to chase a breakout candidate. In 2022 can Caleb Serong elevate himself to being a premium midfielder?
PLAYER PROFILE
Name: Caleb Serong
Age: 20
Club: Fremantle Dockers
Position: Midfield
2021 Highest Score:
143 Vs North Melbourne (AFLFantasy)
135 Vs West Coast (SuperCoach)
Career Highest Score:
143 Vs North Melbourne | AFLFantasy (2021)
135 Vs West Coast | SuperCoach (2021)
2021 Average:
82.4 (AFLFantasy)
82.9 (SuperCoach)
SuperCoach Price: $451,000
AFLFantasy Price: $691,000
AFLDreamTeam Price: $702,300
Embed from Getty Images
WHY IS HE RELEVANT?
One of the satisfying feelings as a fantasy coach is nailing a breakout selection and watching them turn into a premium. Entering 2022, the hype train is growing for Fremantle midfielder Caleb Serong. As a junior, he showed the fantasy pedigree that coaches notice. During the national championships in 2019 for Vic Country, he averaged 23.5 disposals, 5.5 marks, 8.5 tackles and almost a goal a game. Thankfully for coaches, the scoring appeared almost immediately from his debut season as a Docker.
From fourteen games in 2020, he averaged 81 in SuperCoach and posted three tons all over 110. While in AFLFantasy/DreamTeam, he averaged an adjusted 83 and scored three pure 90's and a ton. Not a bad effort for a first-year player and in shorter games. These performances had coaches bullish that he'd join the elite company of Nat Fyfe, Clayton Oliver and Jackson Macrae and become a premium in season two. While that didn't happen year-round, it did further enhance the belief that it was a matter of when not if, he'd return a triple-figure average in his career.
Last season he averaged 82.3 in AFLFantasy/DreamTeam, consisting of five tons, four of them over 115 and a personal best 143. In addition, he had four more scores over 80. While in SuperCoach, he averaged 82.8 scored seven tons, three of them were above 115 and his career-high score of 135. In addition, he scored an extra five times 80 or higher.
In totality, that's strong from a second-year player, but the final five games of the year are what has given fantasy players greater confidence with selecting him this year. In the last five games in AFLFantasy/DreamTeam, he scored 94, 75, 118, 117 & 116. That's an average of 104 in that stretch, but he went at 117 in the final three. The trend is similar in SuperCoach. He ended the year with 103, 82, 115, 135 & 103. Again, that's a five-game average of 107 and a last three of 117.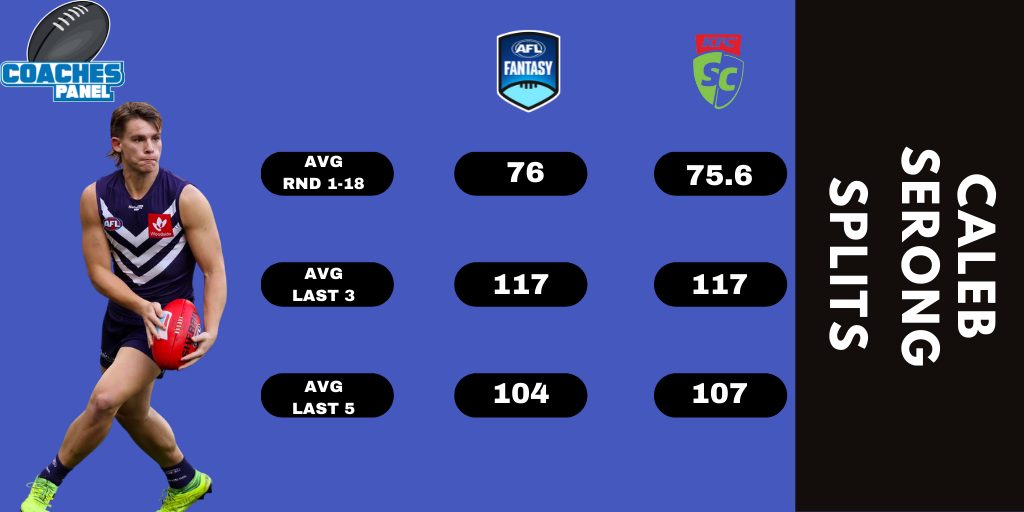 This analysis trend of how a player ends a year being used to forecast a new season has been used by coaches to project premium seasons for many years with good effect. For example, when Aaron Hall played for Gold Coast in the final seven games of 2015, he averaged 106 in AFLFantasy/DreamTeam & 112 in SuperCoach. The following year in 2016, he played 17 games, averaged 105 in AFLFantasy/DreamTeam and scored 11 tons, three over 120, including a 151. All year he had just two scores under 90.
Over the final ten games of 2017, Toby McLean averaged 95 in AFLFantasy/DreamTeam after only having one score over 90 in his first nine games. While in SuperCoach, he ended the year final ten-game stretch with an average of 97 after failing to score a ton in the opening nine games. In 2018 he averaged mid 90's across the formats and was one of the best forward premiums. It also happened again at the Bulldogs but with Josh Dunkley. In 2018 during his last nine games in AFLFantasy/DreamTeam, he averaged 112 and scored 7 tons, 5 of them were over 110, and his lowest score was 96. For SuperCoach, he averaged 115 and scored 7 tons, 3 of them were over 130, and his lowest score was 86. In 2019 he played every game and averaged 111 in AFLFantasy/DreamTeam and 116 in SuperCoach.
What can help further enhance this narrative is Adam Cerra departing the club to join Carlton. We've got only four data games to go off last year, but in those matches, without Cerra, we saw Serong average 101 in AFLFantasy/DreamTeam and 89 in SuperCoach. So the signs are certainly orienting towards a strong season from Caleb Serong.
Embed from Getty Images
MY TAKE
The signs are there, and to be frank, they've been around since his junior days. In time, Caleb Serong will be a star, and he'll be a popular premium for many years to come. The primary question is, will he average enough to warrant selection this year?
Last year he was the clubhouse leader for the Dockers for centre bounce attendances, but he did have a specific role set by the coaching staff. The majority of the year, he was forced to play accountable through the midfield. It's not a tagging role, but he was defensively minded in core function. This was done by Fremantle as a pathway to advance his development. And it certainly will pay dividends in time. Having him learn off the running and midfield patterns of Zach Merrett, Sam Walsh, Jack Macrae and Touk Miller.
In theory, he will take a more ball-focused role with Adam Cerra gone to Carlton, David Mundy injured, and Nat Fyfe is slowly building into the preseason. But will the growth he experiences be significant enough to make it worthwhile? Each format requires a different strategy and mindset for success, but for now, I'd like to group SuperCoach and DreamTeam and AFLFantasy in isolation.
At his price in DT/SC, he's priced too high to be considered a stepping stone. But that's what a Matt Rowell is. At his price point in the early '80s, he must become a premium for you and be someone you intend to retain for the entire season. To do this, he needs to average a minimum increase of 20 points per game of growth to warrant it. Can he do that? Maybe. But also, can you choose to select him over Elliot Yeo or Matt Crouch? Both who if fit and proven guys who can go 105+. I'm not sure you could start multiples of these guys anyway in these formats. That's a lot of hope returns in the scoring line that should provide for you the great points reward.
A scoring increase of 15 points per game is in the high 90's, but again that's not enough. At his price, he's not making you enough money to warrant the trade as a stepping stone. And if he can't push an average near 105, then he's not scoring enough to be the premium midfielder you're choosing him to be. I don't believe he'll average enough to be someone I'm happy to hold for the season in these limited trade formats of the game. So in DreamTeam and SuperCoach, it's a 'no' from me.
AFLFantasy is the format that makes the most sense, to begin with him. I can see a comfortable growth of 10 points per game and even an early run of over 5-6 weeks going at 100. In this format, players with some obvious value on price point and the ability to match it with premiums for a few weeks is exactly the right starting approach. With the two trades a week, you can be looking to play a quicker cash game and own multiple players within the price range. Between $700,000 and $640,000 we're rich for option. They include Elliot Yeo, Patrick Cripps, Luke Shuey, Tim Kelly and Matt Crouch. Plus the MID/FWD options in Stephen Coniglio, Tarryn Thomas, Jack Graham and Shai Bolton.
Is he the best option at that price point? Can you have multiples? And if so, how many? Ultimately that will be a big decision point for coaches in AFLFantasy this season. In this format, one in four coaches already own him, and if he fires early, it'll feel like a victory early on.
DRAFT DECISION
Players like Caleb Serong are fascinating to watch where they do go on draft day. I'm confident that you'll have a coach that's bullish on the breakout and reach for him too early in some leagues. While others will cool and draft based on his average and have him as later. His range of positions could be as high as an M2 or as low as an M5. I think if you want him, you'll have to take the plunge at M3. The potential 'salary cap hype' could bleed into coaches thinking. M4 feels the right space for me.
JOIN THE CONVERSATION
Do you believe he is fantasy relevant?
Will you be starting with him?
Have your say at our Facebook, Twitter or Instagram.
WANT EARLY ACCESS?
Want access 24 hours early to the 50 Most Relevant podcasts? Join our Patreon and get ahead of the Crowd