Over the past two seasons, Andrew Gaff has been one of the most underrated and consistent midfield premiums. In 2020 will he continue on this trend?
PLAYER PROFILE
Name: Andrew Gaff
Age: 27
Club: West Coast Eagles
Position: Midfield

2019 Highest Score: 
144 Vs Gold Coast (AFLFantasy)
154 Vs Gold Coast (SuperCoach)

2019 Average: 
111 (AFLFantasy)
107 (SuperCoach)

SuperCoach Price: $583,200
AFLFantasy Price: $824,000
AFLDreamTeam Price: $802,500
WHY IS HE RELEVANT?
Andrew Gaff wasn't a popular option in starting squads in 2019. The reason being he still had two weeks remaining from his suspension that saw him miss the Eagles 2018 Premiership. However, once he returned to the side, he showcased his footballing prowess.
The West Coast Eagles wingman finished the season averaging 31 possessions, twenty-two of them uncontested. He ranks elite in the league for kicks, handballs, clearances, uncontested possessions, uncontested marks and inside '50s.
From his twenty games played in SuperCoach, he delivered fourteen scores over the ton, five of them over 120 including a 154 against the Suns and finished the year with an average of 107. Added to his ceiling, he had only six games where he scored below 100 and nothing lower than 76.
While for AFLFantasy/DreamTeam he sixteen scores of 100 or more, eight of them were 110 or over and his lowest score for the season was 91. Over the final nine games of the season, his lowest score was 100. Yep, he ended the year with a run of nine consecutive hundreds and a seasonal average of 111.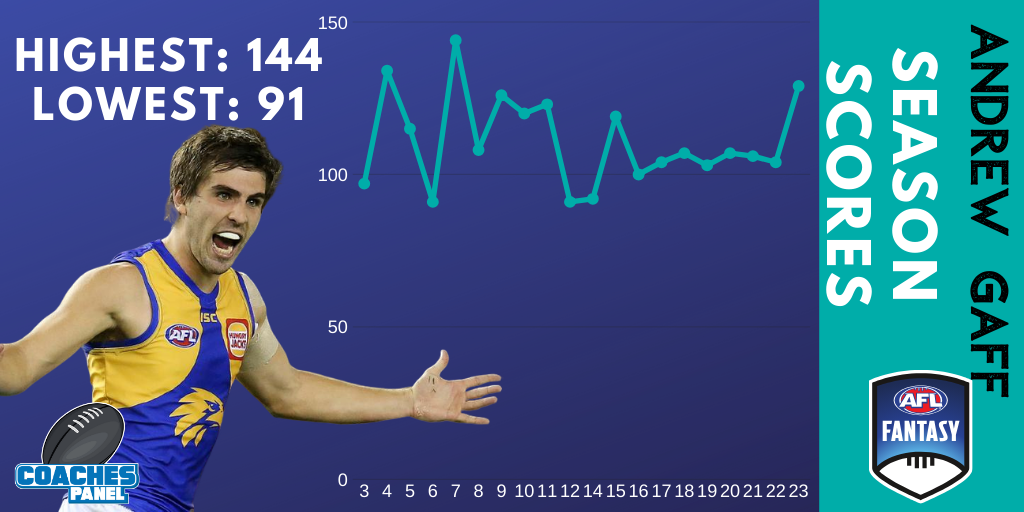 It backs up his breakout 2018 season which elevated from him being a consistent performer to being a genuine top 8 midfielder in all the formats. That season he averaged 110 in AFLFantasy from nineteen games and hit the triple-figure range in thirteen of those matches. Eight of those tons were over 110 and three were 146 or higher. In SuperCoach he averaged 108 for the year and rewarded coaches with fourteen tons including a stretch of nine consecutive tons from round 2-10.
Gaff has long been heralded as one of the best outside midfielders in the game, but historically has struggled to score when tagged. With players like Luke Shuey and now Tim Kelly entering into the midfield unit he's not always been the oppositions first (or only) target. However, in 2019 we started to see him overcome this. In round 12 against Sydney, he was tagged by Ryan Clarke for scores of 91 (AFLFantasy) & 107 (SuperCoach). The next game he lined up against Essendon's Dylan Clarke and scored 92 (AFLFantasy) and 89 (SuperCoach.) Don't forget some of Clarke's successful tags killed the fantasy output of Patrick Cripps, Jaeger O'Meara and Rory Sloane.
Like many of our premiums, he scores better in wins over losses. For AFLFantasy/DreamTeam the difference is last year in wins he averaged 113.3 as opposed to 105.7 in losses. That's a differential of 7.6. For SuperCoach in victories, he averages 109.1 as opposed to 103.3 when the Eagles lose. A difference of 5.8.
MY TAKE
The three key things you want from your premiums are that their scoring deviation is minimal, that they have a high ceiling and they rarely miss matches. For Andrew Gaff, he has all three in spades. Barring his suspension in 2018/2019, he has missed just one game (concussion related) between 2012-2017. Six games in eight seasons missed and five of those games were due to his hit on Brayshaw.
Last year as well as starting to overcome the tag, we saw Adam Simpson start to use Gaff inside the square at centre bounces not just across the wing. Across the season he moved from attending 20% of centre bounces (6-8 per game) right up to 50% (13-15 per game). Will this continue on moving into 2020?
Possibly the biggest unknown for him and it's linked to his attendance at centre bounces is around the addition of Tim Kelly coming into the midfield. Last year he ranked elite across the league for clearances, contested possessions, disposals, goal assists, inside '50s and was a staple part of the Cats midfield core.
What is the impact? Does he move out of centre bounces entirely? Does Tim Kelly eat away at his fantasy scoring? In all honesty, until we see the West Coast full midfield strength, it'll just be a combination of hypothesis and fantasy coaches intuition. If you have any doubts or concern, the equation is simple. Mark him then down as an upgrade target and pass on him in your starting side.
Even if Gaff does move back to the outside role more exclusively, we have the data from 2018 season. That year he played predominantly as a wingman with little inside work. His fantasy numbers across 2019 and 2018 are less than 1 point per game difference, and last year he was up only one kick and mark per game.
He has an excellent bye round for upgrade target, and if you don't want to take the 'risk' that may be associated with Kelly's arrival, you'll be able to take a few weeks to watch for any reduction in scores. Right now, I've got Gaff currently in my AFLDreamTeam side and will seriously consider him as an upgrade target in SuperCoach and AFLFantasy.
DRAFT DECISION
Andrew Gaff is a genuine top 10-15 midfielder across the formats. However, he doesn't offer the broad appeal that others do. As such, he could still slide and be available in the third or even fourth rounds of drafts. I'd happily gobble him up at this selection and is a worthy pick at an M2. Anything lower is a nice early win on draft day.
JOIN THE CONVERSATION
Do you believe he is fantasy relevant?
Will you be starting with him?
Have your say at our Facebook, Twitter or Instagram.
WANT EARLY ACCESS?
Want access 24 hours early to the 50 Most Relevant podcasts? Join our Patreon and get ahead of the Crowd!
NEXT UP…
Tune into our Facebook page at 9pmEDST for a clue