Last year looked as though James Sicily was primed to enter into becoming one of the elite scoring defenders. However, things didn't go to plan. Will they in 2020?
PLAYER PROFILE
Name: James Sicily
Age: 25
Club: Hawthorn Hawks
Position: Defender

2019 Highest Score:
121 Vs Collingwood (AFLFantasy)
141 Vs Collingwood (SuperCoach)

2019 Average:
83.6 (AFLFantasy)
93.8 (SuperCoach)

SuperCoach Price: $509,500
AFLFantasy Price: $620,000
AFLDreamTeam Price: $604,600
WHY IS HE RELEVANT?
James Sicily is one of the best defenders in the league. Last year he finished fourth in the Hawks best and fairest and was recognised for his season with selection in the initial All Australian squad of forty.
Sicily possesses the rare ability to control the game from behind the ball with his elite marking and his decision making by foot makes him a valuable asset for the Hawks. He ranks elite in the AFL for kicks, contested marks, uncontested marks and rebound 50's.
Up until the bye round, he was delivering as fantasy coaches expected. From the first eleven games of the year in AFLFantasy/DreamTeam, he had five scores over 100 including three over 110 and averaging 94.2 For SuperCoach he was averaging 99.8 and had scored six times in triple figures with three of them 117 or higher.
2019 was a year of inconsistency (which we'll talk about later), but we've got more than just a dozen games of data that highlight his potential scoring. Back in 2018 from a SuperCoach perspective, he scored eight tons, half of those were over 120, and during the season he had only three scores that dipped below 90. For AFLFantasy/SuperCoach he scored five tons including a 125 against Essendon and had five further games that he scored over 90.
During the final ten matches of 2017 when his defensive role was initiated. He averaged 24 possessions, nine marks and despite being heavily tagged in one match where he didn't score over 25 in any fantasy format he still scored like a premium. During that stretch of games in AFLFantasy/DreamTeam, he had eight scores of 85 or more, five tons and an average of 89.8. While in SuperCoach Sicily posted eight scores 87 or above, five of those were tons and averaged 91.4.
The positive of a quite back half of the season (and with good reason) means he's priced significantly cheaper than what you'd have paid twelve months earlier. I would suggest if you were bullish on Sicily last year and started him at 95 in AFLFantasy or 105 in SuperCoach, then you should be seriously factoring him into your starting squad this year.
MY TAKE
2019 was meant to be the year James Sicily established himself as one of the best long term defensive premiums. However, after the bye round the scoring consistency of Sicily was impacted due to some coaching adjustments. These forced him to play two roles that were both impacting his fantasy football output. Firstly in round thirteen and fourteen, he played as a key forward. Additionally the final eight weeks he played predominantly as a lockdown key defender.
One of the primary reasons for a role change was due to a lack of key defensive options due to injuries. This forced Sicily to play as a more accountable defender and was unable to peel off and set up the play as we'd previously seen.
Over the final 11 games of the season, he averaged a measly 73 in AFLFantasy/DreamTeam and 87.8 in SuperCoach. That's approximately twenty points difference to what he was doing pre bye in AFLFantasy/DreamTeam and twelve in SuperCoach.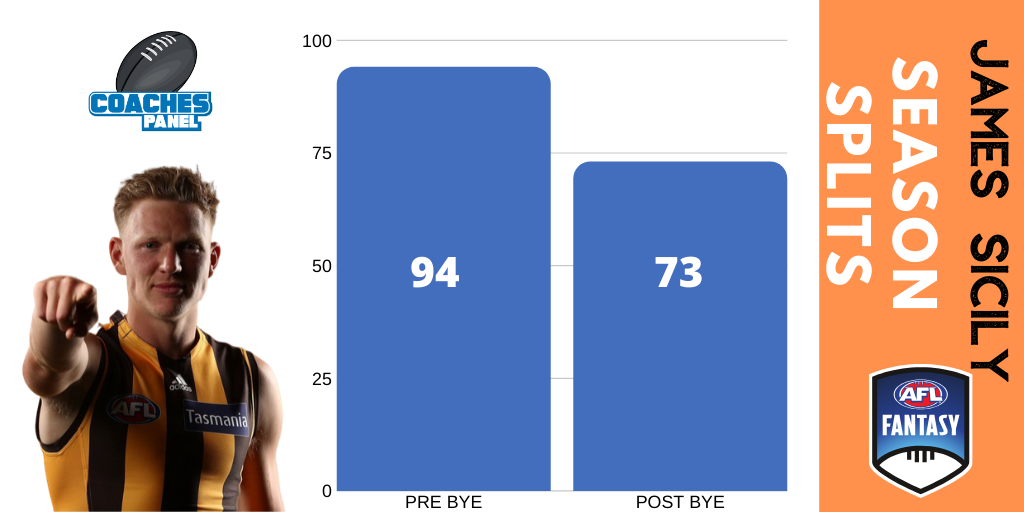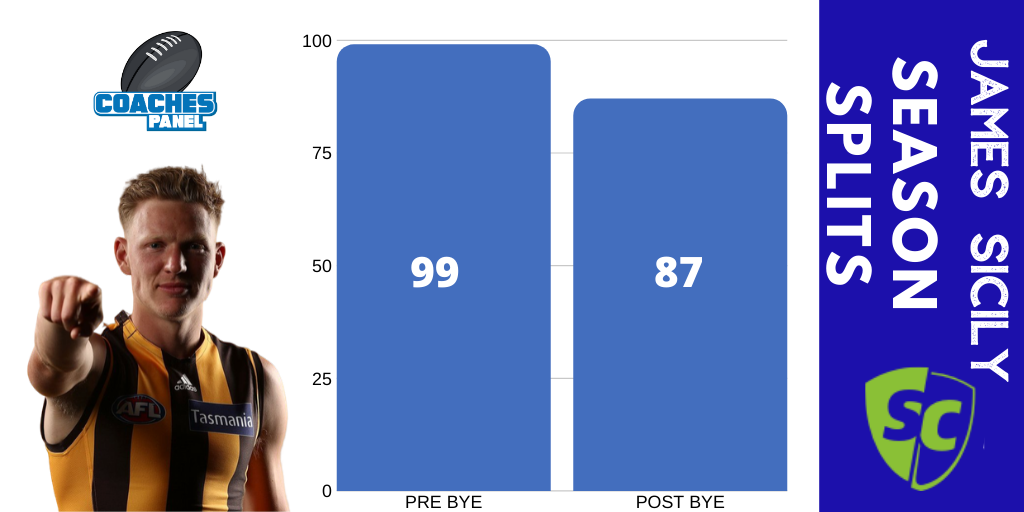 During the offseason, Hawthorn acquired the services of Sam Frost, Michael Hately and Jon Patton. The recruitment of these three should help free up Sicily in his preferred role in defence.
Clarko is no John Longmire who'll change a players role for the sake of it. But he has shown over his coaching career and again emphasised with Sicily's moves this year he's more than happy to experiment. Whether it be a mid-game move or something that would last for multiple weeks. The master coach is always looking for a new edge to win a game.
The other two key variables to consider are around his bye round and what his ownership percentage is entering the season. If Sicily is at 10% or lower ownership that might be the deciding factor in me selecting him. A player with his ceiling potential at the small ownership is a handy point of difference.
Additionally, how do you rank him against other premium options from his bye round (14)? Rory Laird, Caleb Daniel and Zac Williams loom as three great options for us in 2020. Where you rank Sicily within those three should give you an indicator of whether he is in consideration as a starting squad option or a trade-in target across the season.
Currently, I have Sicily in my AFLFantasy side and am seriously considering him in DreamTeam and SuperCoach. I wouldn't be surprised to see him bounce back and become a top-five defender in all formats of the game.
DRAFT DECISION
Twelve months ago to own him you'd have been forking out atop 3-5 round selection. However, this season you won't have to do that. I still like him as a draft option as a D2 with the potential is he should get scoring returns of a D1.
Alternatively, you can target to draft him as your D1 and go heavier early on with selections in other lines.
JOIN THE CONVERSATION
Do you believe he is fantasy relevant?
Will you be starting with him?
Have your say at our Facebook, Twitter or Instagram.
WANT EARLY ACCESS?
Want access 24 hours early to the 50 Most Relevant podcasts? Join our Patreon and get ahead of the Crowd!
NEXT UP…
Tune into our Facebook page at 9pmEDST for a clue