Adam Treloar might not have been the most prominent names to move club during the trade period, but it was undoubtedly the most talked about. With a fresh point to prove, does this former Magpie champion need to be picked in your fantasy footy side?
PLAYER PROFILE
Name: Adam Treloar
Age: 27
Club: Western Bulldogs
Position: Midfield
2020 Highest Score:
119 Vs Geelong (AFLFantasy)
158 Vs Geelong (SuperCoach)
Career Highest Score:
159 Vs Melbourne | AFLFantasy (2014)
177 Vs Gold Coast| SuperCoach (2019)
2020 Average:
87.8 (AFLFantasy) | 109.75 (Adjusted Average)
109.4 (SuperCoach)
SuperCoach Price: $687,600
AFLFantasy Price: $812,000
AFLDreamTeam Price: $810,300
Embed from Getty Images
WHY IS HE RELEVANT?
2020 didn't go the way I'd planned it was gonna go, and maybe for you that's the same. It's certainly true for Adam Treloar. From injuries, media speculation about his parters netball career and ultimately a late trade to the Bulldogs. I'm certain none of these would've been on his new years resolution list.
Despite battling playing only eight games and battling some injuries last season, 2020 from a statistical perspective was just as strong as ever. On 'per game' averages he ranked 1st for disposals, 2nd for contested possessions and stoppages, 4th for handball, 7th for clearances, 13th for effective disposals and 15th for inside '50s
From an AFLFantasy/DreamTeam point of view, he posted two tons, two additional scores over 86 and had a season low score of 68. On first glance, these look poor but remember the shorter quarters come into effect. His year end average of 87.8 has him ranked as the 12th best midfielder by averages.
SuperCoach players will remember his season high 158 which was one of 5 tons across the season, and during the year he didn't drop his scoring below 80. While only 8 games of data, it's a conversion rate like this that reminds coaches just how good he has been over several years.
In 2019 from his 22 AFL games in AFLFantasy, he ended up averaging 113. That placed him third for overall points, ranked second for all midfielders and fourth for averages. Breaking down the numbers he posted 18 scores of 100 or more, scored over 120 in 10 games and only dropped below 90 in two.
SuperCoach he ended the 2019 season ranked fifth for total points of all midfielders, ninth by averages and had an average of 113. That year posted 17 tons across the season, with seven over 120 and dipped his scoring below 83 in just one game.
Over a long period of time Adam has just found a way to average well into the triple digits. Ever since his breakout third season he's averaged 100+ across all formats of the game.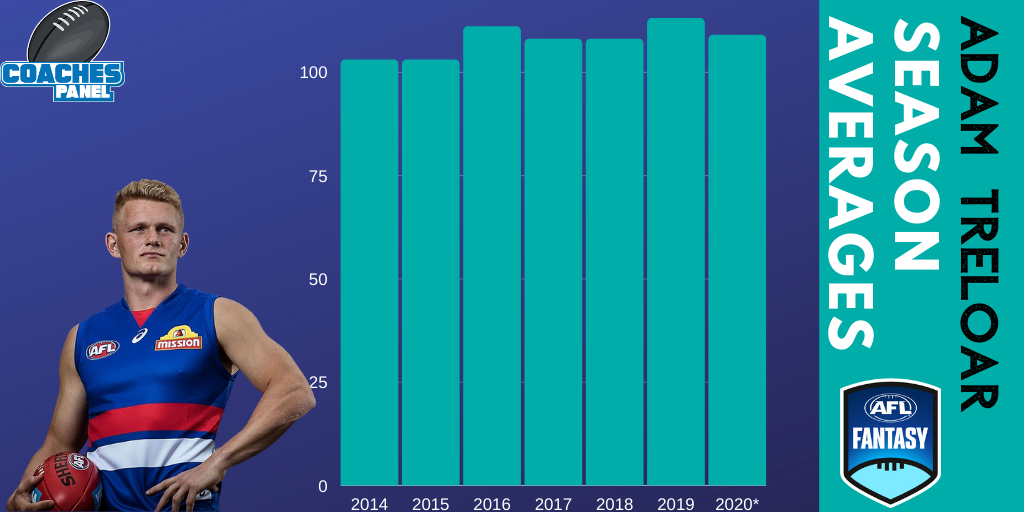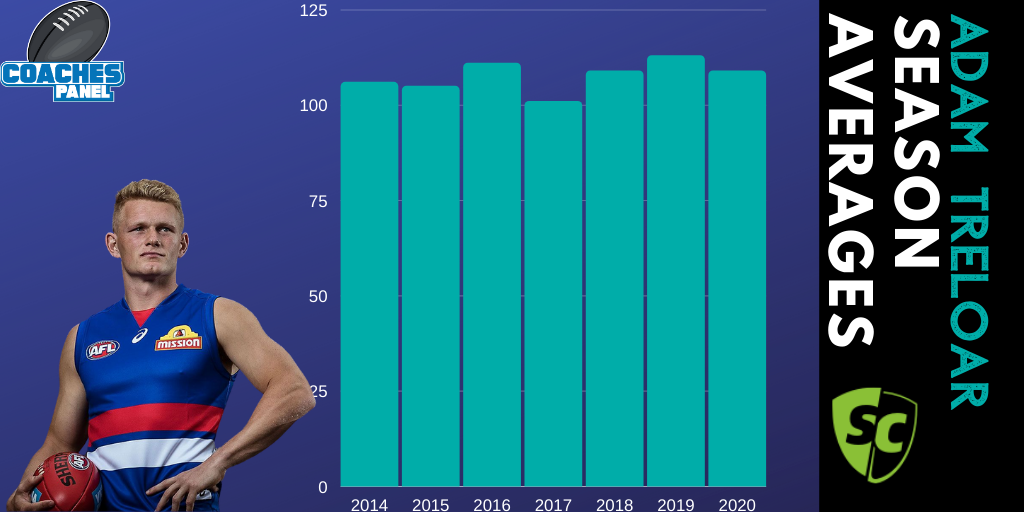 As impressive as these scores are at the moment, coaches need to remember that he's no longer apart of the Collingwood side where the majority of these seasons happened.
That being said, put yourself in Adam's shoes last year where your name is being constantly mentioned throughout October in the trade period. And these apparent 'insiders' are dishing the dirt on you. Stuff like this will be an incredible motivator for him. Adz is already one of the premiere fantasy scorers in the game, imagine what he could deliver with a 'point to prove.' Especially round one against his former side.
Embed from Getty Images
MY TAKE
There are two big question marks when it comes to selecting Adam Treloar. The first is around the Bulldogs midfield mix, while the other is about a concerning trend of soft tissue injuries.
Let's address the first, the Bulldogs midfield mix. Ever since his trade to the West, fantasy coaches have been worried about the cascading impact on what was an already crowded midfield rotation.
Focussing on Adam (which this article is about) I'm not concerned about him being given a new potential role. I don't see a world where he's given a role off half back, our pushing up the ground from a forward flank. Adz is an out and out midfielder. He might play more outside at times, others on the inside. But I see no world where he plays outside of the midfield beyond a 'rest.'
Rather I think it's more like Bailey Smith, Marcus Bontempelli, Tom Liberatore or even a Lachie Hunter have a rotation or two further outside of the middle.
That said, given the calibre of high volume possession winners in the side like Jack Macrae and quality users like Marcus Bontempelli it's the smarter play to target him as an upgrade and give yourself a few rounds to see how this midfield unit gels together.
Second is the injury concerns. Normally, for a player of Adam's growing injury history, I'd suggest that 'if you don't start with him (insert player with injury history name) you cannot upgrade to them during the season'. The reason being is with every game played the 'risk' of that potential injury occurring only increases with every game played. However, I believe with Adam; it's different on one caveat.
That is that if the reason you passed on him had nothing to do with his injury resume at all. But rather, you have chosen to initial pass based on a desire to see how (if any) this new club will impact his scoring.
DRAFT DECISION
History would suggest that across the formats, Adam Treloar is a safe M1. In AFLFantasy he'd normally be a late first round selection, while in SuperCoach it's arguably a round later.
However, the question marks around the Bulldogs midfield mix will have drafters scared off not just him, but all Bulldogs midfielders. As a result, I think coaches will be able to snag Adam at the value of an M2 (rounds 3-5) but with the prospective rewards of him being your top scoring midfielder.
As you can tell, I'm more optimistic than maybe others in the community about his 'scoring dip', but for me, I believe it will be an inconsequential drop if one at all.
JOIN THE CONVERSATION
Do you believe he is fantasy relevant?
Will you be starting with him?
Have your say at our Facebook, Twitter or Instagram.
WANT EARLY ACCESS?
Want access 24 hours early to the 50 Most Relevant podcasts? Join our Patreon and get ahead of the Crowd!
Become a Patron!