It's been a long time since the Adelaide Football Club has had excitement around the club with a significant new addition. Finally, Jordan Dawson brings his booming right foot home to South Australia, and fantasy football coaches are hoping the way he ended last season is a sign of things to come.
PLAYER PROFILE
Name: Jordan Dawson
Age: 24
Club: Adelaide Crows
Position: Defender
2021 Highest Score:
158 Vs Gold Coast (AFLFantasy)
158 Vs Gold Coast (SuperCoach)
Career Highest Score:
158 Vs Gold Coast| AFLFantasy (2021)
158 Vs Gold Coast| SuperCoach (2021)
2021 Average:
88.8 (AFLFantasy)
101 (SuperCoach)
SuperCoach Price: $550,300
AFLFantasy Price: $745,000
AFLDreamTeam Price: $757,300
WHY IS HE RELEVANT?
One of the biggest players to move clubs during the most recent trade window was Jordan Dawson to the Adelaide Crows. The extra media attention was due to the breakout performances he showed across the season. The 191cm rebounder is best known for his booming left boot that often would pinpoint his teammates in all areas of the ground.

Dawson is often referred to as a 70-metre player, where he'd run and carry the ball for 20 metres and then deliver the ball by foot the final 50. In 2021 he ranked 16th in the league for total metres gained and 19th for rebound '50s. He ranked elite in the league for disposals with an average of 22.3 per match, tackles and metres gained (467.6) to finished third in the Swans' Best and Fairest.
From an AFLFantasy/DreamTeam perspective, last year, he posted five tons, two over 120, including a final round of 158 and seven scores under 80. He ended the season ranked 12th for defenders by averages and seventh for total points. While in SuperCoach, he delivered nine tons, four of them over 120, including 141, 145 & 158. To go with this high ceiling is a relatively higher scoring floor. Last year he had just four scores beneath 80. He's currently the seventh-highest averaging defender in the game and fifth for total points. Only Jack Ziebell, Jake Lloyd, Daniel Rich and Jack Crisp scored more.
It's undoubtedly a strong season for Dawson, but his scoring got better as the season went on. After the bye rounds, Dawson found himself picking up the opportunity to push higher up the ground and play up through the wings. As a result, his average ballooned. In the first thirteen games of the year, he averaged 80.8 in AFLFantasty/DreamTeam. But post-bye in his final nine games, he averaged 100. While In SuperCoach, he averaged 92 pre bye and 114 post-bye.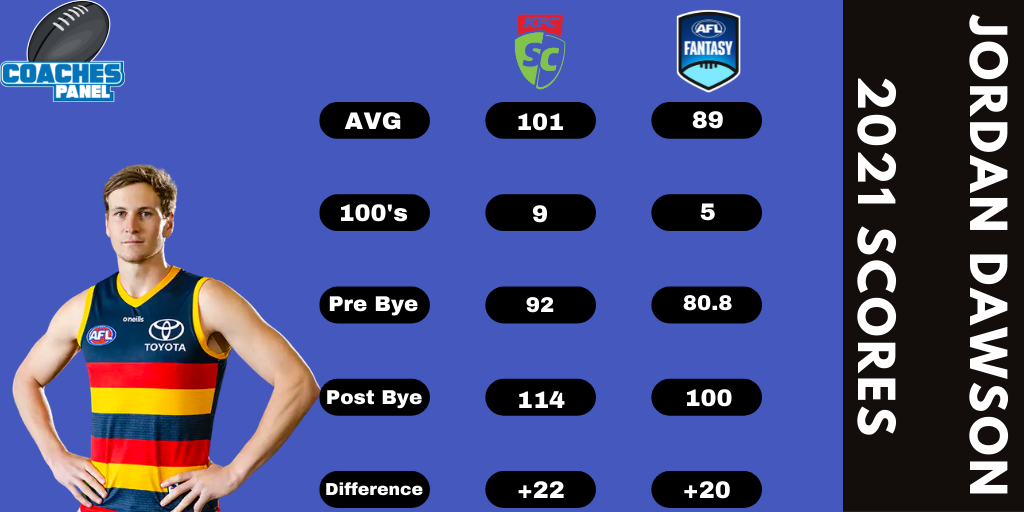 2021 was a culmination of the gradual build in his fantasy game over the past few seasons. From twenty games in 2019, he averaged 83 in AFLFantasy/DreamTeam and posted four tons and four additional scores over 90. For SuperCoach, he averaged 86, scoring six tons and four more 90+. And during the shortened quarter games of 2020, he averaged 66.3 (adjusted 83) in AFLFantasy/DreamTeam and 85 in SuperCoach.
At 24 years of age and moving back to play for the club he supported as a child, fantasy coaches will be hoping that the scoring trend of last year continues. If it does, then Dawson will be a genuine top tier defender in 2022.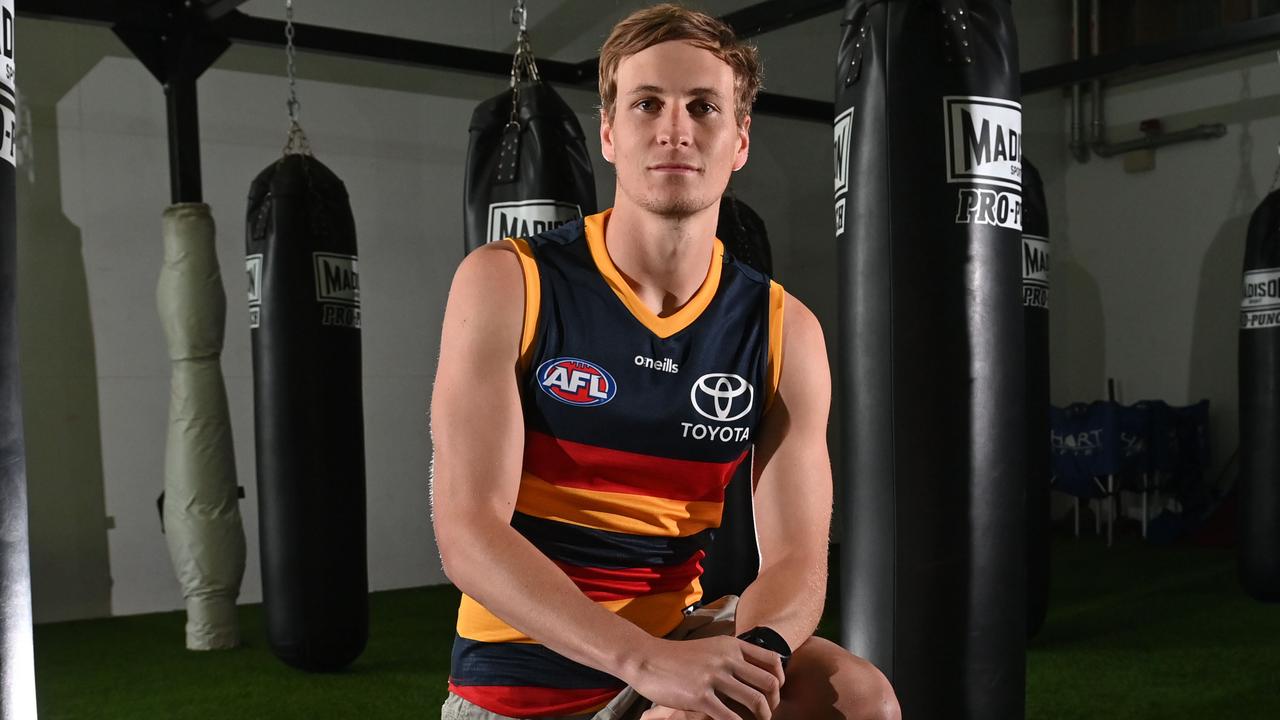 MY TAKE
Anytime a player moves AFL sides, the first question to consider is always about what role they play in the structure of their new side. Crows coach Matthew Nicks when asked about how they'll Jordan Dawson, told the media that he's someone that can fill multiple roles. From playing between the flanks on the wing, as an inside midfielder and across the halfback.
Over the past few seasons, the Crows have lacked in multiple areas of the ground. A common thread for teams at the bottom of the ladder. The recruitment of Dawson adds a significant increase to the quality of ball use. If you've watched the Crows over the past three years, you'll have observed how poorly they'd often deliver the ball inside forward 50. It's why I'd love to see him play a role as a half-forward/wingman for the Crows, comparable to what Lachie Whitfield has done for GWS. There, his lethal left foot can have the most significant impact on the scoreboard impact.
Jordan still has the opportunity to score well at his new club, but the Swans list is anywhere from 12-24 months ahead in development to that of Adelaide. The reality is the quality of the Swans forward group is superior to the Crows. In SuperCoach, where to score involvements and effective disposals are rewarded, it might just clip his scoring ceiling.
Speaking of SuperCoach, he's the seventh most expensive defender. And as good as he might be in that format, I can't start him. Not precisely because of Jordan, but more because I believe there are better options at a lower price. Remembering Dawson has only had this breakout season and is in a new structural set-up at the Crows. I couldn't pick him at $50k more than Lachie Whitfield.
As consistent as he was in scoring for AFLFantasy/DreamTeam beyond his final round heroics, he lacked the ceiling that could threaten to take a season away from you early if you don't own them. As a result, a combination of that plus the unknowns of sitting into the new system mean he's an upgrade option for me in these formats.
I believe Jordan will be a popular pick in all formats of the game, and if he carries on the scoring this year that he ended up within 2021, then he's a serious candidate for being a top tier defender in 2022.
DRAFT DECISION
Based on points scored and defender options available, Jordan Dawson is sure to be a D1 option in SuperCoach and a D1/2 in UltimateFooty. But the more intriguing conversation to have is about how people draft the upper echelon of defenders this year. The top tier of forwards is high scoring and thin in depth. By ranking the top15 onwards, it starts to get hairy. This could see coaches value F1 & F2's in the opening four or five rounds of a draft by osmosis. Without proper consideration, it could mean players like Dawson may be available later in some drafts than where he should go due to others overvaluing positional lines.
Depending on the draft, Dawson's draft range could be anywhere from the third to the fifth round.
JOIN THE CONVERSATION
Do you believe he is fantasy relevant?
Will you be starting with him?
Have your say at our Facebook, Twitter or Instagram.
WANT EARLY ACCESS?
Want access 24 hours early to the 50 Most Relevant podcasts? Join our Patreon and get ahead of the Crowd