The Brisbane Lions captain was one of the form players of fantasy footy over the final few months of 2019. Does that scoring continue entering into 2020?
PLAYER PROFILE
Name: Dayne Zorko
Age: 30
Club: Brisbane Lions
Position: Midfield

2019 Highest Score: 
143 Vs Melbourne (AFLFantasy)
155 Vs Melbourne (SuperCoach)

2019 Average: 
104.1 (AFLFantasy)
106.6 (SuperCoach)

SuperCoach Price: $579,100
AFLFantasy Price: $775,000
AFLDreamTeam Price: $753,200
WHY IS HE RELEVANT?
If you started Dayne Zorko, it was a painful some few weeks early, but it had a glorious finish for the year. Over the opening six matches, he scored just the one AFLFantasy/DreaTeam hundred and two in SuperCoach. I know some coaches that at this point committed the cardinal sin, and traded out a misfiring premium.
Don't forget one of the keys to success in all formats of fantasy footy. Buy low, sell high! The signs started to come, that post-round thirteen Zorko was a standout upgrade target. Between rounds 7-12 he had three AFLFantasy/DreamTeam scores of 100+ and didn't dip below 80 while in SuperCoach during these six games his lowest score was 85 and posted four tons.
Timing is everything when it comes to having success in fantasy footy. Whether it be who you start, or when you trade a player. The timing of the moves can ultimately return value for money and ensure you get on the right player right on the perfect time.
Coaches that got Dayne Zorko after his slow start at his bottomed-out price or straight after his round 13 bye were rewarded handsomely. Here's a visual of his scorers over the final ten matches of the year.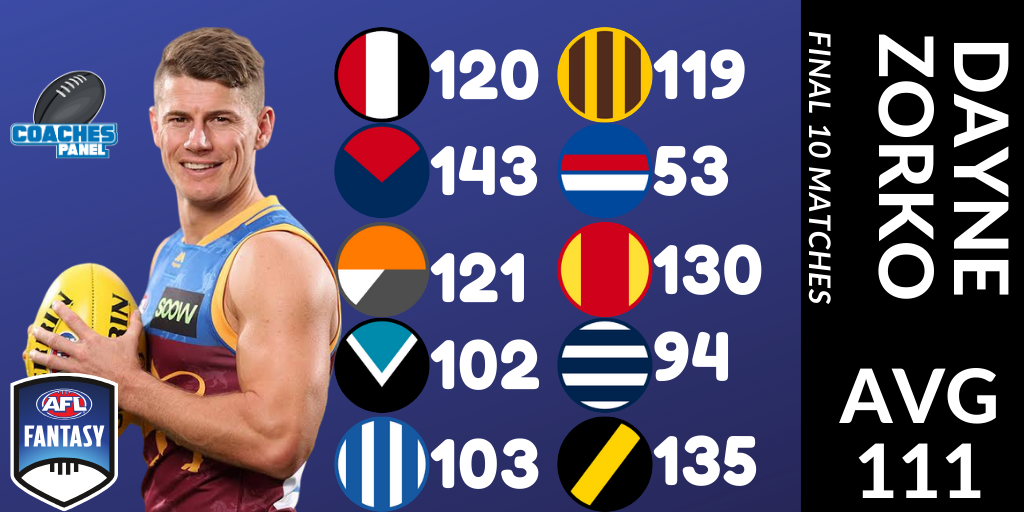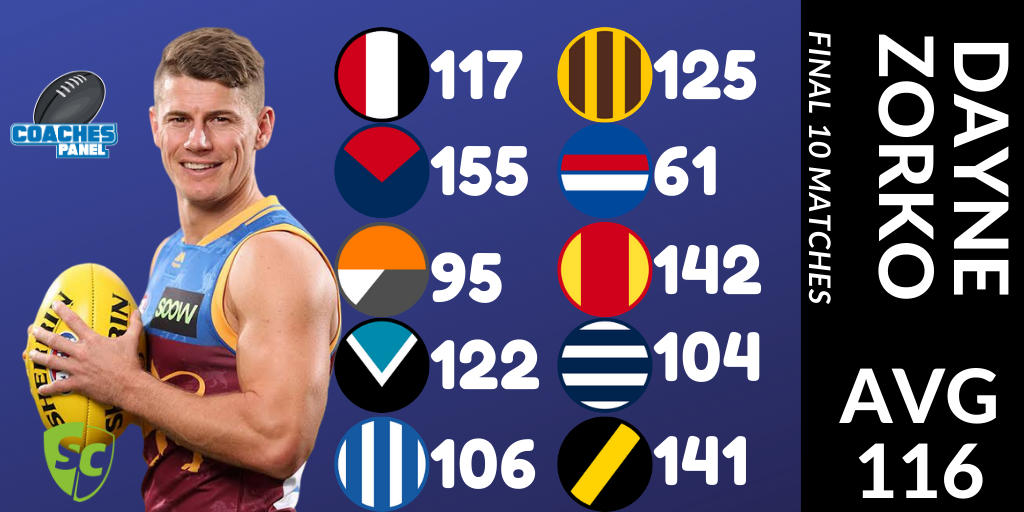 In the final ten matches post-bye round Zorko had just two scores under 100 for both formats. One of these was an injury impacted score against the bulldogs. In that match, he had only 49% time on the ground as he pulled up with tight hamstring and the club chose to be cautious. And yes, he was on track to score another 100 at this point of the game.
In SuperCoach he averaged 116, had eight scores over 100, five of them were above 120, and an impressive three surpassed 140. In AFLFantasy/DreamTeam he averaged 111 and had five scores where he scored 120 or more.
Long-time coaches will know this isn't the first high scoring season from Zorko. In 2017 for AFLFantasy/DreamTeam he averaged 114 and scored 15 hundred plus scores, while in SuperCoach he averaged 110, posted 15 tons including a personal best 196 against Geelong. The year before that he averaged 106 in AFLFantasy/DreamTeam which featured 14 scores over the ton and for SuperCoach he averaged 108 and scored over 100 in 14 matches including a run of nine consecutive hundreds to start the season.
In addition to his great scoring ceiling and consistency, Dayne is also incredibly durable. Zorko has missed just four games in the past seven seasons. History should give coaches confidence that should they choose Zorko he's got zero accounts of ongoing or frequent injury concerns.
MY TAKE
The scoring highs of Dayne Zorko are as strong as any other topline premium in the game. However, his scoring basement historically can sometimes rival that of a first-year player. The predominant reason for these lower scores has been when opposition sides have chosen to place a hard tag. Back in 2018, he had multiple tagging impacted scores were he struggled to score 50.
However, across 2019 this didn't appear to take place with Lachie Neale becoming opposition teams absolute priority to stop. I'd have confidence that this trend should continue, but it's undoubtedly a prospective fantasy owner need to factor into calculations.
Interestingly at first glance, he appears to have a more frequent higher ceiling against struggling teams. Perhaps that could be due to the fixture the Lions had across their season. For what it's worth of his five scores of 120+ last year only once was it for SuperCoach (141 Vs Richmond) and three times In AFLFantasy/DreamTeam against teams that played finals.
He'll be 31 at the start of the AFL season, could we see a more diminished midfield role? The Lions have brought in Cam Ellis-Yolmen while they are keen to keep developing the potential already shown by Jarrod Berry, Cam Rayner and Hugh McCluggage. I don't believe so. He brings a dimension of flair, dash and XFactor that should the Lions plan to go deeper into playing finals will require the captain to play a central role inside the Brisbane midfield.
At the end of the season, Zorko was in around 5% of teams across all formats. Even with such incredibly strong scoring that's very low ownership. The positive for coaches this year is whether you choose to start or upgrade to him, even if he's flying, he appears to be the type of player that is underrated in the fantasy community.
Finally, with the Lions have the first week of the byes off, coaches may target him as a critical upgrade target coming off the rest. Personally, that's where I will be seriously considering in all formats.
DRAFT DECISION
Across all formats of the game, he's ranked inside top 20 midfield options based off last years averages. If he remains in a similar scoring vein, then he'll be one of the secure midfield options for draft coaches. He's a genuine M2 candidate but could slide to as late as M3 if coaches choose to either go for same more flashier names positioned beneath him. Alternatively, if coaches decide to draft deeper in the midfield and not use the initial selections on alternate lines.
As a durable and high ceiling midfielder, he indeed looms as being a fantastic addition for whichever coach picks him up.
JOIN THE CONVERSATION
Do you believe he is fantasy relevant?
Will you be starting with him?
Have your say at our Facebook, Twitter or Instagram.
WANT EARLY ACCESS?
Want access 24 hours early to the 50 Most Relevant podcasts? Join our Patreon and get ahead of the Crowd!
NEXT UP…
Tune into our Facebook page at 9pmEDST for a clue